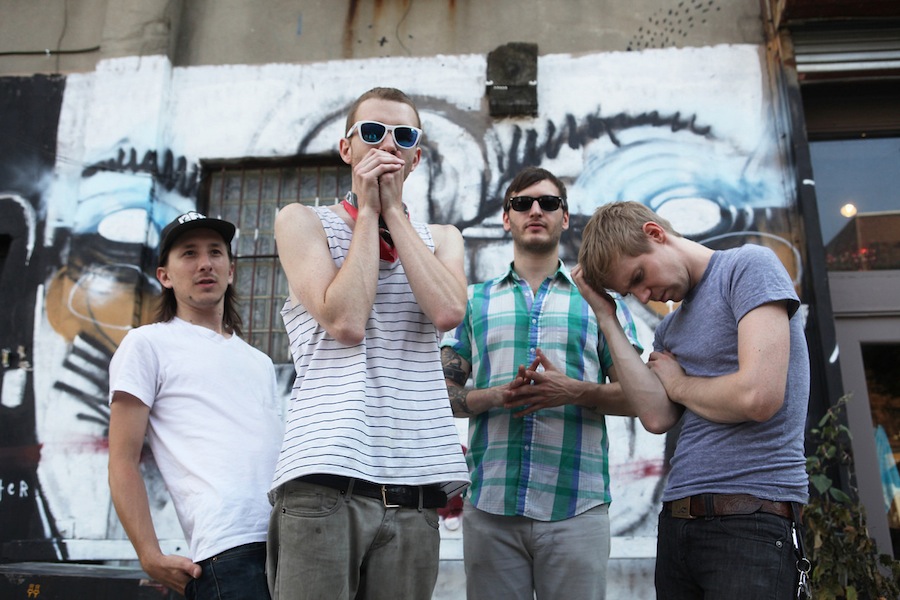 Interview by Arye Dworken
Since Bear Hands are about to spark a lengthy fall tour–including nearly three weeks alongside We Were Promised Jetpacks–we thought this week's Breaking profile could double as a reminder of how sorely overlooked the Brooklyn band's debut album (Burning Bush Supper Club) is. That's our take, at least. If you ask guitarist Ted Feldman, it's all downhill from here…
self-titled: Please introduce yourself to our readers. And if we were at a bar, what drink would we be buying for you?
Hi, I'm Ted Feldman, and my band is called Bear Hands. If you're buying, I'll take a Maker's on the rocks, thanks.
The band is signed to Cantora Records, which also released MGMT's early music. Will Bear Hands also follow up your wonderfully accessible debut with a difficult, arty sophomore release?
Nah, there's gonna be nothing interesting on our second record.
Bear Hands is a Brooklyn band. True or false?
Bear Hands started in Brooklyn and hasn't ever lived anywhere else. If we're an anywhere-band, we're a Brooklyn band. But I grew up in Manhattan, and the other three guys grew up around Connecticut.
Your bio says the band is friends with members of Passion Pit, Hockey, and:the Manic Street Preachers?!? Explain that last one to us. They seem like intense dudes.
We toured with all those bands. We did a week or two with Manic Street Preachers when they came to the States, and they're very nice people. Their fans are really intense though–intense merch buyers, and autograph and handshake collectors. And the bass player is intensely tall.
The first sentence of Burning Bush Supper Club's Pitchfork review asks, "Does Wesleyan, the arty Connecticut liberal arts university, attract boys with raw, nasal voices and penchants for shimmering keyboards and huge waves of overdubbed psychedelic guitars to its halls, or does the school simply turn its students into those sorts of musicians?" Care to clear that question up for us?
I don't think our keyboards shimmer all that much, and I didn't overdub any guitar parts. Regardless, there are a lot of very good bands that have come out of Wesleyan that don't fit that description. Great music culture all around:Someone should really write a book about the Eclectic Society and music–so many excellent musicians have come out of there, and countless now-famous bands have played dirty little shows at the Haus.
Can you elaborate on the band's influences? We're not buying Lil Wayne and Daft Punk, which you guys keep touting in interviews. Maybe Modest Mouse?
We all have fairly divergent musical tastes. We've never really discussed whom we wanted our band to sound like, so it's hard to say what our influences are. I see where the Modest Mouse comparison comes from, and I'm pretty sure we all like them. But we mostly listen to rap in the van.
Burning Bush Supper Club–what does that even mean?
In addition to rap, we listen to a lot of Christian talk radio on the road. It means whatever you think it means.
Aside from your own band, what is your favorite Bear-named band, of which there are many?
Grizzly Bear. Yellow House is one of my favorite albums ever.
Tell me about your worst band interview experience.
A magazine that didn't even have the balls to name itself sent us a list of questions that was sooooo looooong, and then I lost the rock paper scissors tournament to determine who would have to answer them. That sucked.
The song "Crime Pays" is great. Have any band members actually been involved in committing a crime? Confess.
As a band? Yeah, actually the other day on our way to the Canadian border, we all conspired to kill a bag of weed. Boom!
Who is the funniest member of the band?
[Frontman] Dylan [Rau] is probably the funniest and the unfunniest. Cracks the best jokes, but kills the mood sometimes.
Ted, thank you so much for your time. We're looking forward to hear what else you have lined up ahead.
Thank you! Next album will be better, faster, stronger. Promise.
–
Bear Hands tour dates:
9/22 Champaign, IL – Pygmalion Festival
9/23 Columbus, OH – The Basement
9/24 Cincinnati, OH – MidPoint Music Festival
10/7 Asbury Park, NJ – Asbury Lanes
10/9 Baltimore, MD – Ottobar
10/10 Wilmington, NC – SoapBox
10/11 Charleston, SC – Charleston Pourhouse
10/12 Charlotte, NC – Tremont Music Hall
10/13 Atlanta, GA – Drunken Unicorn #
10/14 Orlando, FL – Backbooth ^
10/15 Jacksonville, FL – Jack Rabbits
10/16 Pensacota, FL – DeLuna Fest
10/18 Lexington, KY – Cosmic Charlie's
10/19 Indianapolis, IN – Radio Radio
10/21 Minneapolis, MN – 7th St Entry
10/22 Dekalb, IL – House Cafe
10/24 Lansing, MI – Mac's Bar
10/26 Harrisburg, PA – Abbey Bar *
10/27 Washington, DC – Black Cat *
10/28 Boston, MA – Paradise Lounge *
10/29 Philadelphia, PA – Union Transfer *
10/30 New York, NY – Webster Hall *
11/1 Cleveland, OH – Grog Shop *
11/2 Chicago, IL – Metro *
11/4 Norman, OK – University of Oklahoma *
11/8 Phoenix, AZ – The Crescent Ballroom *
11/9 San Diego, CA – The Casbah *
11/10 Los Angeles, CA – The Music Box *
11/11 San Francisco, CA – Bimbo's 365 Club *
11/13 Portland, OR – Wonder Ballroom *
11/15 Seattle, WA – Neumos *
# w/ Margot & the Nuclear So and So's
^ w/ Royal Bangs
* w/ We Were Promised Jetpacks