FEVER RAY, as filtered through the tormented art supplies of Charles Burns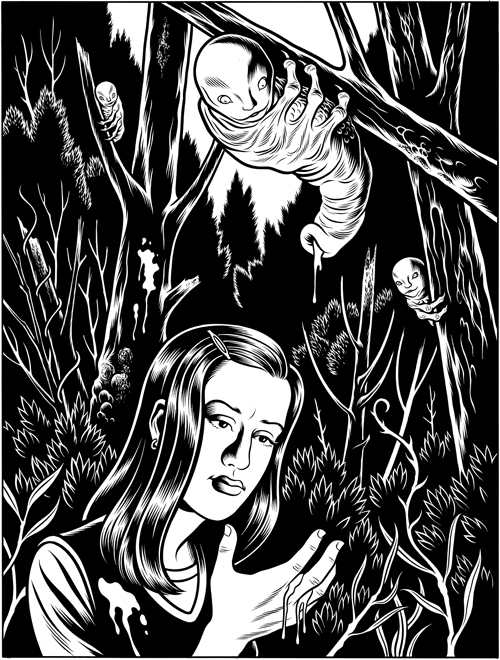 After a much-needed break, we're finally ready and willing to christen some BUY/BURN selections from the past few weeks. (Our old columnist, Aaron Richter, will be back on Tuesday, bringing a regularly-scheduled SKIP IT nod back with him.)
Let's get right down to it, then, shall we?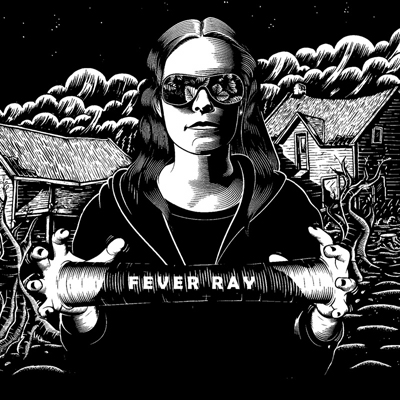 BUY IT
Fever Ray, Fever Ray (Mute)
While it lacks the inherent hooks of every Knife album before it, the solo guise of singer Karin Dreijer Andersson is a focused, ritualistic effort to make onlookers feel incredibly uncomfortable. Which it excels at, leaving us with the distinct impression that we'd just been given a guided tour of Andersson's fractured psyche, as soundtracked by smoky synths and beats that go bump in the night. You need to be in the right mood to truly appreciate all the creepiness, but if you are, the thing plays out like a dream collaboration–in our outré minds, at least–between the Knife and Xela.
[audio:http://www.self-titledmag.com/wp-content/uploads/audio4/01_Fever_Ray_If_I_Had_A_Heart.mp3]
"If I Had a Heart"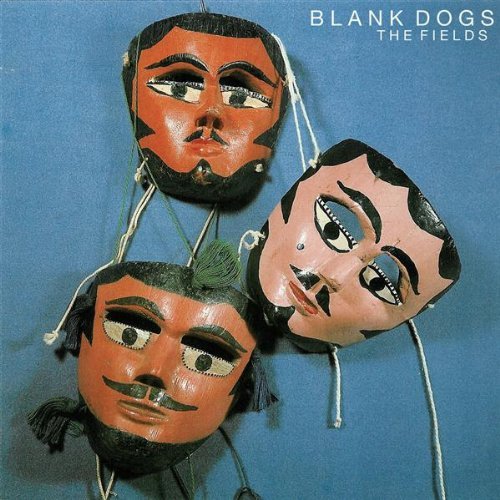 BUY IT
Blank Dogs, The Fields (Woodsit)
How appropriate that our first shot of Blank Dogs came directly after a New Order binge. As many blogs and The FADER have pointed out, Mike something-or-other (he lopped off his last name at some point) pays tribute to the Cure/Joy Division canon with steely stormtrooper breaks, dollops of distortion and vocals that are beamed in from broken-down intercoms. As simple and familiar as this formula is, there's something strangely alluring about the way Blank Dogs funnels his pop songs through layers of gauze and buckets of razor blades. This is music you do a skeleton dance to–best in small doses and short bursts, falling right in line with the feverish clip of Mikey's unfiltered limited releases. Expect to hear a lot about this Academy Records employee in 2009.
[audio:http://www.self-titledmag.com/wp-content/uploads/audio4/02%20Now%20Signals.mp3]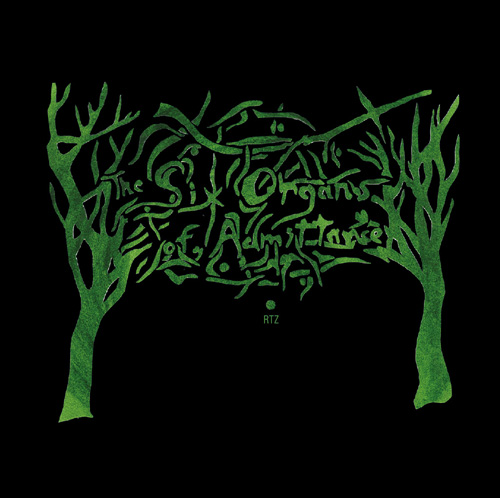 BURN IT
Six Organs of Admittance, RTZ (Drag City)
As all of Ben Chasny's thorny, woodsy sleeves suggest, his music as Six Organs of Admittance is tailor made for this time of year–for long retreats into the candlelit cabin of your mind. With songs that stretch on for more than 15 minutes, RTZ is music you rock a chair to, something you have to succumb to. Otherwise, the whole experience will teeter on the edge of new-age gobbledygook.
Completists in need of a recession special, please note: most of the original selections on RTZ (everything but the previously unreleased "Punish the Chasms With Wings") fetch top dollar on eBay. Especially the ones lifted from Chasny's ultra-limited Nightly Trembly LP. That elusive gem was first pressed in a lathe cut edition of 33 copies.  And, well, no record is worth a top bid of $100 these days, so be sure to burn now and buy later if you like what you hear. Us, we've already snagged RTZ's limited 3-LP version.
[audio:http://www.self-titledmag.com/wp-content/uploads/audio4/01%20Resurrection.mp3]
"Resurrection"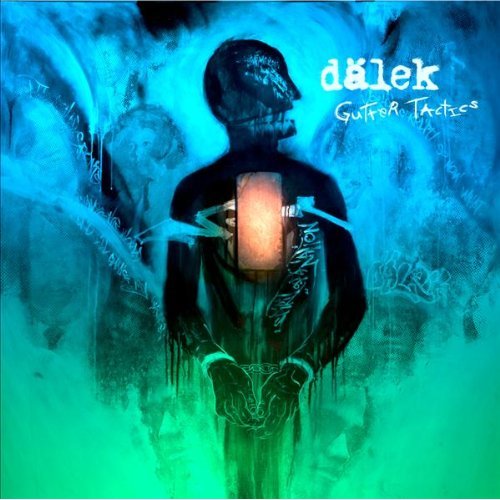 BURN IT
Dälek, Gutter Tactics (Ipecac)
Much like their last LP (the s/t-approved Abandoned Language), Gutter Tactics is End of Days hip hop for anyone with an equal affinity for Godflesh and Public Enemy. Things are much more oppressive and murky this time, though, with subterranean beats playing a secondary role to tidal waves of feedback and fuzz. An altogether disturbing and disorienting listen, Dälek these days isn't for everyone–most of this effort can feel like a slow death from suffocation–but we can't think of a better score to cruise-controlling it on a highway to hell.
[audio:http://www.self-titledmag.com/wp-content/uploads/audio4/02%20No%20Question.mp3]