As science fiction's biggest fears are realized and Black Mirror begins to read like a reality show, Clouds have struck the perfect middle ground between all of it with Heavy the Eclipse. Due out November 23rd through Speedy J's idiosyncratic Electric Deluxe imprint, the triple LP features the apropos cyberpunk artwork of David Rudnick, a dedicated website that fleshes things out even further, and a hardcore techno sound that is best described as rave music for when Rome falls. Here's an exclusive listen to the twitchy loops of "Warped Amphetamine Flex," along with some context from Calum Macleod and Liam Robertson and a few other previously shared productions….
Any momentum towards recovery was wiped out when Klaw appeared. There are no records of when the drug arrived in Neurealm, but we know where it took hold; in the dismal communities on the Southern Banks of the now-dry riverbed that cut the city from West to East.

A vicious narcotic that abused its users without mercy or restraint, Klaw gripped hundreds of thousands of the destitute masses that made the enormous squat between Pollockshail and Pollocksgaith their home, very soon, stricken dependents turned to crime to feed their habits, running raids across the city from their labyrinthine base. The warren would come to be known as Heaven's Tilt; and the waves of junkie scum the first major gang of the Neurealm, The Dark Leviathan Krew.

Chaos flowed out from Heaven's Tilt. The newly built rail network provided arteries into the city, junkies swarmed and looted, with The Dark Leviathan Krew claiming as their own Fiefdom the territory of the New Gàrradh Line. Within weeks its surfaces were covered in the scrawls of the addicts; the carries tattooed top to bottom in an arcane , knotted, and wretched script.

The New Gàrradh Line teemed with contagion, from the trains the dead-eyed spilled, houses, while neighbourhoods were looked in zombified stupor, food and water became scarce. Economic activity ground to a halt. The Dark Leviathan fell into a narcotic half-life sept in pedal squalor and euphoric pain. Whether by mismanagement, incompetence, or simply indifference, the ruling council of the conglomerate failed to act in any meaningful way to limit it.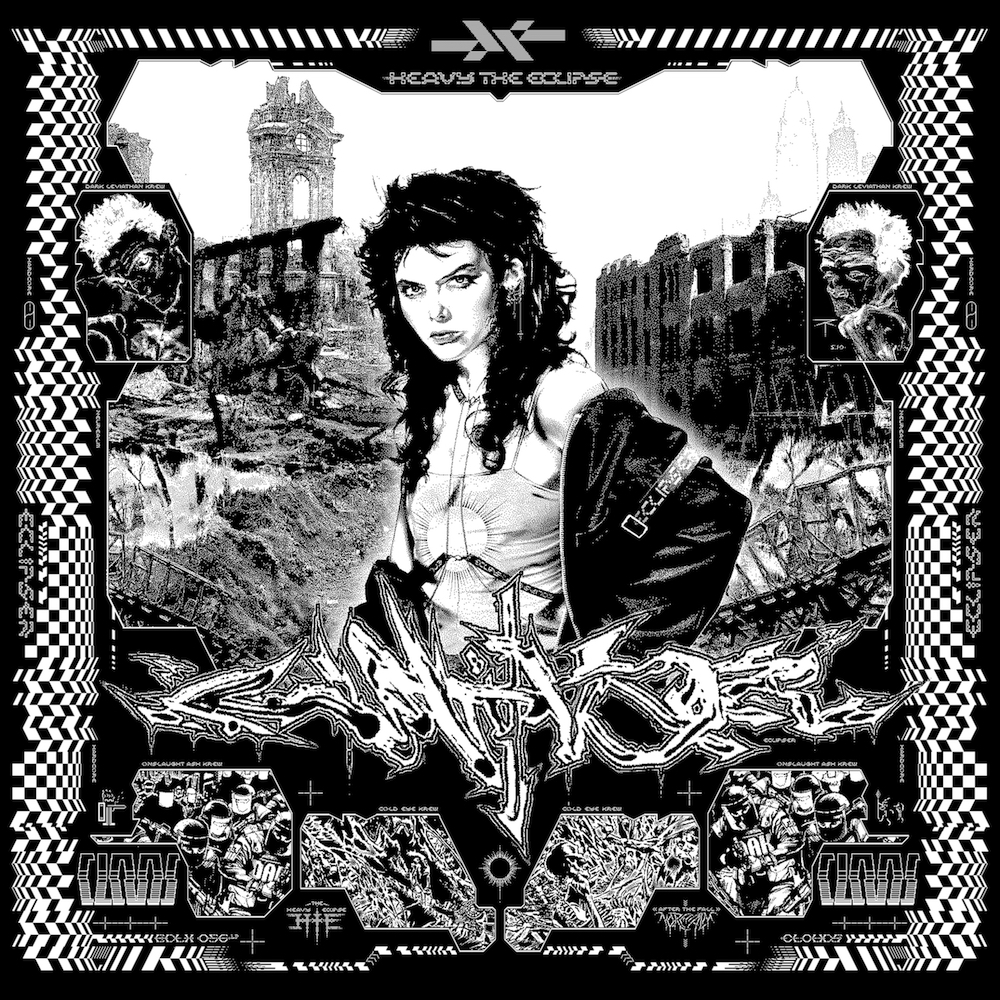 Clouds
Heavy the Eclipse
(Electric Deluxe, November 23rd)
1. Neurealm «After The Fall»
2. Clubber's Guide To Wreaking Havoc
3. Klaw Dealer, Unterverein 2522
4. DJ MCD «Heavens Tilt Into Darkness»
5. Dark Leviathan Krew
6. Warped Amphetamine Flex
7. Skulcoast
8. Welcome To Lebanon Ark
9. Eclipser
10. Strong Outside «» Onslaught Ash Krew
11. Parkzicht
12. Nachtstorm Hardcore
13. Dedzone «Cold Eye Krew»
14. Skyline «Àrdkaserne To Fantazia»