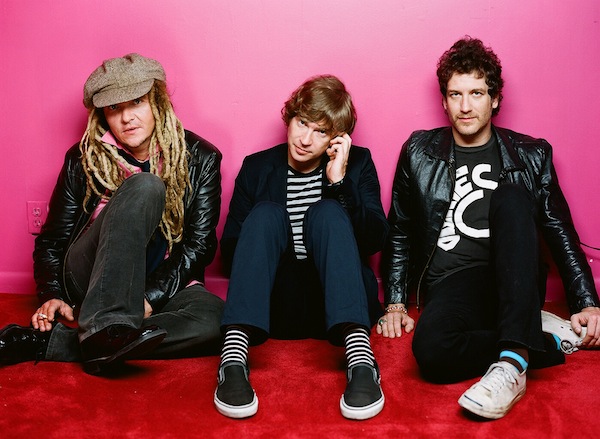 Photo by Autumn de Wilde
Utter disbelief. That's the reaction we got from a close friend after revealing just how much we love Nada Surf's Let Go album. What do we look like? The kind of guys who only listen to death-metal and ultra-limited noise LPs? Actually, don't answer that question. Go ahead and grab Let Go, though, especially the songs that make us scream like a little girl every…single…time: "Blizzard of '77," "Blonde On Blonde" and Nada Surf's finest moment, "Killian's Red." (Sorry kids, but "Popular" will forever remind us of Weezer, not Nada Surf.)
In honor of the trio's special Let Go show at Bowery Ballroom tonight, we asked them to share the back story of If I Had a Hi-Fi, a cover song collection that reveals some surprising influences on the Nada Surf side of things. No death-metal or noise, but there are slivers of Depeche Mode, Kate Bush and Arthur Russell. Rock!
If I Had a Hi-Fi is only available at shows right now, but will be pressed by the band's Mardev Records imprint on June 8.
Matthew Caws: Wolfy (of Kayrock and Wolfy) mentioned Bill Fox to me ages ago, whom he'd known about growing up in Cleveland. I hadn't gotten to follow his recommendation yet when I read a great Believer article about Bill. A little while later, [drummer] Ira [Elliot] got way into his songs and sent some to me. we're great fans of Doug Gillard, and asked him to play on this song before finding out that his early band Death of Samantha played shows around Cleveland with Bill's early band, the Mice. They even did a record together that got shelved.
Ira Elliot: I discovered Bill Fox after reading a fantastic article in The Believer (written by Joe Hagan in December 2007) and then later found this track on a comp. I stayed up all night listening to his records and became immediately obsessed.
–
Depeche Mode, "Enjoy the Silence"
MC: I listened to [the Construction Time Again single] "Everything Counts" on repeat for a couple of months in high school. A few years ago, we played a show in Bochum, Germany–a heavy goth town–on Black Friday, the gothest of all days. The club we played turned into a goth club after the show, and we hung around to soak up the vibe. It was amazing. Watching goths dance in full-length leather regalia to a cranked-up "Personal Jesus" is really something. "Enjoy the Silence" came on the radio while I was driving a few months ago. It had never hit me before what a beautiful pop song it is.
–
The Go-Betweens, "Love Goes On"
MC: My friend Nick has a wonderful habit of sending me songs now and again. This is one of them. I loved it right away.
–
MC: Our friend Carly lent me the Wild Combination DVD last year, which is a weird and wonderful knockout. A couple of weeks later, Jeff Barrett, who put Let Go out on Heavenly, told us he was really into Love Is Overtaking Me, a posthumous Arthur Russell album which had just come out. He said there wasn't a bad song on it. He was right. Coincidentally, [keyboardist] Louie [Lino] had met Arthur in the '80s, when he worked for his boyfriend silk-screening limited edition prints.
–
Dwight Twilley, "You Were So Warm"
MC: As a rabid Hoodoo Gurus fan in the '80s, I'd heard Karen Glauber's name a few times. She was instrumental to their early success in the states (and wrote the liner notes for their recent anthology). She does radio promotion now and we've had the pleasure of working with her on our last couple of records. She and I even share a birthday! The second time we met, she said, "If you ever do a covers record, you should do 'You Were So Warm'," and gave me a copy of Dwight Twilley's first album [Sincerely]. That chorus killed me the first and every subsequent time.
–
Kate Bush, "Love and Anger"
MC: I stared at the cover of my sister's "Sat In Your Lap" 45 for hours when we were kids. I don't remember what it sounded like. In the late '80s my friend Tom Shad, who played bass in Dumptruck (he's now in the Blue Man Group), dragged me to Avery Fisher Hall to see the Bulgarian Female Choir, whom I'd never heard of. He said it was sold out and we'd have to scalp tickets but we couldn't miss it. Fifty pricey bucks each later, we sat in the sixth row and had our minds blown. A few months later, I read a review of The Sensual World–Kate Bush's new album at the time–and it mentioned that a Bulgarian female trio accompanied her for one song. I bought the record and ended up loving that song, "Rocket's Tail," but really fell for 'Love and Anger.' Sometimes someone becomes your personal one-hit wonder. I've probably heard "Love and Anger" twenty times for each time I've heard "Running Up That Hill."
–
Spoon, "The Agony of Laffitte"
MC: The very same "Sylvia" mentioned in this fine and noble song dropped us from Elektra right after we made The Proximity Effect. I remember getting in copies of this 7-inch when I worked at Earwax in Williamsburg. It seemed so funny then, and seems hilarious now. In more full-circle news, we recorded some of this one at Public Hi-Fi, Jim Eno's studio and the site of many a Spoon recording.
Daniel Lorca: Back in the day, we met a bunch of A&R guys that wanted to sign us in order to get their hands on 'Popular,' Mr. Laffitte included, and most of them made football bets, which I thought was quite the irony of ironies.
–
Coralie Clement, "Bye Bye Beauté"
MC: Written by Benjamin Biolay for our friend Coralie Clement, this is one of our favorites of hers.
DL: Benjamin Biolay is quite the chameleon. He penned this one for his sister Coralie, who we've been good friends with for years. Benjamin has the gift of making you think every love-gone-wrong song he writes is about you. It's like having Leonard Cohen assure you that you'll soon wreck your car. You take him at his word and believe it so profoundly you have to wonder if it's the song itself that causes the accident in the first place. You never really know in the end, but either way, it happens, just like he wrote it would.
–
Moody Blues, "Question"
MC: Ira wanted to do this one like the Stooges. The middle section is like an Everly Brother showing up alone.
IE: This is one of a few songs that has been on a mental check list of mine for some years now. I'll occasionally hear it on the radio in the middle of the night and always think, 'Wow what a perfect song for us to cover.' 
Another dream comes true.
 I guess "Point of Know Return" will just have to wait until the next covers album.
–
The Soft Pack, "Bright Side"
MC: The same Nick as above gave me this record as a gift after I babysat for his daughter. I saw them at Bowery Ballroom the night after I got back from Texas and they were amazing. We would have played this song when we were 16 if it had existed then.
–
Mercromina, "Evolution"
DL: I was driving home one night in Fuerteventura, eager to hit the sack before meeting my friends for a dawn surf session when this song came on the radio. I didn't just fall in love with the song instantly; I fell in love with the character the song is about. I sat in the parked car for over an hour waiting for Jesús Ordovás–a bit of a mythical DJ on Spain's RADIO 3–to finally announce that the song was called "Evolution" by a band called Mercromina. That was over a dozen years ago, and little did I know that we would end up not just being played on that same station ourselves, but also working with Mercromina's label Subterfuge, and their producer, our now dear friend Fino Oyonarte. Small world, luckily for us.
–
The Silly Pillows, "I Remembered What I Was Going To Say"
MC: This is an instrumental version of a lovely song by Jonathan Caws-Elwitt, originally recorded by the Silly Pillows in 1990, who back then consisted of just him and my sister Hilary (along with a Casio keyboard, a Squier Stratocaster with the original strings, an Electro-Harmonix Big Muff, an Arion analog delay pedal and a Tascam 424 four-track). Jonathan made 13 albums on cassette between 1984 and and 1993.