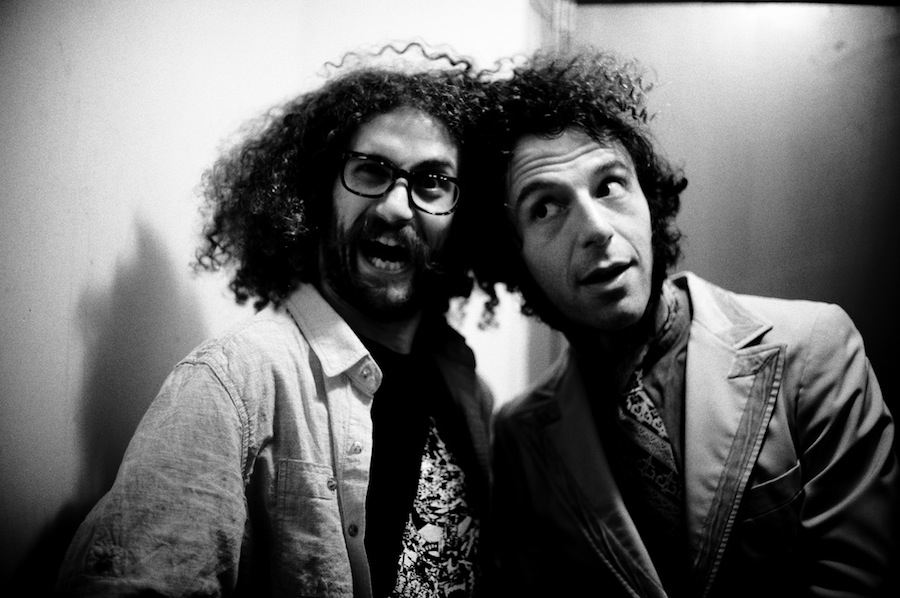 Photos by Turkishomework
Words by Andrew Parks
Daedelus and the Gaslamp Killer can't seem to sit still. In the case of the latter, that's simply par for the course. A consummate crate digger with a mind that's as scattered as his record collection, Gaslamp's synapses are stuck in rapid fire mode at all times. Daedelus, on the other hand, is usually as calm and collected as anyone who regularly wears dandy-ish suits should be.
And yet, he's a ball of nervous energy tonight, probably because he's a half hour away from playing a spastic headlining set for a packed (Le) Poisson Rouge. Gaslamp is also on hand to perform one of his crowd-pleasing displays of scratching, mixing and all-around madness, along with two close friends from L.A., Free the Robots and Samiyam. They're all here to remind us New Yorkers how people do things on the West Coast–weird and wild, with an innate sense of the once standard DJ skills that stopped being the norm somewhere between the first iPod and the control vinyl dawn of Serato.
In the following exclusive interview, Daedelus and Gaslamp discuss all of the above and much more. Be sure to catch them both on tour in the coming month, including Daedelus' headlining run–we're giving away tickets to tomorrow's Brooklyn show on our Twitter–and Gaslamp's stint supporting A-Trak and Kid Sister…
"That blew my fucking mind"
self-titled: One of the ways I first got into beat-based music was by hearing DJ Shadow, then digging up the mixes he, Cut Chemist and other California guys were doing at the time. In a lot of ways, I think that's come full circle with what you're all doing now…
Daedelus: Kids today are encountering music easier, but they don't necessarily get the depth of it unless you hand it to them. One of the best ways people get into our music is through the Low End Theory podcasts, actually. Dublab.com has been huge for all of us too.
Right. I remember getting into Dublab a long time ago–back when Plug Research was putting out more beat head type music.
The Gaslamp Killer: It's the 11-year-old parent to everything.
Daedelus: A lot of times, you have to personally frame part of the culture for someone. Like with [Gaslamp]'s mix CDs and how they introduce 16-year-old kids to psychedelic rock. They're able to go deep on it because he's willing to share the names of things…
Are you? I always thought you were the type that never shared tracklistings.
GLK: I don't but when people ask me, I usually give them what they want. I just don't give out tracklistings to the world or answer any of the YouTube shit. That's obnoxious.
Daedelus: And then there's the live show.
GLK: Exactly. You've got to educate people live, but that doesn't always mean divulging everything. Dublab asks us to put tracklistings for a lot of things because they're into spreading the gospel. As am I, but I'm a hip-hop head and because of that, I can't give away everything.
Sounds like the lost art of white labels and covering your records up in a club.
GLK: Fuck yeah.
Daedelus: It's nice when people work for it a little bit. They get it a little more then. The yearning is important.
GLK: Going back to what you said about Shadow, when I got into him, there was no fucking Internet. There were no chat rooms. Well, there was the Anticon message board but that's about it. You know what I mean? I had no idea where to find stuff. Now it's handed to everyone, so we have to keep a little mystery alive.
Daedelus: Look at cassettes, for instance, where there used to be no information but someone spray painting their name on it. That's definitely part of this culture–it's this secret message you whisper to your friends. And it's the most important thing in the world. I'm a little older than you guys, and when I first got hit with the rave stuff, it was through pirate radio–some weird guy with a cockney accent yelling over beats in a club I'd never heard of. It was one of the most intrinsically interesting things I'd ever heard. After that, it was like, 'That's it. This is all I want to do with my life.'
So if you didn't have the Internet to rely on, how did you find out about music when you were younger?
GLK: I grew up in San Diego, so I had to go to Orange County and L.A. stores for stuff. I remember DJ Rob One giving me "Apache." I said something like, "I really love hip-hop and want some beats." And he said, "Well man, you think you know what hip-hop is, but have you heard this?" And he gave me Incredible Bongo Band. That blew my fucking mind. That's how I found my shit–really cool friends and other DJs. Not trainspotting, but getting to know the pros. It's all about being that young kid who's really hungry and just wants a chance, like, "Please tell me what that is. And let me play at your club."
Daedelus: Man, and you can still see the kids who are really lit up for it today. They're really deep into different genres, and are the ones who are going to make some amazing music down the road. I've definitely had the chance to meet some of them early on–people like Teebs, Matthewdavid, even FlyLo. You can see that hunger. They're really down to get really deep on things, not just an average kid who wants to get fucked up at a party.
"It's taken four years of frustration, but it's a gift"
How did each of you get exposed to what you're known for–psych rock and sampling weird things like 78s?
Daedelus: With the 78s thing, I grew up with traditional instruments. I have a classical and a jazz background, and a lot of the music doesn't exist in formats that are still available, like iTunes. They just never made the jump, so when I was learning jazz and going to school for double bass, I was lucky to encounter some amazing collections. L.A. is a great place to dig, but I often tell the story how I had friends who were big into hip-hop culture and they'd push me out of bins. They'd stand in front of all the rare groove and psych, so I'd be stuck in the film soundtracks and jazz. A lot of my influences and background comes from that. A lot of the experimentation that we attribute to the '70s and '60s has been going on since day one. I remember really being into Bomb Squad when I was younger–before the L.A. hip-hop scene–and seeing how they were sampling all these horns and stuff from the '60s and '70s. But then that leads into, 'Okay, what influenced those people?' And you're back into the '50s, and further and further back into the beginning of recorded history. That's where I was around my first couple records. Less and less people are playing the obscurity game now. The infinite is so much more exciting.
What about you?
GLK: Good friends–J. Rocc, Cut Chemist, Egon–were playing awesome shit all the time. I'd go to their clubs and be relentless with those guys.
And they were all pretty nice about it?
GLK: No. Not nice at all, but you know what? That's part of this shit.
Daedelus: That's why Dublab's openness changed everything. I wanted to be a jungle DJ when I was younger and I remember everyone saying, "You're not from the UK, or one of the five dudes in L.A. that's fresh and accepted." And so I had to throw my own parties that were terrible failures, and over time…It's not even about technical DJ skills. It was about who you knew. Now there's room for new people to get accepted if they're doing something different.
GLK: It was way more cutthroat back then–way more elitist.
Daedelus: Well, you had to pay your dues. And what that meant was waiting until an opening happened, until someone got sick at one of these DJ nights.
So how many years did it take for you to break into the scene?
Daedelus: Five years. Even when I had my first record out (2001's Her's Is >, it was hard.
Was it even worse for you, since you were coming from San Diego?
GLK: They actually tricked everyone and said I was from San Francisco. Then it was like, "That's way more interesting! We've got to check this guy out!" I had a way different style than anyone else in L.A. at the time–a mix between what the Beat Junkies and Invisibl Skratch Piklz were doing, Cut, Shadow, and Egon, and this electronic, instrumental, trip-hop stuff that nobody was messing around with.
One thing I'm curious about is the art of scratching. Here on the East Coast, it's just about dead, and basically frowned upon.
Daedelus: My experience with it is I knew a lot of scratch DJs, but none of them could break into production. They were limited to what they could do with their hands. I'm actually left-handed, and I remember everyone always having the tables set up for right-handed DJs. Even though I could beat-match and do some basic tricks–you had to know how to do that kind of stuff–I got pushed away a little. It was a gift, though. Every time there's been a failure in my life, it's turned out to be one. It takes four years of frustration, but it's a gift. This dude [pointing at GLK] scratches like crazy, though, and everyone loves it.
GLK: Not like I used to, though. Like I used to walk around just with a bag of break records, and that was my set. Now it's just icing on the cake. A-Trak's the same way.
It's crazy how he's evolved, actually. Most kids look at him as an electro DJ.
Daedelus: Right. He's a world champion scratch DJ and you'd never know it.
So where did you guys meet?
GLK: Dublab probably.
Daedelus: It really is the spider in the middle of the web a lot of the time. It's not about taste-making necessarily. It's about presenting these platforms. L.A.'s big enough that Low End Theory and Dublab can exist without being in competition, too.
I feel like the L.A. scene is such an insular thing. Do you feel like you don't relate to a lot of East Coast DJs and artists?
GLK: I relate to El-P, Kanye fucking West, Blu Jemz, Mark Ronson, the Dap-Kings and Budos Band are fucking incredible.
Daedelus: To be honest, it seems a little more cutthroat here. Nights seem to come and go really quickly…I have a lot of love for kids who came from a breakcore background and went somewhere different with it. Like Drop the Lime–he came from a similar places as me, with an exuberance towards noise and breakcore. I love those ideas, although where he took it is quite different. The same goes for Jimmy Edgar. I appreciate the fact that they're both charting their own course.
How does your new album Bespoke fit into all of this?
Daedelus: It's kinda classical, with this epic quality, this up-swell to it. I'm very excited about where this whole world is gonna go. I feel like people are pretty open right now. I'm not gonna lie. I think the beat scene in L.A. is really wonderful and I appreciate the fact that I can interact with all these people, but it's not me. My heart and soul is elsewhere. [GLK steps out for a second.]
Is that a generational thing?
Daedelus: No, no. I just grew up on slightly different stuff. Everyone wages their own battle, and mine's a little different. I want melody, and to create the same feeling I get from listening to a Godspeed record. Or the Pixies.
How would you classify the rest of the beat head scene then?
Daedelus:There's an esoteric-ness to it, but there's also this back-breaking beat to it, some real pure melody, and some fun. You look at someone like Teebs and he's making the most beautiful sounds. Baths is doing a similar thing, and yet he's doing it very differently. I like when people have visions of what they like and don't like. It's like music criticism…
Well you don't even need us anymore, really.
Daedelus: No, no, no. It's just like DJ culture. People need lenses so badly, so any elegant prose that can frame this music for someone is an incredible gift.
–
Daedelus tour dates (w/ Tokimonsta, Shlohmo):
4/1 Syracuse, NY – Wescott Theater *
4/2 Brooklyn, NY – Music Hall of Williamsburg *
4/5 Montreal, WC – La Belmont
4/6 Buffalo, NY – Soundlab
4/7 Toronto, ON – Wrongbar
4/9 Chicago, IL – Bottom Lounge
4/13 Denver, CO – Cervantes
4/14 Tempe, AZ – Club Red
4/16 Indio, CA – Coachella
4/18 Arcata, CA – Humbrews
4/20 Eugene, OR – WOW Hall
4/21 Portland, OR – Branx
4/23 Pomona, CA – The Glasshouse
* = w/ Samiyam in place of Tokimonsta
The Gaslamp Killer tour dates (w/ A-Trak, Kid Sister):
4/19 Dallas, TX – Trees Kid
4/20 Austin, TX – Venue 222
4/21 New Orleans, LA – House of Blues
4/22 Atlanta, GA – Quad
4/23 Nashville, TN – Limelight
4/26 Washington, DC – U Street Music Hall
4/27 Philadelphia, PA – Voyeur
4/30 New York, NY – Terminal 5
5/2 Boston, MA – Royale Nightclub
5/3 Montreal, Quebec – Telus Theater
5/5 Chicago, IL – The Mid
5/6 Madison, WI – Majestic Theatre
5/7 Eugene, OR – Willamette Valley Music Festival
5/9 Englewood, CO – Gothic Theatre
5/10 Salt Lake City, UT – The Complex
5/12 Vancouver, British Columbia – Commodore Ballroom
5/13 Portland, OR – Branx
5/14 Seattle, WA – WaMu Theatre at Qwest Field Events Center
5/16 San Francisco, CA – Mezzanine