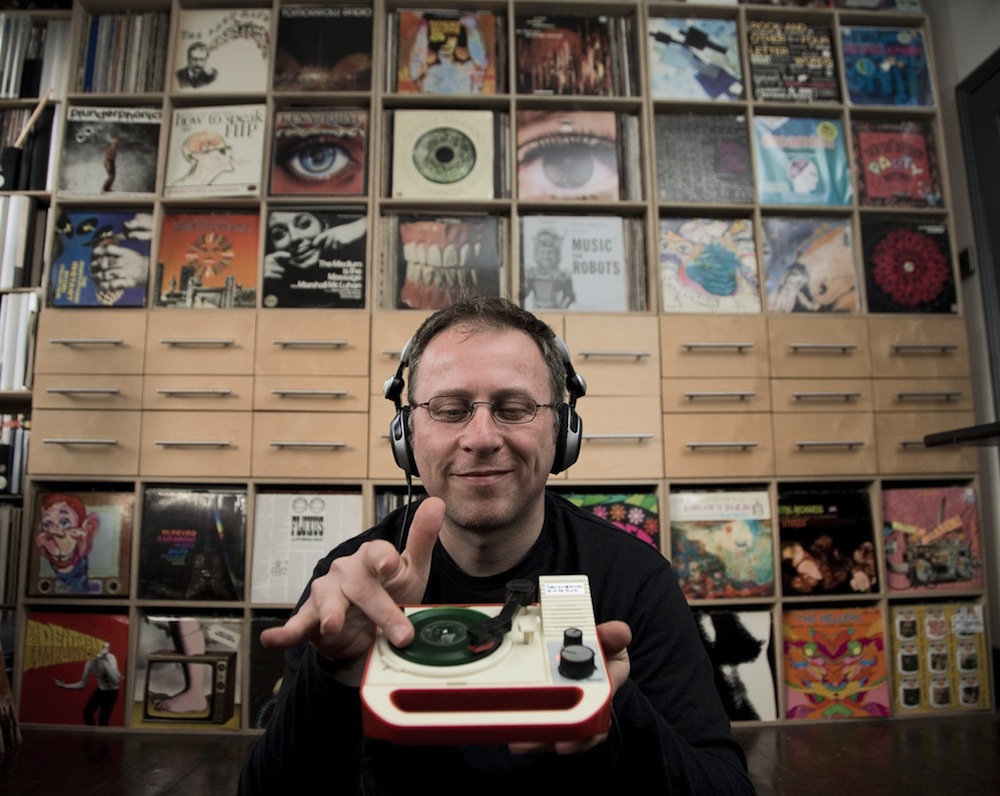 Via Solid Steel:
This mix originated because of a night called 'A Few Old Tunes' that I was involved with alongside Posthuman, Tom Central and Mach V. The idea was to build a night of sound and vision around Boards of Canada-inspired music with visuals of a similar aesthetic. It's a loose concept and I've used it to string together a lot of downtempo tracks that usually wouldn't get played in one of my regular club sets.

'O Is For Orange' is the sound of weathered tape saturation, detuned analogue synthesisers, vinyl crackle and machine hum. It's also the look of flickering, unfocused lenses, mirror image filters and blurry grain embedded into film. Unofficial fan films sit alongside experimental animation, public information shorts and even the odd official video. Material that BoC took inspiration from blends with their own work as well as many that they in turn inspired.

I make no apologies for the quality of the vision here, some of it is only available via the web at frustratingly small sizes. In a couple of instances I've actually downgraded the look and quality of the image to make it blend in better and in others, even my best attempts at filtering can't disguise the low quality of the source material. No HD or widescreen here, I've gone back to 4:3 for this one even though some of the clips were originally 16:9 or wider.
Watch/download "O Is For Orange" below…
DJ Food, "O Is For Orange" Mix:
Sesame Street – Oh! Orange (Sesame Workshop) – dir. unknown
Galt MacDermot – Aquarius (RCA Victor)
Video: 'Conquest of Light' – dir. Paul Cohen (AT&T), 'Mars & Beyond' – dir. Ward Kimball, 'Time Magazine' advert, 'Thunderbolt' – dir. Ira Cohen
Boards of Canada – The Colour of the Fire (Warp)
Video: Sesame Street 'I Love You' – dir. unknown
Broadcast & The Focus Group – The Be Colony (Warp)
Video: 'Witch Cults' #1 & 2, Oasis 'Shock of the Lightning' – all dir. Julian House
Yosi Horikawa – Wandering (First Word)
Video: Yeasayer 'Henrietta' – dir. unknown
Prefuse 73 feat. School of Seven Bells – The Class of 73 (Warp)
Video: Official – dir. Chris Boyle (Warp Films)
Mordy Laye & The Group Modular – Electric Paint (Audio Montage)
Video: Official – dir. PlanktON
Boards of Canada – Everything You Do Is A Balloon (Skam)
Video: Unofficial – dir. by Nonameno5, sampled from "One Got Fat" (1963)
John Abercrombie – Timeless (ECM)
Delia Derbyshire and Barry Bermange – The Dreams: Land (BBC)
Video: 'As The Crow Flies' – dir. Funki Porcini, AT&T documentaries, 'Light' – dir. Jordan Belson
The Books – Group Autogenics I (Temporary Residence)
Video: 'Terminal Self' – dir. John Whitney Jr.
Two Quiet Suns – Light Curve (Bandcamp)
Video: Yeasayer 'Fingers Never Bleed' – dir. unknown
DJ Food – Sunspot (no label)
Video: Official – dir. DJ Food and Tom Clarkson
Lost Idol – Beesmouth (Cookshop)
Video: excerpt from 'The Public Voice' dir. Lejf Marcussen
Boards of Canada – A Beautiful Place Out In The Country (Warp)
Video: Unofficial – dir. Neil Krug
Meat Beat Manifesto – Prime Audio Soup (Boards of Canada remix) (PIAS)
Video: 'Series 4' – dir. Normand Grégoire (Nation Film Board of Canada)
Autechre – Teartear (Warp)
Video: 'Beyond The Black Rainbow' – dir. Panos Comastos, 'Skyfall' intro, Aldo Aréchar 'That Will Be The Day' – dir. Matthew Divito
The Human League – Being Boiled (Fast)
Video: Unofficial – TV performance remixed by DJ Food, 'Beyond The Black Rainbow' – dir. Panos Comastos,
Wagon Christ – Chunkothy (Ninja Tune)
Video: Official – dir. Celyn Brazier
Boards of Canada – Satellite Anthem Icarus (Warp)
Video: Unofficial – dir. Videomarsh
Boards of Canada – Music Is Math (Warp)
Video: Unofficial – dir. unknown
Slag Boom Van Loon – Poppy Seed (Boards of Canada remix) (Planet Mu)
Video: Unofficial – dir. Olyamoshi using 'Rendezvous with Rama' Arthur C. Clarke 3D footage
Boards of Canada – Olson (Midland re-edit) (mp3)
Delia Derbyshire and Barry Bermange – The Dreams: Colour (BBC)
Video: 'Hello Machine' – dir. Carroll Ballard (AT&T)
Sesame Street – A Lot of Me – dir. unknown (Sesame Workshop)