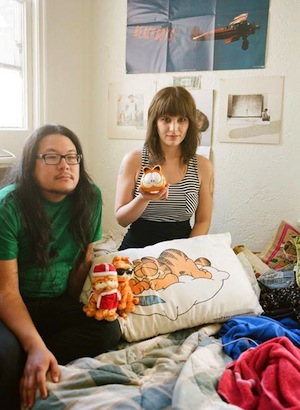 Is it just us, or is the following Best Coast premiere essentially a Taylor Swift song for girls in Ghost World glasses–the "You Belong With Me" of the indie rock set? Either way, our favorite part has to be where frontwoman Bethany Cosetino admits she's a dropout and this other chick has a college degree. Snap, girl…snap!
Mark our words: as mind-numbingly simple as it is, this will be one of the summer's driving-with-your-top-down anthems, a perfect pairing for King of the Beach, the new album from Cosetino's real boyfriend–or so we've heard–Wavves frontman Nathan Williams.
Best Coast's long-awaited debut album, Crazy For You, drops on Mexican Summer July 27. If you've ever been burned on over-priced B.C. singles ($30 for a 7-inch of lo-fi Shangri-La-isms? really?), the vinyl version can now be pre-ordered here.