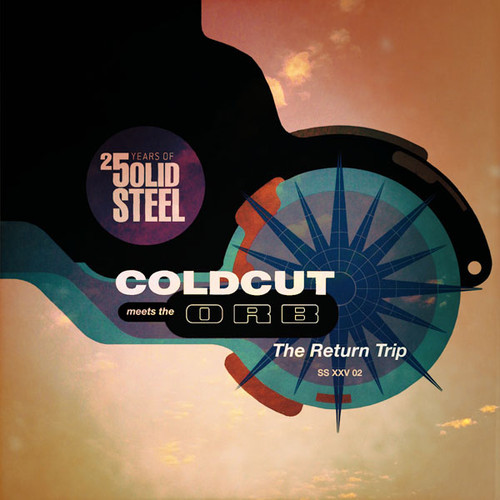 Anyone who grew up geeking out over the sampledelic stables of Ninja Tune and the selected ambient-house works of The Orb will have their minds blown by the following mix. The product of a three-hour jam session between Coldcut (Matt Black, Jonathan More) and the Orb's core members, Alex Patterson and Youth–a.k.a. Killing Joke's bassist and Paul McCartney's better half in The Fireman–"The Return Trip" was edited into an airtight 120 minutes for Ninja Tune's Solid Steel series, leaving a leading candidate for Mix of the Year in its wake.
Here's what DJ Food–the person responsible for melding the pair's manic loops down into two concrete parts–had to say about the session… 
Late last year DK and I were chatting on the phone about potential guests for Solid Steel's 25th anniversary year in 2013. We were aiming high and had decided to ask any prospective guests for themed mixes or collections of tracks outside of their usual comfort zone. The idea of collaborations came up, maybe Four Tet and Caribou could team up or Aphex and Vibert? What and who would make people sit up and say, "holy shit, I HAVE to check that out?". Suddenly the thought bubbled up, why don't we get a rematch between Coldcut and the Orb? It's no secret that their original New Year mash up from the end of 1991 is very high up on my list of greatest mixes ever and the thought of a new sound clash 21 years later was very appealing indeed.

We put it to Matt and Jon, who loved the idea, and promptly contacted Alex Paterson and Youth. Convening at the latter's Butterfly studio on the anniversary of JFK's assassination the four of them, along with Coldcut studio accomplice Dor Wand, got down to it. The resulting session produced over 3 hours worth of material, Matt excitedly collaring me a few days later to rave about what a blast it had been.

He wanted an independent opinion on the results and I immediately volunteered to take on the edit job to sculpt it into the shape needed for a Solid Steel mix. Luckily they had recorded everything to multi-track and just before Xmas I sat down to construct a 2 hour show from the chinese puzzle in front of me. After sifting, editing, compressing and discarding over a 3 to 4 week period I finally had something to send the guys. Matt came over to the studio to run through some finishing touches with fresh ears and we now present 133 minutes of mind-melting madness.

In a time now saturated with mixes by everyone from the famous to the unknown to your mate's mum it's sometimes hard to grab people's attention. This year we start off with something that we don't normally do, we're giving the entire show over to four artists to present one mix. To say that I'm pleased with the result is an understatement, not my contribution to the edit so much as what we now have because of a fanciful suggestion I made a few months ago. It's a very different beast to their first excursion, how could it not be? 21 years is a long time and the whole mix is rooted in dub of all permutations, layer upon layer of sonics to pick apart including many unreleased tracks, versions or remixes by all participants. Lee Perry, Killing Joke, Sun Ra, William Burroughs, Teebs, Ry Cooder, Actress, Prince Jammy, Iggy Pop, Monty Python and Hank Williams are all in there plus probably a hundred more, some submerged, others strutting their stuff, you can have fun trying to guess who played what and who is who hiding behind a pseudonym. We haven't included all the spoken word samples in the track listing because it would just get way too confusing but you'll hear John F Kennedy, Hal 9000, William Burroughs and more swimming around in there.
All we've got to add to that is one simple word: enjoy…
Part 1 + 2 – Coldcut meets The Orb – The Return Trip:
The Orb – Hold Me (Interlude) (feat. Lee Scratch Perry) (Dub Temple Records)
OICHO – Buried (Workhousedigital)
Gaudi & The Orb feat. Lee Scratch Perry – I Start To Pray (unreleased)
Youth vs Brother Culture – Bubble Up (unreleased)
Mulatu Astatke – Yegelle Tezeta (My Own Memory) (Mochilla)
Coldcut – Isotoke (unreleased)
Sun Ra – Astro Black (Impulse)
John Coltrane – So What solo (Columbia)
Arthur Russell – Lets Go Swimming (Logarhythm)
Gene Kelly – Singing in the Rain (Decca)
Derek Scott – Sounds Unusual (Music De Wolfe)
Nitty Gritty – Use To Be My Dubber (Uptempo Records)
Yabby You – Heads A Roll Dub (Profit Records)
The Orb – Man In The Moon (Instrumental) (Cooking Vinyl)
Manuel Gottsching / Ash Ra Temple – Pluralis (Kosmiche Musik)
Moondog – Dance Rehearsal (Prestige)
Delta Uniform Bravo – A Stooges Lament (unreleased)
Steve Hillage – Rainbow Dome Music (Virgin)
Killing Joke – Exorcism (Youth dub) (unreleased) + Delta Airlines Ebonics skit
William Burroughs – Ah Pook Is Here (Giorno Poetry Systems)
Delta Uniform Bravo – On & On (Skewed Version) (unreleased)
The Animated Egg – Sock It My Way (Alshire Records)
Bonnie Dobson – Bird of Space (Prestige)
Monty Python – The Rhubarb Tart Song (Charisma)
Ry Cooder – Paris Texas (Warner Bros)
The Amorphous Androgynous – Guru Song (Artful Records)
Overture – Orchestra (Varese Sarabande)
Killing Joke – European Super State (Youth dub remix) (unreleased)
Pole – Berlin (Kiff)
Master Musicians of Bukkake – Tainted Phenomena (Southern Records)
PART 3 + 4 – Coldcut meets The Orb – The Return Trip:
Coldcut & The Orb – Countdown intro feat. JFK
Popol Vuh – Through Pain To Heaven II (Egg)
Nicodemus – Mad Over Me (Black Joy Records)
Prince Jammy – Shielded Approach (Jammy's Records)
Gil Scott-Heron – The Revolution Will Not Be Televised [Early Version] (Flying Dutchman)
The Upsetter – Lover's Skank (Spangler's Clapp)
Coldcut – Space Brother No.1 (unreleased)
Augustus Pablo – Don D Special – Dub (Rockers International)
Youth vs Brother Culture – People Love The Music (Dub) (unreleased)
Coldcut & The Orb – Shadow jam
Actress – Shadow From Tartarus (Honest Jon's Records)
Coldcut & The Orb – Guru / Witches jam
Delta Uniform Bravo – Bullnose Step (unreleased)
Celtic Cross – Hicksville (Liquid Sound Design)
Osho – I Celebrate Myself
Charanjit Singh – Raga Kalavati (Bombay Connection)
Coldcut & The Orb – Beats Working jam
Youth & Penny Rimbaud – And If I Lust (unreleased)
Ry Cooder – She's Leaving The Bank (Warner Bros)
Teebs – While You Dooo (Brainfeeder)
Killing Joke – Eighties (Youth dub) (unreleased)
Delta Uniform Bravo — Mad Don The Kebab Killing 3 (unreleased)
The Orb – Pluto Calling (Twinkle) (Malicious Damage)
Youth & Jake – 106 Degrees Far Out (unreleased)
Celtic Cross – Jade Garden (Liquid Sound Design)
White Noise – Love Without Sound (Virgin)
Hal 9000 / Jacob Miller – Knocking Version (Dub) (Greensleeves)
Iggy Pop – Mass Production (RCA)
Coldcut & The Orb – HAL 9000 jam
MONTY PYTHON – Finland (Charisma)
Elliot Goldenthal – Estrella Oscura feat Lila Downs (Frida soundtrack)
John Bonham – Drum outtakes
Skatilites – Guns of Navarone (Trojan)
Celephais – Zodiac Free Arts Club (Permanent Vacation)
Robag Wruhme – Thora Vukk (Pampa Records)
Rootmasters – Fade 2 Blue (unreleased)
Hank Williams – Jambalaya (On The Bayou) (DJ Yoda mash) (Unthugged Classics)