Words by EVOL
In 2011, we began working on our versions of Ligeti's "Continuum" using various iconic rave sounds, and more recently we did the same with Hanne Darboven's "Opus 17a." What we call Rave Synthesis is all about taking familiar sounds/structures out of their original environment to try and expand their possibilities. Making versions (or ripping off melodies) can be a very powerful tool in that regard, and is an essential part of music making anyways.
We have a long-standing fascination with recontextualization in electronic music. This includes a plethora of examples, from the Moog fever of the '60s and '70s—when pretty much any remotely popular tune was synthesized—to the countless club anthems that abuse recognizable classical melodies, Christmas carols, and whatever else they can get their hands on. The fact that all five of these tunes are Dutch/Belgian is no coincidence; the Benelux area was a total gold mine for hardcore techno covers in the '90s.
[youlist pid="PLlxVAExh_bYa-ucYYTnGw5xJkex9wIL1s" width="620″ height="349″]
EVOL's Top 5 Rave-y Classical Covers
1. Space Trax, "Vivisection" (Stealth Records, 1991)
Later released on R&S. A typical rave stab evolving into a choppy rendition of Vivaldi's "Four Seasons." The "somebody scream" sample is from "The Party" by Kraze, and has been used on other rave classics, most notably the excellent "Somebody Scream" (Rising High, 1991) by Prophet of Rage.
2. Apotheosis, "O Fortuna" (Indisc, 1991)
A rave cult track made from Carl Orff's "Carmina Burana." (Not just the epic chorus; the main stab is also taken from a recording of Orff's piece.) The slide-y hoover at 2:52 is fantastic. From Discogs: "After the song became an underground hit, another Techno act called Fortuna also made their version and both soon entered the club charts in Europe. However, the estate of Carl Orff (who died in 1982) took legal action in court to stop the distribution of the records on the grounds of copyright infringement. Judgment was finally accorded to the estate. The week the verdict was given (1992), Fortuna featured at #1-position in the Dutch charts "Mega Top 100″, while Apotheosis was at #4. Every 12″/CD Single and compilation featuring either Apotheosis or Fortuna versions still on sale were then withdrawn. The only subsisting copies were the ones sold before the verdict, which gave the track a mythical cult status ever since."
3. Opus Magnum, "Rave to the Joy (X-tra Joy Mix)" (Sound-Products Holland B.V., 1992)
Wendy Carlos gets a lot of flak for bringing synthesizer music to the masses, but her influence is undeniable, and this track is certainly inspired by Carlos' soundtrack for Kubrick's A Clockwork Orange (1971). Sound-Products Holland B.V. was a huge publishing company, far from an underground imprint, which gives you an idea of how huge this stuff was at the time in Europe.
4. Gabber Piet, "Voor Gabber Eliese" (Bunny Music, 1996)
The quintessential gabber novelty song. The back cover of the record includes a preemptive apology: "This is a gimmick from me. Respect to all die-hard gabbers, Bass-D & King Matthew and ID&T. And don't worry, I'll stay always HARDCORE!!!" The cover photo also deserves a mention: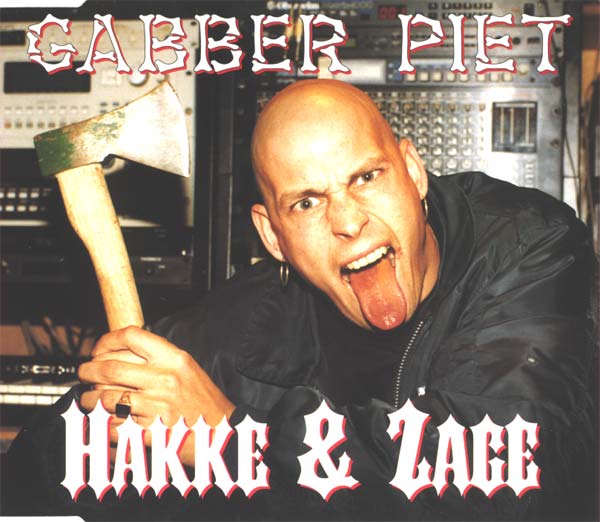 5. Rotterdam Terror Corps, "Beethoven On XTC" (Megarave Records, 1997)
As years went by, Dutch hardcore/gabber not only became international; it also became darker. (And for that matter, cheesier.) The fake church organ on this track is a good example of the supposedly evil vibe that dominates the genre still today, but Rotterdam Terror Corps were there from the beginning (1993) so they deserve a mention for sure.
EVOL present their "computer music for hooligans" at Brooklyn's Issue Project Room tonight, as part of the kick-off for Unsound's annual New York festival. They'll be presenting the New York premiere of rarely heard mathematics-based music from German conceptual artist Hanne Darboven.