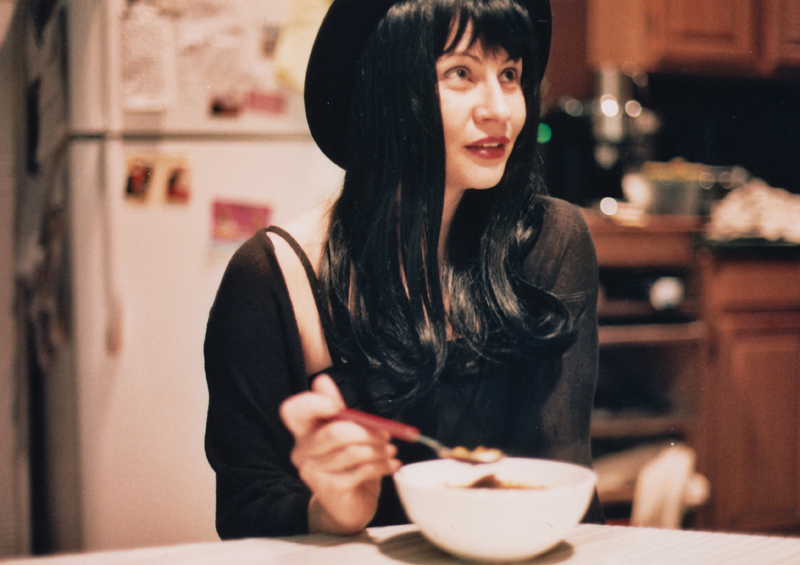 Photo by Caroline Mort
Words by Cassandra Marketos
Frankie Rose didn't learn how to cook as a kid. In fact, it wasn't until a recent trip home to Seal Beach, California–and a meal at her aunt's kitchen table–that the singer/multi-instrumentalist even realized what she's been missing.
"I wanted that food!" she says. "I wanted my mother's enchiladas, my grandmother's pozole. So I had to learn how to make them."
Five months later and she's reciting family recipes from memory in her own kitchen while sharing stories about growing up down the street from her grandmother, where a pot of pozole, the traditional Mexican stew, was always simmering.
"Can you smell it now? It's really getting there!" says Rose, thrilled to be cooking for company. "I don't care about what I eat alone"–her knife chops functioning as audible periods–"I like to cook for my friends. There's too much food otherwise."
Rose's sentiment fits right alongside the meal's history as an oral tradition; until now, the recipe for her grandmother's pozole had never actually been written down. It's simply been passed from kitchen to kitchen in the Rose family.
"As I get older, these recipes have become more important to me," she explains. "They connect me to my childhood, and I can't find these dishes, made like this, anywhere."
Frankie Rose's Interstellar album is available through Slumberland now. Check out Frankie's family recipe–taken from our current issue–below…
[Read this story and the rest of our new issue on your iPad here]