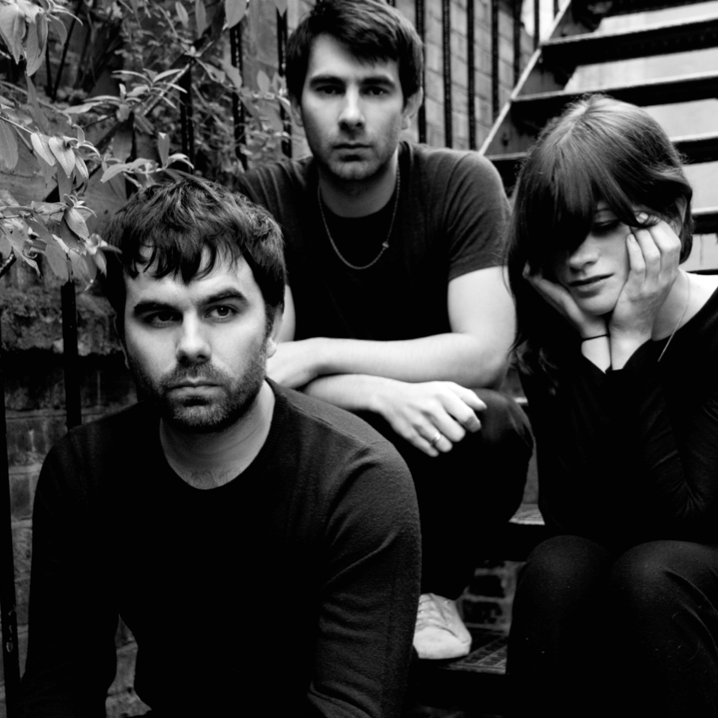 Words by Luke Turner
Photo by Jesse Craig
The members of Factory Floor live and record in a building in Seven Sisters, a part of London that's seen better days–just about a mile from where the London riots ignited this past summer. It's down a road of semi-derelict offices that have been converted into lively African churches, and self-titled enters through 20-foot-tall steel gates and walks into a yard packed with giant trucks from Romania and workers unloading fabric into what you might call a sweatshop. Steam pours from a pipe, and sewing machines rattle as we climb a rusty staircase to reach a reinforced gray door.
Factory Floor set up its base behind this door in May 2010, shortly before it began work on "Two Different Ways," the band's third release and first for DFA Records. Within the group's cavernous, decrepit warehouse space is a tiny studio. Gabe Gurnsey, the group's drummer, lives in a small room adjacent to the space's live room. Nik Colk Void, who plays treated guitars and electronics while delivering Factory Floor's digital mantra vocals, sleeps up a ladder in a lofted area. Dominic Butler, an electronic maestro who tames and conducts the group's sinuous arpeggios, has his own home in London but says he's found himself spending more and more time here.
The normal routine of a London band– turning up at a studio a few nights a week to kick out the jams–was never going to work for Factory Floor. "We've always been separate from anything else," says Void, noting that the group once had a room in a sprawling, fashionable dive called the Premises, then home to bands like Bloc Party and Lightspeed Champion. "They all hated us," Void continues, "and we got kicked out because we were too loud."
Seven Sisters' relative chaos is a better fit for Factory Floor's all-hours labor, even though the living space feels, according to Void, like being inside a Russian doll ("We can hear each other going to the loo," she notes). "But we're bloody lucky to have this place," Void says. "The crossover of all the sounds are really interesting, the preaching and the singing, the live bands they have on in the churches. It's definitely intense."
"There's no difference between these sewing machines going all day next door and the fucking things going in our studio," adds Gurnsey. "It gets switched on at 10 in the morning, and it gets switched off at 10 at night, just this repetitive noise going on."
Throughout the past few years, Factory Floor has earned a reputation in London and across Europe for stunning live performances. On US shores, recently, the band performed at All Tomorrow's Parties in Asbury Park, NJ, and Swans bandleader Michael Gira had nearly climbed atop a speaker to enhance the intensity. The previous night, a club gig in Philadelphia ended with two women grinding against Butler as he tried to pack away his gear.
Early concerts in London were remarkably different–exercises in brutality that would see tracks like "Lying" (featured on their first, untitled EP for the Blast First Petite label) evolve not into walls of noise but the sound of Jericho falling on the audience's heads. Rumor was that Factory Floor struggled to find support slots because bands were afraid to play after them. Yet that volume wasn't just industrial assault tactics; the band maintains that it arose from genuine honesty. "Early on, the gig situation was quite fresh for us, and a lot of our nerves and fears were coming through," says Butler. "We were on a real edge at that point."
"In real life, we're all really nice people," says Void, "but when it comes to playing, that's when our personalities… We wouldn't necessarily have a conversation like that, but that's when it all comes out."
Factory Floor has garnered such admirers as Chris Carter and Cosey Fanni Tutti of Throbbing Gristle, as well as New Order's Stephen Morris, with whom the band has collaborated. "In the tracks, I could hear something which reminded me of the spirit of New Order in the early days," Morris told the Quietus in 2010, "not musically so much as the way they are doing things, something that I felt even more when we saw them live. They were raw, chaotic, fantastic and different–everything I've ever liked in a band."
"[Their] approach is very similar to ours," Tutti added in a separate story. "The motivation is central to what they do; it's not about presentation or reception."
Or as Carter put it, "They have a take-it-or- leave-it attitude, which I really like."
PHUTURE JACKS
Watching Factory Floor perform–their music blending the euphoria of acid house with the power of techno (minus any clinical nihilism)– we get the sense that the band can accomplish more than simply playing its songs. Factory Floor is a psychedelic electronic group for a troubled age, when daily struggles are intensifying. "It's got to cause escapism while you're playing," notes Gurnsey. "The best gigs are the ones where you feel like you weren't actually there."
But how will they transfer all that energy into an album, as everyone expects them to do in 2012? "It's like pushing an iron elephant up a hill," says Butler, half joking, of Factory Floor's ongoing recording process. "You have to freeze this oil on water and make it static. When you're trying to capture it for recording, the moments when you're not actually chipping away at something are as important as the moments that you are. We're not writing the music and then all playing it; we're molding it as we go, tearing bits off and putting new things on."
"We're having to try to discipline our way of making music," adds Void. "One of us has to be in the studio for eight hours, one of us is out here working on sounds, and the other person is going mental in the corner. It's all about the choices we make, pushing and not repeating ourselves."
Closing Factory Floor's gray door behind us and walking through a cold November night, we glimpse the church signs on buildings around us. On one: "Raising Disciples, Doing Exploits!" Another proclaims itself a "Center of Manifestation," occupying its time with "Raising Joyful Citizens." The music of three praise bands bleeds through the broken windows and out across the dark, trash-strewn streets of North London. Perhaps Factory Floor, as it seeks salvation among the grim, actually has quite a lot in common with this neighborhood.
"We've controlled Factory Floor in a way. We don't channel it; we harness it," says Gurnsey. "Sometimes it just pops out of a track, and then it's like, 'Fuck, that's what Factory Floor is.' Even if we were all playing banjos or something, we'd always get to that point where it was the Factory Floor sound. It's that fourth thing that occurs." //
The previous story originally ran in the 14th issue of self-titled, which is available to read in full on the Web here, or in an enhanced iPad edition here. Factory Floor's debut album is due out through DFA on September 10th.