Photo JEFF FRIBOURG
As Froth get set for the June 7th release of their Duress album on Wichita Recordings, the LA band has blessed us with another unique remix (see also: Xeno & Oaklander's minimal-wave makeover a few years back). Ready to rattle your teeth below is a bruising A Place to Bury Strangers take on Froth's new "Laurel" single, which dropped this week.
"When we were thinking of people to remix songs for this record," adds bassist Jeremy Katz, "[APTBS frontman] Oliver [Ackerman] was one of the first people I thought of. I toured with A Place to Bury Strangers last year as a crew member and loved the stripped down 4-track style songs they would play in the middle of their set; I thought it would be a cool style to do a remix with. He's also the king of making insane noises, so I knew he would do something really unique."
Check out the original version below, along with a complete rundown of Froth's upcoming tour and the album itself….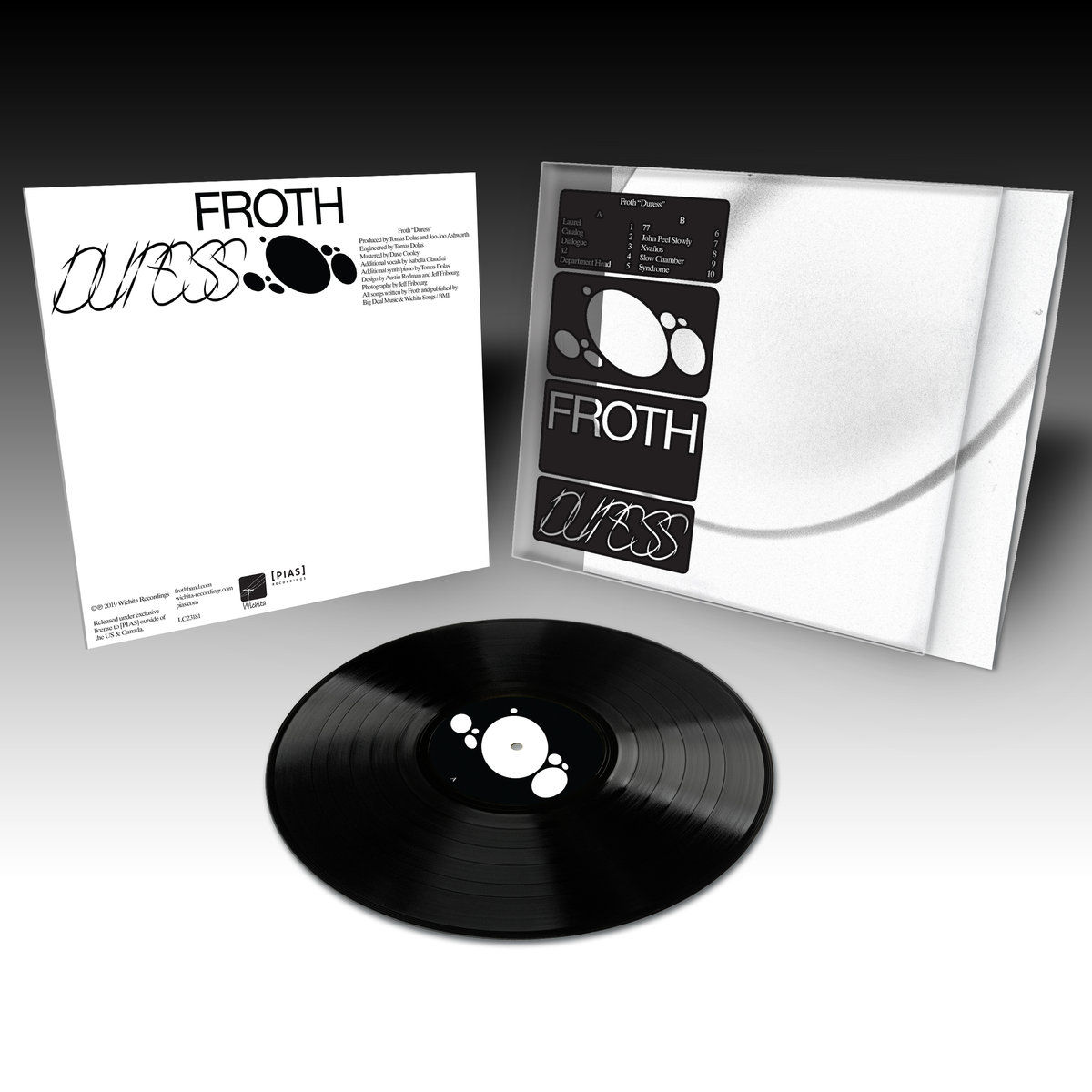 Froth
Duress
(Wichita Recordings, June 7th)
1. Laurel
2. Catalog
3. Dialogue
4. a2
5. Department Head
6. 77
7. John Peel Slowly
8. Xvanos
9. Slow Chamber
10. Syndrome
Froth tour dates:
5/29 Olympia, WA – Capitol Theatre #
5/30 Portland, OR – Doug Fir *early show, all ages* #
5/30 Portland, OR – Doug Fir *late show* # (Sold Out)
5/31 Spokane, WA – Volume Fest
6/1 Seattle, WA – Crocodile #
6/3 Victoria, BC – Copper Owl #
6/4 Vancouver, BC – Clubhouse #
6/7 Los Angeles, CA – Lodge Room, Desert Daze Presents $
6/19 Las Vegas, NV – Bunkhouse *
6/20 Phoenix, AZ – Valley Bar *
6/21 El Paso, TX – Love Buzz *
6/22 San Antonio, TX – Lime Light *
6/23 Austin, TX – Barracuda *
6/24 Dallas, TX – Club Dada *
6/25 Houston, TX – Satellite *
6/26 Memphis, TN – Hi Tone Cafe *
6/28 Madison, WI – UW-Madison *
6/29 Chicago, IL – Logan Square Arts Festival *
6/30 Columbus, OH – Ace of Cups *
7/2 Washington, DC – Comet Ping Pong *
7/3 Brooklyn, NY – Elsewhere Rooftop * %
7/5 Somerville, MA – ONCE Ballroom *
7/6 Montreal, QC – Bar Le Ritz *
7/7 Toronto, ON – Baby G *
7/8 Detroit, MI – UFO Factory *
7/10 Sioux Falls, SD – Total Drag *
7/12 Denver, CO – Globe Hall *
8/23 Eindhoven, Netherlands – Fuzz Club Festival

# with Black Marble
* with Versing
% with A Place To Bury Strangers (DJ set)
$ with Adult Books