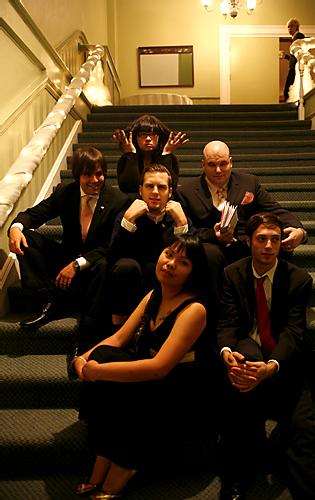 If you're a hardcore-punk purist who can't get over the fact that Fucked Up left Jade Tree for the indie rock-driven (well, kinda; they do have Jay Reatard, after all) environs of Matador Records, you might want to read the inside story of what really happened before stepping on a soapbox. According to a recent press trip in the UK, the band had to buy their way out of their contract after it became clear that Jade Tree wasn't going to properly support the Hidden World LP. Quoth the band …
The process of Fucked Up trying to leave Jade Tree took place between August 2007 and June 2008, when we finally signed a contract with Matador. Getting answers from them during that time was like pulling teeth, and we feel as a band that we lost 2 years on Jade Tree between putting out a record with no label support, and then wasting a year trying to get out of our contract.

We had to pay Jade Tree a lot of money to get out of our contract, and we feel like that money was essentially a reward to them for mismanaging their label and for being neglectful to their responsibilities to their roster. It is a shitty situation for us to be in, but we felt that putting out a 2nd album on Jade Tree would have been a worse option, so we left. We know that most other bands on Jade Tree have had to go through the same nightmare that we did, and that most of the roster from the time we signed has left and gone to other labels, and I know that there are a lot of bands that are angry with the label.

There is this great magazine article that has the guy who runs Jade Tree doing this trip over seas to see this football match – I read it and just thought, like, wow, all this time that I couldn't get a hold of this guy for 8 months, that's where he's at. All the money we had to give them to get out of our contract – that's where it's going. Life is frustrating sometimes.
In happier news, Fucked Up has a monster of a Matador debut on tap for October 7. Find out more about it here.