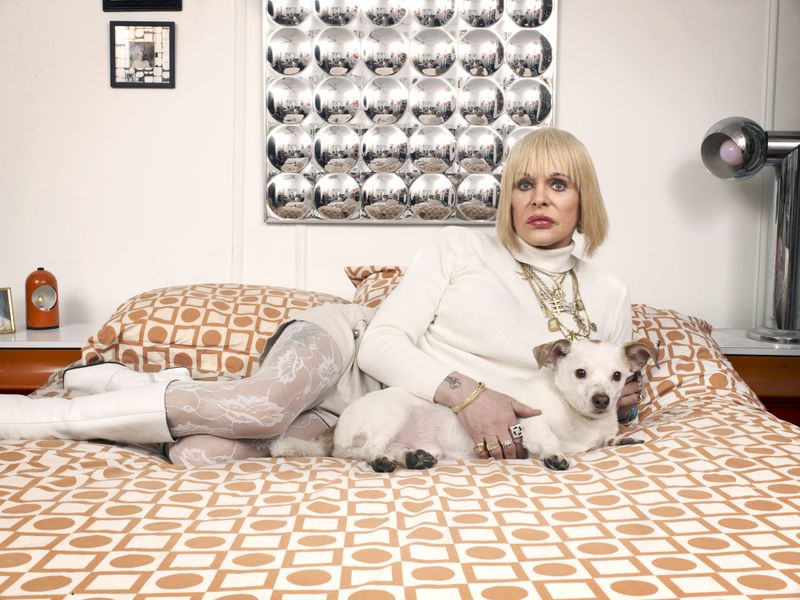 Genesis Breyer P-Orridge, the only-a-matter-of-time coffee table book from former Throbbing Gristle frontwoman Genesis P-Orridge has been put up for pre-order by the European publisher First Third Books. The deluxe edition at least, which features the following:
a 323 page book, printed in Italy, in 6 colours (including silver Pantone) on 170gm Gardamat paper in 20cm x 27cm hardback, with a white linen spine, a mat varnished embossed cover and offering
more than 350 selected images from h/er very personal archives and portraits from renowned international photographers
an introduction by Mark Paytress exploring the motivations that drive Genesis to surrender h/er physical body to art
personal commentary by Genesis on photographs throughout the book.
The book will be numbered and signed by Genesis, and the first 100 buyers may request a personalised message (no longer than 100 characters).
a 96 page catalogue of h/er artworks and h/er collaborations with Lady Jaye, many appearing in a current retrospective at the Andy Warhol Museum, Pittsburgh, USA.
three 7 inch singles, pressed on colored (white, orange and silver) vinyl with original picture labels and presented in specially-designed record sleeves. Four tracks have been created specifically for this project, and the third single is comprised of conversations recorded by Mark, with both Genesis and fellow pandrogyne Lady Jaye.
a 51cm square poster of intimate and explicit Polaroids revealing Genesis and Lady Jaye's exploration of their bodies in their spiritual quest. Suitable for framing, but not for the easily-shocked.
The deluxe edition is housed in a linen bound Japanese-inspired presentation box with a cut-out PTV logo and weighs over 2.5 kilos.
The photo-driven art piece will ship in late September and be available in a standard 990-copy edition from August 13th onward. Check out some detail shots below and the first part of our endless interview between P-Orridge and Black Dice (as moderated by Alan Licht) here…