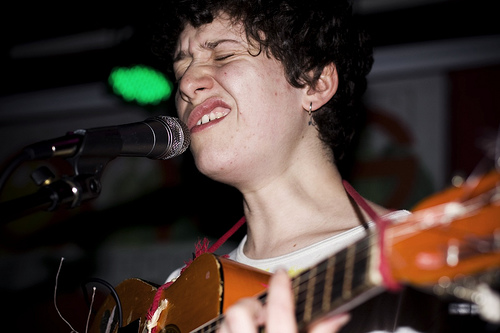 [Photos by Aaron Richter; Text by Andrew Parks]
The Artist and Their Current Album: Micachu & The Shapes, Jewellery (Rough Trade)
What's Been Said: "Micachu is an exceedingly precocious 21-year-old who may go on to completely transform our expectations of music – or she could disappear unexpectedly tomorrow because it would be dull to follow such set paths. Whatever happens, I remain totally enamoured of her music." – The Guardian
"With micro-house maven Matthew Herbert at the controls, wunderkind composer and hip-hop head Mica Levi leads her trio through this 28-minute cockeyed burst, each song a bizarre little post-punk contraption that sounds like it's ready to fly apart and wreak havoc." – SPIN
"A lovable racket, peppered with dozens of tiny, brilliant motifs." – The New Yorker
"Mica has this onstage ease you can't fake or force, wunderkind instincts bolstered by mishmash instrumentation: an Autoharp strummed with a credit card, guitars shrunken to Mica's size, cowbell beats, etc. But probably the most impressive thing about these kids is the effortless nonchalance from which they segue from tin-man-chest-thumping percussion to brief noise squalls to woo-hoo falsetto pop jams." – Village Voice

Our Take: On record, quirky producer Matthew Herbert helped capture the lightning-in-a-bottle nature of frontwoman Mica Levi, a 21 year old with lil' funhouse guitars and a grab bag of oddball instruments (Hoover-derived hooks anyone?) and genre-skimming samples. Backed rather enthusiastically by the Shapes (keyboardist Raisa Khan, drummer Marc Pell) on stage and in the studio, Levi toes a fine line between unfiltered brilliance and slightly irritating noise pop.
Hypeworthy? That depends on how delicate your ears are and whether you can see the same potential that's ensnared Herbert and a growing herd of critics. self-titled's decision is split thus far. Our managing editor couldn't make it through Micachu & The Shapes' Jewellery-skimming set at Pianos because of how atonal some moments were, but the rest of the staff stuck around and left wondering what the hell just happened … in a good way. We think.

Micachu and the Shapes Live @ Pianos from Aaron Richter on Vimeo.