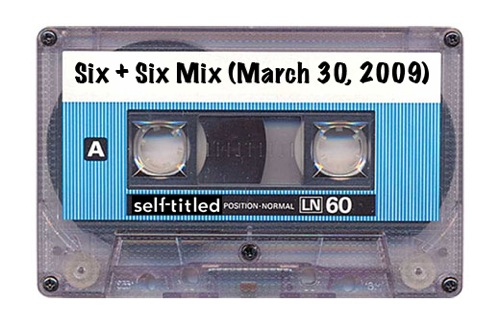 At long last, self-titled launches its first exclusive mix series. We're calling it Six + Six, and the idea is simple: You get twelve songs–two sides (A and B) with six songs each. Easy. In this debut edition, Associate Editor Aaron Richter selects his favorite music of the moment, some old, some new, with a vague theme that revolves around the French and Paul Westerberg. Or nothing at all. Enjoy!
[audio:http://www.self-titledmag.com/wp-content/uploads/audio4/sixsisix.mp3]
Download Six + Six (March 20, 2009)
Check the Six + Six Mix tracklist after the jump.
Six + Six (March 30, 2009)
Side A
"Melody" by Serge Gainsbourg
"Suzanne" (Leonard Cohen cover) by Alain Bashung
"Daniel" by Bat for Lashes
"Don't Let the Sun Go Down" by Daniel Johnston
"I Hate You" by The Monks
"Freakin' Out" by Death
Side B
"Swagger" by The Vox Jaguars
"Somebody Somewhere" by Cazals
"From the Hips" by Cursive
"My Time Outside the Womb" by Titus Andronicus
"Mall of America" by Deceparecidos
"Bastards of Young" by The Replacements
Let us know what you think of Six + Six and what you'd like to hear in our next mix, coming very soon. Also, if your music is featured in this mix or you represent one of the bands and object to your music being included, please send an e-mail to us here and the mix will be amended.