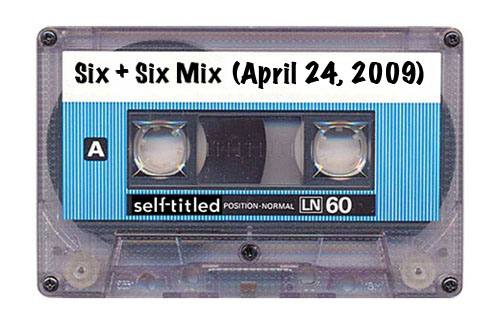 Well, it's not quite summer yet. But if your local Internet weather widget is to be trusted, temperatures are supposed to hit 85 degrees this weekend in New York. Which can only mean two things: self-titled Associate Editor Aaron Richter needs to shave his winter beard before he gets a repulsive half-face tan, and it's time for another installment in the Six + Six Mix Series. This mix is inspired by warmer temperatures, blinding sunlight and memories of summers past. Play it louder.
[audio:http://www.self-titledmag.com/wp-content/uploads/audio4/Six_+_Six_April_24_2009.mp3]
Download Six + Six (April 24, 2009)
Check the Six + Six Mix tracklist after the jump.
Six + Six (April 24, 2009)
Side A
"Almost Crimes (Radio Kills Remix)" by Broken Social Scene
"So What'cha Want" by Beastie Boys
"Good Weekend" by Art Brut
"Rudie Can't Fail" by the Clash
"My My Metrocard" by Le Tigre
"Paper Thin Walls" by Modest Mouse
Side B
"THE rRABBITT" by Mahjongg
"Mr. Your On Fire Mr." by Liars
"I Don't Need You" by Coachwhips
"The New Pollution" by Beck
"Sweet Jane (Full Length Version)" by the Velvet Underground
"Electricity" by Spiritualized
Let us know what you think of Six + Six and what you'd like to hear in our next mix, coming very soon. Also, if your music is featured in this mix or you represent one of the bands and object to your music being included, please send an e-mail to us here and the mix will be amended.