Story by Rebecca Wiener
Photos by Travis Huggett
Everything about Natasha Khan, it seems, is a delicate balance of opposites. "My writing relies on equal parts civilization and wilderness," says the 27-year-old musician as we sit in a slender triangle of green space at the center of a busy SoHo intersection in Manhattan. Casually gorgeous yet sharply deliberate, Khan emerged in 2007 as the creative force behind Bat for Lashes and one of last year's most promising debuts, Fur and Gold.
Growing up, the artist spent summers in Pakistan with her father, part of the prominent Khan line of wealthy squash players. "It was a very barbaric place in some ways," she recalls of stays in her father's native country. "There were animals being killed in the streets and religious symbols and rituals everywhere." The rest of the year, she lived with her mom in England's pastoral Hertfordshire. "My mother and all her friends were real ladies," says Khan. Always painting or drawing or inventing stories, the young artist constantly traveled between worlds, finding escape in classic '80s fantasy films such as E.T., Labyrinth and The Goonies. She now lives by the sea in Brighton, England, when not on the road performing.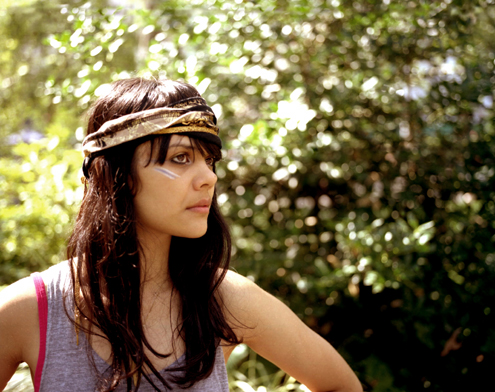 On Fur and Gold Khan produces a sound that is otherworldly and undeniably feminine, qualities that inevitably draw comparisons to Björk and Kate Bush. "As a teenager, I loved Hole and admired Courtney Love," says Khan. "But I could never be"–she hunches down and unleashes a throaty snarl–"I find it much more stressful and difficult to be like a man. I think women should embrace their femininity, use the power in it."
It's the combination of strength and grace, ferocity and compassion that speaks to Khan. Bat for Lashes' lyrics and artwork are littered with references to lovelorn predators and horned beasts locked in embrace-creatures that embody these contradictions. Live, Khan has even made a habit of covering Bruce Springsteen's "I'm on Fire," turning The Boss's husky demands into one long plaintive sigh.
"What's a Girl To Do"
[youtube=http://www.youtube.com/watch?v=n1wnOUH2jk8]
The tension in Khan's choices is no accident. Her oversized bangs, a sweep of glittered eye shadow and that easy smile may seem like trademarks of a carefree hippie child, but Khan knows exactly what she wants. At the University of Brighton, she studied art and music and working primarily on multimedia animations and installations. Now steering her visual presentation, she creates all Bat for Lashes' artwork, exercises tight control over her stage shows and flexes a distinct vision in her music videos, including the remarkable Donnie Darko-inspired midnight ride for "What's a Girl to Do?" Khan stresses that everything Bat for Lashes releases should be considered and cohesive, showing her eagerness to look toward the future. "I'd love to work more theatrically, more performance," Khan says. "I'm working on a few characters right now that are versions of myself."
After graduating from university, Khan took a job as a nursery school teacher. Although she denies that these experiences shaped her achingly nostalgic songs about childhood and wonder, Khan would leave work after hours of hand-holding and storytelling to play music in her bedroom, no doubt carrying some of the day with her. It was in her bedroom where Khan wrote all of Fur and Gold. And it is there that she returns when she can.
Despite the notable kudos lauded toward Fur and Gold–it was nominated for the 2007 Mercury Prize and has been a critical treasure on both sides of the pond–Khan still lives in Brighton with her close friends. She paints and sews in her spare time and leaps into the ocean during the occasional rainstorm. "That feeling of something more powerful than you, it's grounding" she says. "If you're surrounded by concrete all the time, you can lose touch with what makes you human."
Fur and Gold is available now. To hear song snippets, head here.