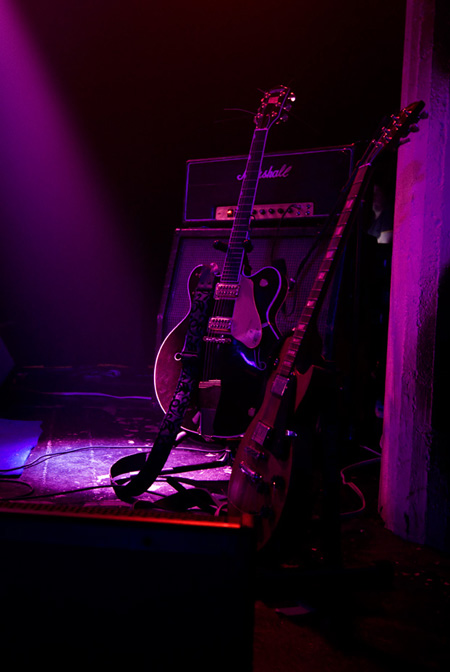 [Photos by Shawn Brackbill]
By Andrew Parks
Before we get to any sort of review here, please take a look at the set list after the jump …
Set List:
Richter Scale Madness
Gargoyle Waiting
Fake Fake Eyes
Mistakes & Regrets
It Was There That I Saw You
Clair de Lune
Another Morning Stoner
I Didn't Mean to Hurt You (abbreviated John Lennon cover)
Bells of Creation (new song)
Totally Natural (f/ Danny Wood on bass)

Encore:
Relative Ways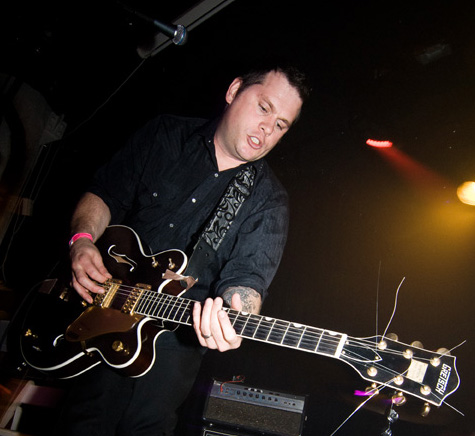 Now that you've seen just how deep …Trail of Dead dug into their catalog at Santos Party House last night, don't you jaded New Yorkers regret missing the band's one-night-only performance as a duo? (The fog-engulfed place was only half-full.)
If you're answer is, "Hell no, I haven't been into them since that album with the orange cover and 'Another Morning Stoner'," all self-titled has to say is, "Where have you been all these years?" Despite what Pitchfork might tell you, …Trail of Dead never stopped writing genre-jumping, trend-skirting rock tunes. Oh sure, some of them have been incredibly self-indulgent, with overtures meant for Philharmonic orchestras and songwriting so Technicolor and over-the-top it sounds tailor made for the silver screen, not mid-sized clubs and hipster-approved iPods. That said, at least they never stopped challenging themselves and their fans in between all of the lineup changes, shattered instruments and on-stage tantrums.
As they proved on Monday with just two members–co-founders Conrad Keely and Jason Reece, trading off on guitars, vocals and drums for a good 75 minutes–and one of the tightest sets we've seen from them in years, …Trail of Dead could have written countless albums like the 1998-2002 LPs revisited tonight. It's in their blood, hence the raw power of old favorites such as "Mistakes & Regrets," a fearsome "Totally Natural," and "Richter Scale Madness," the salad days single that gave …Trail of Dead's new record label a name.
"Our first show in New York was at the Continental," Reece said at one point, breaking any hint of nostalgia with one of his many one-liners from the evening, "Well, we sucked then, and we still suck now."
Maybe in your mind and Interscope's; us, we're ready for the next album and crossing our fingers for an encore presentation of …Trail of Dead in a form as pure and unfiltered as this.