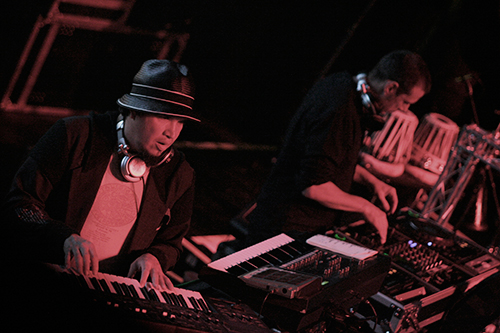 Photos/Text by Sean Edgar
Thievery Corporation probably wouldn't blame you for doubting their live show. After all, the DC-based DJs/producers, Rob Garza and Eric Hilton, specialize in splicing downbeat grooves and tropical jingles–the kind of cuts that are tailor made for European cafés and Banana Republic Stores.
Given that their discography embraces such lackadaisical electronica subgenres as dub, world music, trip hop and acid jazz, laying low on spectacle and letting a mix program do the heavy lifting certainly wouldn't defy our expectations for such laptop symphonies. Fortunately, Thievery Corporation is a lot more aware of this reality than you are.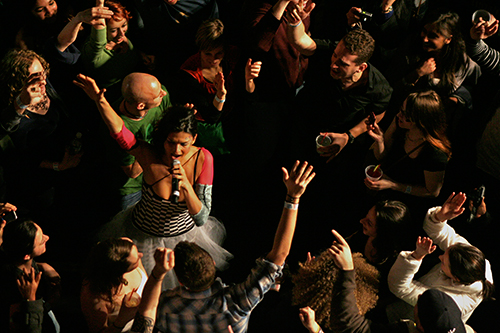 In response, their gigs are filled with a rotating showcase of ungodly attractive vocalists and an opium den full of musicians who hide the puppeteering beat maestros in the background. Opening with a wave of breakbeat foreplay, the Corporation and their gypsy collective of percussionists, instrumentalists, horn players and Rastafarian rhymers cleared 29 tracks in roughly two and a half hours.
The mood was light and festive, with an unusual amount of Caucasian gyrating for a venue like Terminal 5. As the audience was practically middle-aged and significantly drunk, we bore bizarre witness to an aging demographic of post-ravers still searching for  late-'90s car commercial anthems with vocoder harmonies.
Under Hilton and Garza's sway, however, the entire experience was surprisingly nostalgic and mildly charming.
The most kinetic moment of the show came with "Warning Shots," a concussive assault of dub riddims and bass lines that ended the initial set, but like the trancey mixes the group started their career with, the entire show rang with a consistent grove that transported at least 150 minutes of forgotten Ibiza revelry to the shores of the East Coast.