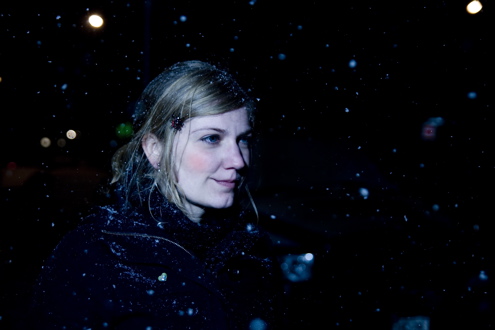 Sally Shapiro is so terrified of performing that her first brief tour of the U.S. (including a stop tonight at New York's Mercury Lounge) is a DJ-only affair alongside her Italo-sculpting producer Johan Agebjörn. While this'll be exciting to all the disco revivalists out there–the kind that equally worship Lindstrøm, Giorgio Moroder and Metro Area–those of us who fell for Shapiro's Disco Romance disc are going to have to wait a little longer to hear any of those tracks in a live setting.
In the meantime, Shapiro has not one but two volumes of remix collections on the way this spring, the first of which drops on April 15 and features expansive and airy pop (Holy Fuck's "Find My Soul" treatment), wobbly synths and slight Depeche Mode melodies (Junior Boy's "Jackie Junior"), and a downright epic Lindstrøm remix ("Time to Let Go") that starts off in Cybotron territory with electro breaks and vocals that weave in and out of the mix like the haunted forest whispers that taunt us in Lost. In other words, every contributor twists their track into new territories far removed from Shapiro's original recordings. Oh by the way: If you can't wait to hear all of the above on CD, Remix Romance Vol. 1 is available through Amazon's digital store here. Vol. 2, on the other hand, will be available on May 13 and include remixes from DNTEL, Solvent, and Russian Futurists.
Which brings us to a very special Sally Shapiro feature: our first edition of "IM S/T," an extensive unedited conversation with an artist over–you guessed it–Instant Messenger. Check it out after the jump along with some of Johan's DJ mixes and other mixed media links …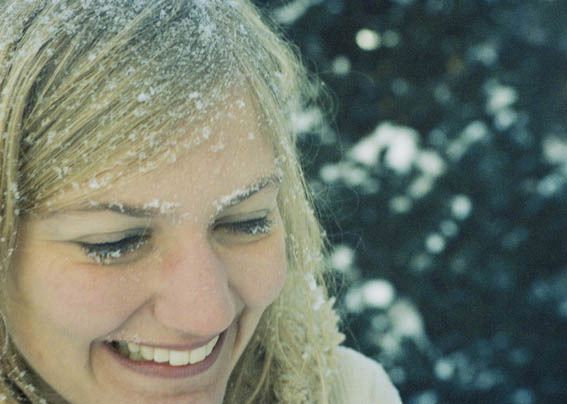 3:41:59 PM Arye Dworken: sally?
3:42:16 PM SALLYSHAPIR0: Hi, here I am!
3:42:23 PM Arye Dworken: ahhh, finally!
3:42:37 PM Arye Dworken: i thought i would never find you
3:42:55 PM SALLYSHAPIR0: Sorry I misunderstood the information obaout the chat
3:43:06 PM Arye Dworken: oh, no problem
3:43:16 PM Arye Dworken: you like to stay anonymous?
3:43:26 PM SALLYSHAPIR0: yes, I do
3:43:33 PM Arye Dworken: may i ask why?
3:43:46 PM Arye Dworken: isn't it all about the fame?
3:45:35 PM SALLYSHAPIR0: because it´s of no important since a name will say you nothing. Also, we want to do it the 80s disco way, when they used pseudonyms. Also, I expose my personality via the voice and…
3:45:50 PM SALLYSHAPIR0: … I feel u easy doing that with my real name
3:46:03 PM SALLYSHAPIR0: ..uneasy shall it be..
3:46:21 PM Arye Dworken: got it. makes sense. you seem really shy
3:46:22 PM Arye Dworken: are you?
3:46:58 PM SALLYSHAPIR0: yes, sometimes. especially when it comes to exposing something personal, creating stuff etc.
3:47:05 PM Arye Dworken: where did you come up with the name "sally shapiro," which, by the way, made me think instantly that you were Jewish.
3:48:36 PM SALLYSHAPIR0: haha, yes I´ve heard that some make that association… it was Johan (my producer) that proposed it, we wwerew just looking for an english name with an italian touch which was not to common and not to uncommon and we like alliterations.
3:49:10 PM SALLYSHAPIR0: I didn´t know it sounded jewish.
3:49:21 PM Arye Dworken: yup. shapiro is a jewish last name
3:49:33 PM SALLYSHAPIR0: ok, nice to know then.
3:49:41 PM Arye Dworken: ha
3:49:46 PM Arye Dworken: where are you right now?
3:50:03 PM SALLYSHAPIR0: at my producer´s place.
3:50:27 PM Arye Dworken: in sweden?
3:50:37 PM SALLYSHAPIR0: yes. in gothenburg.
3:51:01 PM Arye Dworken: will there be any touring behind this record?
3:52:09 PM SALLYSHAPIR0: I haven´t decided that yet. We are discussing it time to time, and I still feel I´m too nervous to do it.
"Jackie Jackie"
[youtube=http://www.youtube.com/watch?v=hVUlFn08I8I]
3:53:33 PM Arye Dworken: have you ever performed live?
3:53:38 PM SALLYSHAPIR0: no
3:54:13 PM Arye Dworken: tell me about your collaboration. are you responsible for lyrics as well as vocals?
3:54:45 PM SALLYSHAPIR0: no, Johan writes the lyrics, but I can give him themes to write about.
3:55:32 PM SALLYSHAPIR0: I use my veto but Johan is the producer of the music and songwriter in most cases.
3:56:23 PM Arye Dworken: you speak about an italian disco influence. for those unfamiliar with it, can you explain the aesthetic?
3:58:11 PM SALLYSHAPIR0: neon feeling, a little glamourous but at the same time a bit cheap. They try to imitate american disco, but fail. They sing with heavy accents and have very bad lyrics.
3:58:22 PM Arye Dworken: ha ha
3:58:26 PM Arye Dworken: well done
3:58:33 PM Arye Dworken: are you johan's muse?
3:59:14 PM SALLYSHAPIR0: can you explain muse, I just think of Odysseus…
3:59:45 PM Arye Dworken: did you inspire johan to make this record? did have you specifically in mind for these songs?
4:00:46 PM SALLYSHAPIR0: The first song Johan wrote without thinking of who would sing it (I´ll be by your side), but after that he has designed the songs for me.
4:01:11 PM Arye Dworken: how do you know one another? are you romantically involved?
4:02:39 PM SALLYSHAPIR0: we got to know each other when we worked at the same office some years ago and have been in touch sometimes since then. We have no romance.
4:03:05 PM Arye Dworken: did you have any ambition to be a singer?
4:03:36 PM SALLYSHAPIR0: no, not at all. of course when I was 10 years or so, like everyone else, but not since then.
4:04:22 PM Arye Dworken: so is this a hobby of some sort? or is this something you anticipate turning into a career?
4:05:16 PM SALLYSHAPIR0: I wouldn´t mind being able to make out a living on it. But I´m not giving all my energy into it either.
4:05:38 PM SALLYSHAPIR0: I will explain…
4:06:57 PM SALLYSHAPIR0: … because I feel it would be a very uncertain and unstable living and a bit dangerous to rely your ecenomy and self confidence on a branch that is fluctuating so much.
4:07:13 PM Arye Dworken: understood. and quite practical
4:07:18 PM Arye Dworken: what do you do when you're not a singer
4:07:45 PM SALLYSHAPIR0: oh nothing special at all really. 😉
4:08:40 PM Arye Dworken: ha ha. so private, sally
4:08:54 PM Arye Dworken: are people recognizing you in your home country?
4:09:27 PM Arye Dworken: and if they do, do you answer to sally when they call you that
4:10:12 PM SALLYSHAPIR0: no. actually I´m a bit surprised that noone – not on the trams or new people I meet – have said anything. But also I don´t hang around so much in indie pop circles.
4:10:56 PM Arye Dworken: i love sweden. i love the music there.
4:11:20 PM SALLYSHAPIR0: nice! why?
4:11:56 PM Arye Dworken: i adore the pop scene.
4:12:44 PM SALLYSHAPIR0: i listen most to 80s disco…
Johan Agebjörn, "Megaman II"
[youtube=http://www.youtube.com/watch?v=kQ0mUSsYG8Q]
4:13:03 PM Arye Dworken: can you recommend some great italian disco? i mean, how much of it can there be?
4:14:21 PM SALLYSHAPIR0: more than you believe really. valerie dore, italian boys, squasch gang, miko mission… but unfortunately most of them do one really great track and the rest is not so fun.. not many albums really, most one hit wonders.
4:14:49 PM Arye Dworken: are there any compilations that put them all together?
4:15:34 PM SALLYSHAPIR0: yes, a lot. the best is italo disco collection, there is a 4CD box. it´s the best of the best.
4:17:10 PM Arye Dworken: and every song is a winner?
4:17:23 PM SALLYSHAPIR0: not every, but a lot.
4:18:19 PM SALLYSHAPIR0: I also listen to other music, but I´m not up to date with the last popular stuff, and I´m very bad at name dropping. I like Suzanne Vega for example.
4:18:21 PM Arye Dworken: such an unusual genre to fall in love with
4:18:42 PM Arye Dworken: how were you first introduced? do you remember the first song you loved?
4:20:56 PM SALLYSHAPIR0: Johan introduced me to the term italo disco, however I´ve listened to a lot 80s disco before that. Liked it in the 80s when I was a child and a bit secretely also later. I don´t remeber the actually first track, but I remember that I loved Oh mama with Lili and Sussie in the 80s – a great italo track by a swedish artist that I still like.
4:22:11 PM Arye Dworken: how long did it take to make the album
4:23:13 PM SALLYSHAPIR0: half a year to do the first 7 tracks that were on the european release, and then some months to do the new three tracks to the american release.
4:23:41 PM SALLYSHAPIR0: But we didn´t work with it the whole time.
4:23:55 PM Arye Dworken: were you surprised that there was interest from an american audience?
4:25:08 PM SALLYSHAPIR0: A little since italo disco never was so popular in the USA compared to Europe.
4:25:57 PM Arye Dworken: i've read somewhere that johan was really surprised. if you didn't expect many people to be interested, then what inspired you guys to make this a real project?
4:26:01 PM SALLYSHAPIR0: In europe there is some nostalgia that helped to spread our music.
4:26:10 PM Arye Dworken: so you're popular in europe?
4:30:12 PM SALLYSHAPIR0: Johan wrote I´ll be by your side as a try to make something 80s disco sounding since he always been a big italo disco fan. It was more like a fun thing. Then when he uploaded it on the webside and spread it to italo disco forums, a lot of people liked it and we got in touch with Diskokaine, our first label. There we did the 12" and then the label asked us to make a whole album and we couldn´t refuse. But we didn´t expect it to sell so well. So in the end we are surprised, really, that people that is not italo disco nostalgic like it.
4:30:30 PM SALLYSHAPIR0: in europe we are popular most on an indie pop level, not mainstream.
4:31:33 PM Arye Dworken: if we wanted to go out dancing in sweden, where would we go?
4:32:09 PM SALLYSHAPIR0: if you like 80s disco there is a club here in gothenburg called skoldisco (school disco).
4:33:33 PM Arye Dworken: will we see you there?
4:33:48 PM SALLYSHAPIR0: maybe. incognito though…
4:36:38 PM SALLYSHAPIR0: hello?
4:37:37 PM Arye Dworken: yeah, sorry. i actually have to run off, sally
4:37:45 PM Arye Dworken: but it's been great chatting with you
4:37:55 PM SALLYSHAPIR0: ok, nice tlking to you!
MP3: untitled Johan Agebjörn mix
MP3: Johan Agebjörn, "Crying on the Dancefloor" mix