Words ZACHARY LIPEZ
Lead Photo MARILYN CHEN
When I began writing a piece about Swans, Jarboe—who was in the band from 1985 till its initial dissolution in 1998—was the first person I attempted to contact aside from Michael Gira. Though the reformed Swans has reestablished Gira as the driving force of the band, for at least half of Swans' existence it was considered as much a vehicle for Jarboe's distinctive darkly angelic singing as his self-loathing bellow. I didn't hear back from her and, assuming she just didn't want to talk and not wanting to hound her, I carried on with the article as best I could. So when, a few days ago, I received an email from Jarboe stating that I had used an email address she never checked and, sure, she'd answer a few questions, I was both embarrassed and delighted.
Like Gira, there's an admirable sense of self-invention in Jarboe. Like she decided at a very early age that she was going to be very interesting: as larger than life as those she admired. From her parents being in the FBI to growing up in New Orleans or on the Mississippi Delta to inserting herself into Swans to becoming a patron saint of avant-metal and vocalists world-over, Jarboe desire to both transcend and "endure" is very, well, Swans-ian. My admiration for both Gira and Jarboe is tempered by the suspicion of just how goddamned exhausting it must have sometimes been for mortals to have been in the same room as them. But Jarboe's art, both within the Swans and without, justifies her intensity. (Although I should note, she was extremely kind and gracious via email).
In recent years, Jarboe has worked nonstop, from providing guest vocals for oodles of metal bands (including Neurosis and Cattle Decapitation) to voicing an episode of the JG Thirlwell-scored Venture Bros. Her solo work is consistently thrilling (2008's Mahakali is a personal favorite), combining textured drones and tribal drums with her endlessly varied repertoire of voices that span lil-cherubs-before-the-Fall to Old Testament Yahweh in full spiteful wrath. Regardless of its notoriety in comparison, her solo music puts her being in Swans as part of a larger body of work rather than existing in its shadow…
I know you've told the story many times, but on the off chance your memory has changed, how did you discover Swans? What compelled you to seek Michael Gira out? Were you certain that you were going to join the band? Was there even that much intention, or were you just winging it?
I heard "Power For Power" on WREK, a diversified college radio station in Atlanta. I couldn't find the record anywhere so I befriended some students at the station and borrowed the station's copy. I wrote the address on the record cover asking for the lyric sheet. I received a photocopied lyric sheet from Michael with a handwritten note. I was creating my own experimental music and performing in art galleries at that time and so I sent a tape to Michael and a letter. He liked the tape and we began lengthy phone conversations. On a trip to NYC in March 1984, I met Michael and we immediately had a strong rapport. I then went to 93 Ave B to a Swans rehearsal where I met the lineup at that time. That summer, I flew to Berlin to join the first Swans European tour. I helped carry gear and drums and even members of the band when they were inebriated. During those days they chain-smoked and drank heavily. I was in contrast, a vegetarian athletic bando boxer student and didn't smoke or drink. I knew from the moment I heard "Power For Power" that I was destined to be in Swans.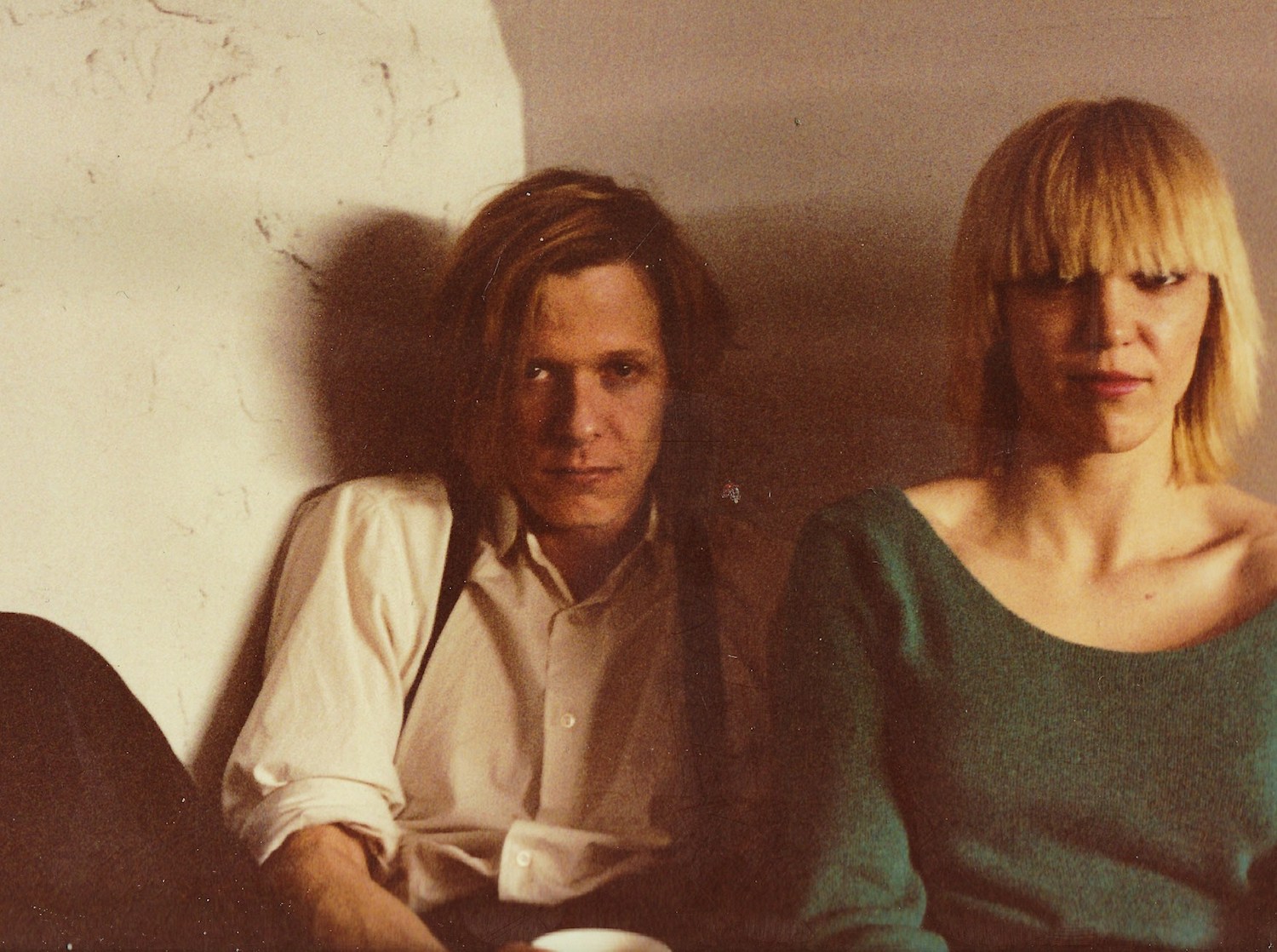 How did your relationship—and you can interpret that word any way you're comfortable with—with Gira and/or Swans affect you artistically? Do you think your work today comes directly from that OR—as Swans really became as much about you and your vision—was Swans just part of the, forgive me, journey?
Michael and I influenced each other I'd say. Through me, he first heard Arvo Pärt and Popol Vuh and various melodic and expansive music. I had received both vocal and Hammond organ lessons and I also had an ear for arrangements and harmonies. However, my original intent was to play bass in Swans and I wasn't even thinking about vocals or keyboard when I moved to NYC in '84. My involvement initially involved handling fan mail and trudging through snow to photocopy press kits and organizing Michael's writing. I bought him a new typewriter to help him as he was very poor at that time and didn't have a decent typewriter.
Since Swans became as much a part of you as it was Gira's, what was it like having them reform without you? I don't mean this as a shit-stirring question; I'm genuinely curious. As you had vocals on The Seer, can I assume a certain level of civility? Were you approached to sing on To Be Kind? Did/would that hold any interest? Do you still talk to anyone in the band?
My first recorded involvement in Swans was 1985 and my first live show as a member of Swans was 1985. I bought an Ensoniq Mirage sampling keyboard, as that was decided to be the textural element needed to expand the sound. In 1986, Michael and I decided to do [the Skin album] Blood, Women, Roses and it was such a stimulating effort focusing on my voice that we then made Shame, Humility, Revenge with his lead vocals.
http://youtu.be/yoz3mSSW1QA
This had a strong impact on the forthcoming Swans recordings, which became music with atmospheric passages breaking into the singer's voice. I contributed heavily to Children of God and I began sharing the role of singing lead and fronting the band live. Michael and I spent some time together in 2011 when I attended a Swans concert. It was very strange indeed to be in the audience, as I had not done that since 1984. It was hard because I understood what was happening dynamically between the ensemble and did not experience the show as a consumer, but rather as a producer and a musician who contributed in her mind during the entire concert. I would describe what I felt as utterly surreal and it felt wrong inherently to be in the audience instead of contributing in a concentrated meditative focus as was my experience every single concert I did in Swans. Michael asked me to do background vocals and a vocal collage for The Seer. I was elated to be involved, as I never betrayed my love of Swans even when Michael and I disagreed about things and had such a gripping and intense relationship.
Do you hold The Burning World in as much contempt as Gira does? I love that album but what the fuck do I know.
I like the songs and my vocals on "Can't Find My Way Home" and "I Remember Who You Are" are heartfelt. The issue for me isn't the songs. If you compare the sound of The Great Annihilator or White Light From the Mouth of Infinity or Children of God, you can hear that, by comparison, The Burning World does not have the passion and intensity. The recording process was also awkward and contrived. In my opinion it is because session players—as talented as they certainly are; for example, [L.] Shankar faithfully played with proper inflection what I sang to him, as did the string section I sang the part to on "Goddam the Sun" or Jeff Bova, whom I sang keyboard parts to—took away the soul we have on the other albums. I certainly saw this as it was happening and I told Michael what I thought. When smooth, professional backing singers were recorded replacing my backing vocals, I was insulted and furious. Fortunately, their vocals were deleted and mine were added. So the question is: At what point can an album be called a Swans album I'd ask, when the current line-up isn't recording a fair amount of the music? Are hired slick players better than the people who have their blood sweat and tears invested?
Norman told me—when I was talking about Swans as a NYC band—that he didn't see it that way, at least in the '80s, as NYC was a junkie town and Swans weren't a junkie band. How do/did you see Swans in the context of NYC music, or is that entirely irrelevant to you? If you'd like to say anything about what context you do see Swans or your own solo work fitting into, that would be swell too.
Yeah, I think that is too generalized. Sonic Youth, for example, weren't "a junkie band." I never felt the location had a thing to do with the music. I will never forget walking in the Colorado desert in 1984 listening to Cop on my headphones through my Sony Walkman, the sound visually mirrored by the Sangre de Cristo mountains on the horizon and timeless as the endless desert.
http://youtu.be/Rq72g_-6IF8
You've become a beloved figure to metal fans over the years. Is that odd for you? Nice? Preferable to being shoehorned into a goth ghetto?
Collaborating with Neurosis both on album and live shows remains a creative high to me. Working with masters of their craft—such as Phil Anselmo and Attila Csihar—and recording "cameos" with Secrets of the Moon, In Solitude and Cattle Decapitation has been great. I respect the metal musicians I know and it was also fantastic for me to play Hellfest, Inferno Fest, Roadburn…
Your voice, in your last few records, seems as strong or stronger than your work with Swans. Do you feel like you've made any stylistic or emotional changes in how you use it?
I used so many voices in Swans and World Of Skin. I do keep exploring voice dimension. Here is a link to a live performance in Swans in 1997. The multiple personalities in all those voice shifts and the low growl at the end are my performance and not through effects.
I also suggest a viewing of the 2000 NYC DVD, as it captures my voice coming out of Swans and my first NYC show solo. Made even more memorable because Michael was in the balcony for that show and he came into the dressing room afterwards and we embraced and he tenderly said, "You're a great singer."
Please tell me about your work with Helen Money!
We did some West Coast shows together in 2014 and I wanted to collaborate with her after watching her show. We are currently working on an EP and we are discussing live shows in Europe 2015.
Finally, please just give me a little summary of what's next.
After composing music for the game The Path and doing the voice of Salome for Fatale, I'm now licensing my songs for an Oculus Rift game in which I also appear as myself in the game. It's in process now so I can't be more specific. Last year I toured all over, including places I had not yet been, like Estonia and Bulgaria and Romania. I'm enjoying touring Europe and working with new musicians every tour. I also had my fifth gallery installation. This time it was at Artisphere. It is my second group show that included Ryuichi Sakamoto. I'm also working quite a lot these days on purely instrumental music as I enjoy arranging and creating textures. I'm also painting and just completed my first large scale piece.
[youlist pid="PLlxVAExh_bYYWhAPt6iAVziozjUX-iZ-q" width="960″ height="540″]