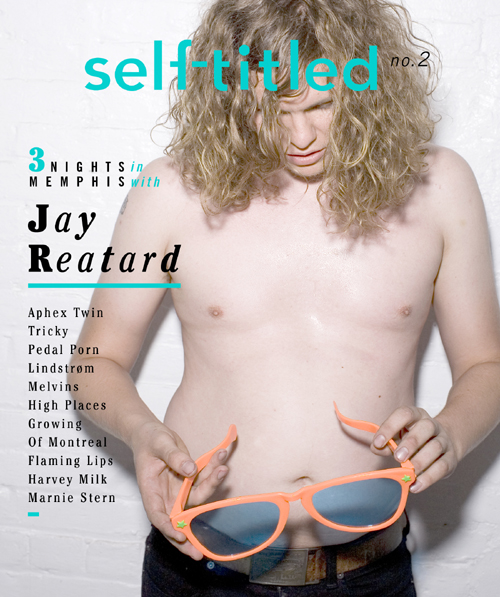 self-titled is pleased to announce details of our second digital issue and a special release show/unofficial CMJ showcase featuring Jay Reatard, Amazing Baby, Crystal Antlers and Women. The latter will descend upon 250 lucky Brooklynites in the following fashion …
self-titled magazine and R5 Productions present:
Expect a preview of the entire event soon. For now, here's what will be in st002 when it drops in a couple weeks:
J. Bennett, Jay Reatard and three sleepless nights in Memphis
A food-centric tour diary written by The Melvins
A plug-and-play session with some of Kevin Shields' guitar pedals
Wayne Coyne of The Flaming Lips fills in our monthly Mad Libs sheet
Marnie Stern's sci-fi film guide
Fall recipes from The Spinto Band
A couple of exclusive early-day mixtapes from Michna
Growing explains how to tell drone records apart
Lindstrøm shares a Norweigan travel guide
The Faint breaks down Aphex Twin's entire discography
Harvey Milk's bassist shows us what it's like working at one of Brooklyn's most acclaimed restaurants
Two of our writers go in search of The Real Tricky
Kevin Barnes somehow makes his cryptic Of Montreal lyrics even more confusing
Various pieces on Poni Hoax, Mogwai, High Places, Ra Ra Riot, Parts & Labor …
Audio!!!!