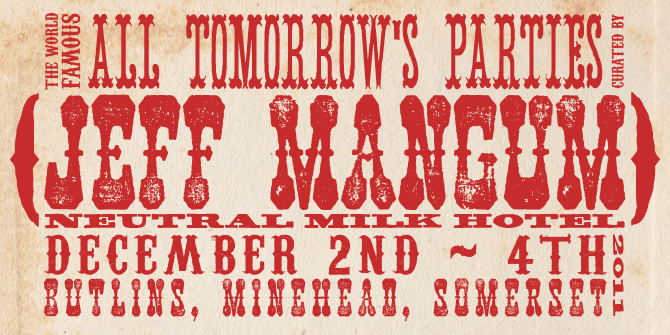 Fresh off his forthcoming appearances in Asbury Park, Jeff Mangum has agreed to curate All Tomorrow's Parties in the coastal town of Minehead. Set to touch down in Somerset county on December 2-4, the bill includes multiple solo acoustic sets from the Neutral Milk Hotel frontman and the following:
Superchunk
The Olivia Tremor Control
Young Marble Giants
The Magic Band
The Raincoats (performing their self-titled debut)
A Hawk and a Hacksaw
Tinariwen
The Apples In Stereo
Around 40 acts are expected throughout the weekend. Check out ATP's official site for more details, including how to buy tickets for the 5500-capacity fest this Friday.