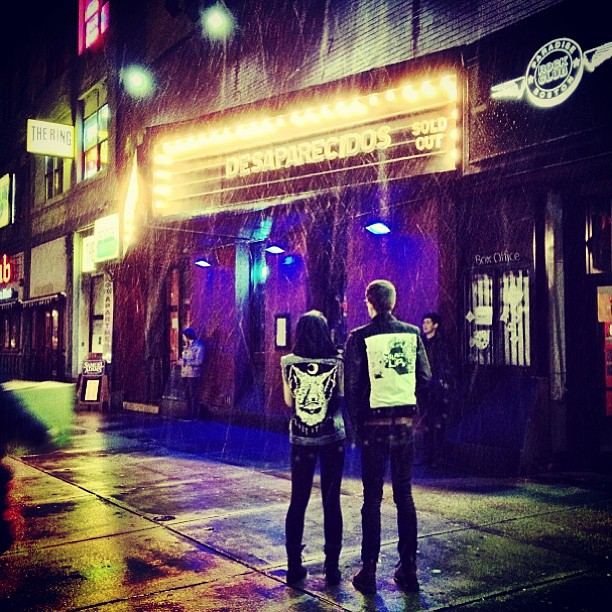 [Photo via denverdalley]
"Ever hear the phrase 'it's a dog eat dog' world?" Conor Oberst asked a sold-out Webster Hall on Wednesday night. "Well it's more like a dog fucks another dog in the ass, then slits its throat and pushes it in the gutter."
No one's ever accused the Bright Eyes frontman of being too subtle, but he really doesn't have a mute button in his other band, Desaparecidos. If anything, the welcome return of Oberst's long-lost punk side project has reinvigorated the rest of him more than any Bright Eyes album could. That's because his heart's always been here–in protest songs that feel like a slap to the face, and hook-heavy wakeup calls that happen to pack a hell of a punch.
Maybe that's why the band's one album (2002's Read Music/Speak Spanish) has aged so well, why it's the one short-lived branch in Saddle Creek's tower-sized family tree we keep going back to. Like a Titus Andronicus record delivered a decade early, it captures our increasingly paranoid country perfectly, from the marching orders of "$$$$" to the lapsed American dreams of "The Happiest Place on Earth."
And then there are the couple singles they've pressed in the past year, tracks that have taken Oberst's liberal leanings to a whole other level. More than just a simple call to arms or a rallying cry to question everything, they wage all-out class warfare ("The Left Is Right," "Anonymous") and lend a voice to the voiceless ("MariKKKopa," which attacks the immigration policies of border towns in Arizona). And if that doesn't make the group's point loud and clear, Oberst fills in the blanks with his stage banter, promising to shit on the grave of "the Sheriff" and asking fans to rob the banks, bust open the nearest ATM and take the power back.
If all of this sounds a little too familiar–and let's be honest, a little quaint–it's because not much has changed in the past 10 years. And while some might miss Oberst's well-orchestrated warbling in Bright Eyes, we'd much rather see him disprove the opening line in "Mall of America": "So while they say it's murder on your folk career/ To make a rock record with the disappeared." It's more like the other way around.
Desaparecidos @ Webster Hall, 2.27.13:
Left Is Right
The Happiest Place On Earth
Mall Of America
Backsell
Mañana
Man And Wife, The Former (Financial Planning)
Greater Omaha
Survival of the Fittest / It's a Jungle Out There
$$$$
Anonymous
Man And Wife, The Latter (Damaged Goods)
Marikkkopa
Encore:
Constant Headache
(Joyce Manor cover) (with Joyce Manor)
Spanish Bombs
(The Clash cover)
Hole In One