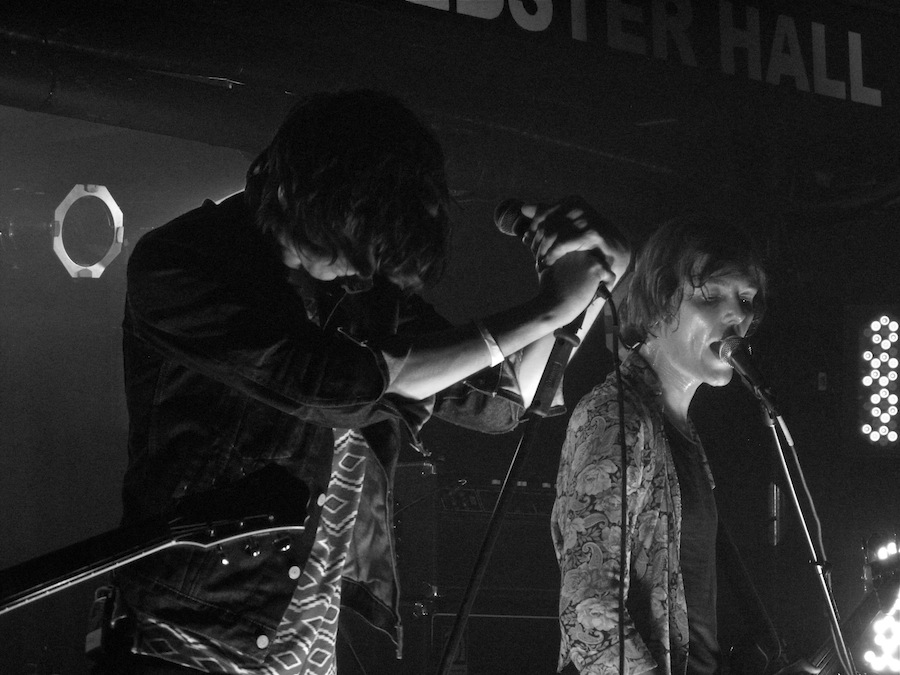 Words and Photo by Andrew Parks
The Artist & Their Latest Release: The Horrors, Skying (XL, 2011)
The Set In a Few Sentences: The last time we saw the Horrors, they were still straddling the diametrically opposed realms of art rock and pure camp; irrefutably caught in an identity crisis that might as well have been co-sponsored by the NME. Which was really frustrating to witness given how grown up the group's second album (2009's Primary Colours) sounded on the first, fifth, and fiftieth listen. (Unlike most of the music that passes through self-titled's office–records that don't remain in rotation for more than a week–we still listen to it regularly two years later.)
Aside from the detached demeanor of keyboardist Tom Cowan and the pervasive sense that smiling breaks a band's collective spell, the gap between the group's modish image and highly stylized hooks is effectively closed now. As illustrated by its Top 5 debut in the UK (with nearly 14,000 copies sold!), Skying is as sunny as it's sleeve, making it even harder to believe how the Horrors went from dressing like My Chemical Romance cast mates to working with Portishead's Geoff Barrow and Aphex Twin's drinking buddy, Chris Cunningham.
Which isn't to suggest that we like it more than their last LP. If anything, Skying is subtle and slightly sleepy in places where Primary Colours is sinister and deeply satisfying. A grower, in other words, as evidenced in how its best songs ("Dive In," "Still Life," "You Said") held their own against fan favorites like "Sea Within a Sea" and "Scarlet Fields" at MTV Hive's intimate Webster Hall Studio show on Tuesday night. Captured for a live stream audience, the set was impeccably mixed and paced, right down to the extended, relatively indulgent passages of "Moving Further Away."
"You guys are wonderful!" one fan shouted near the end of it all, causing a sly smile to crack through Faris Badwan's steely rock 'n' roll face.
We prefer the phrase "willing to change, for better or for worse." Lucky for the Horrors, their wildly ambitious studio recordings are finally starting to translate into a tight set onstage. Now if only they could loosen the reins a bit, letting a level of danger and spontaneity in without reverting to their former roles (such self-explanatory alter egos as Coffin Joe and Spider Webb). When that happens, they'll be in a whole other league entirely.