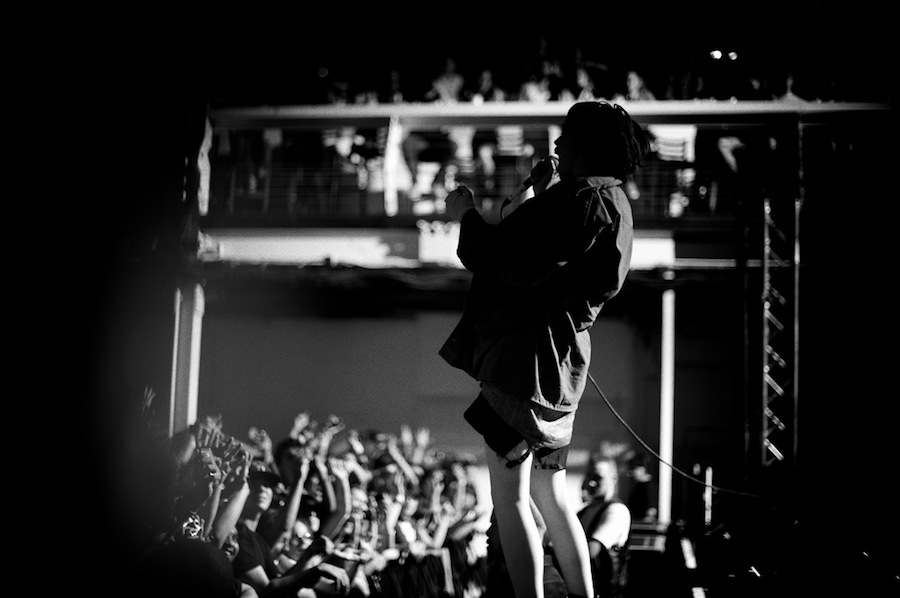 Photos by Turkishomework
Each week we send Turkishomework out to capture a sliver of our city's blurred-vision nightlife. She had a hell of a time at Terminal 5 on Saturday night, too. And by that, we mean Crystal Castles' repeated refusal to let accredited photographers near the stage whenever, and wherever, they play. (Here's another example: a temper tantrum that happened right in the front of Icelandic fans who didn't know any better. In this case, Crystal Castles played an abbreviated set that ended in Alice Glass throwing a drum kit at the crowd–a move that would have gotten her in hot water, had it happened in North America. And in the case of last night, Turkishomework literally climbed a pole to snap the following shots.)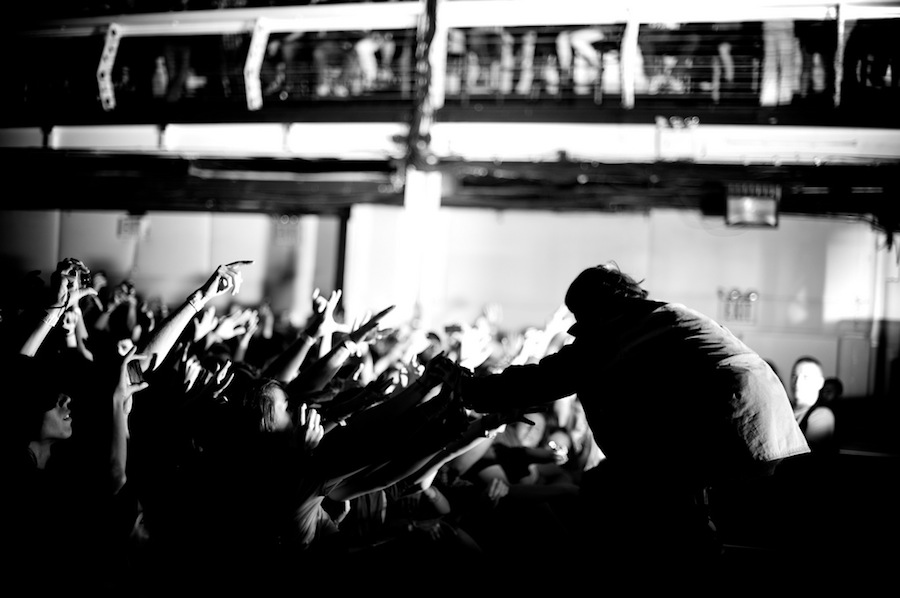 Look, we've covered some major artists at Terminal 5–including Crystal Castles' former tour mate/high profile supporter, Trent Reznor–and not one of them has ever been arrogant to the point of telling people they aren't allowed to do their job. But hey, nothing says your down with the kids like shoving your middle finger in the face of the writers and photographers that have supported you all along…and playing a show that costs $35-$45 before 'service' fees.
We're not saying Crystal Castles needs to follow the Fugazi model of $5 tickets and Doing-It-Yourself-Or-Not-Doing-It-All. We're just saying we're sick of their sense of entitlement and warped view of what constitutes being 'punk' these days. Guys, you stopped being punk the second you started pulling shit like this. Or as John Darnielle wrote in 2008, "Sure, they made one of my favorite albums of the year so far, but–not to put too fine a point on it–Crystal Castles can go to Hell and stay there."
UPDATE: Less than an hour after this post went up, Crystal Castles' Canadian label, Lies Records, E-mailed us the following clarification…
There was no photo pit because a photographer was trampled in the photo pit and is suing the band. There will be no photo pits at CC shows thanks to this one photographer. Photographers are invited to hang out at the side of the stage though, and not in the pit.
When we said no one explained this situation at Terminal 5 or Iceland's Airwaves Festival, the label's spokesman, Andrew Lee, added, "If someone told your photographer to hang out 'below' the side of stage, that's messed up, but although it proves there's disorganization in the crew, it also proves that photos WERE actually allowed, which is the opposite of what you're saying in the article."
As you can see in our original, unedited post above, we never said that photos were banned last night. We said the band's tour reps told everyone they had to stand to the side of the stage, where the only sight lines are poles and the backs of other photographers' heads.
Another statement Lee would like retracted is our comment about ticket prices. Apparently, the duo was "deeply upset when the prices were announced, long after they had confirmed the shows." While this may be the case, we find it hard to believe that a 2010 bill as massive as Hard's one-off festivals would cost anything less than $35-$45. Hell, even the Dirty Projectors–a band that was headlining Brooklyn's Bushwick circuit just three years ago–are playing a $25 (or $60 a pair, after fees) Terminal 5 gig next month.
So with that, we invite Crystal Castles to speak out publicly about all of this, or simply let this kind of miscommunication continue. After all, who cares about a bunch of bloggers–us included–anyway, right?