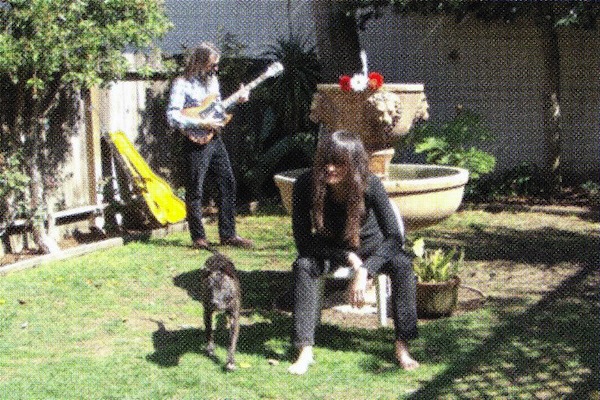 [Mixtape Cover by Turkishomework]
Nothing against Wooden Shjips or anything–we certainly dig their desert storm jams–but something about Ripley Johnson's Moon Duo project hits us a bit harder in the blunt trauma department. Maybe it's the simple fact that his setup is stripped down to its bare, chest-caving essentials alongside Moon Duo's other half, Sanae Yamada. Or maybe it's got something to do with Escape's (out today on Woodsist) tendency to make us want to go joy riding on the wrong side of town in the middle of winter.
At any rate, we're thrilled to host a killer 46-minute psych mix from Johnson's personal record collection. We're not responsible for the haze it's bound to leave you in, however. He is. Check it out after the jump along with a complete track-by-track commentary.
1. Peaking Lights, "All The Good Songs Have Been Written"
Peaking Lights are California transplants to Wisconsin who build their own world of sound. From the Imaginary Falcons LP. An instant classic. Their other band, Rahdunes, is also highly recommended.
2. Sun Araw, "Live Mind"
The latest hit single from LA's great treasure: the Sun Ark 7-inch on Not Not Fun. Batting 1000.
3. The Electronic Hole, "Love Will Find A Way – I"
The Electronic Hole is one of three great bands/projects from underground legend Phil Pearlman (Relatively Clean Rivers and Beat Of The Earth are the other two). All have a different but specific vibe and are worth searching out.
4. Sunburned Hand of the Man, "Stonebeat"
A bit of vocal trippiness from Massachusetts' free-rock collective. Just to make things extra psychedelic. From the album No Magic Man.
5. Silver Bullets, "Revolutions"
I don't know much about this band. Supposedly they are from Sicily. This is from the out-of-print cassette Free Radical on the excellent Stunned Records. Someone really needs to press this to vinyl. Proof that great psych music can still seemingly come out of nowhere.
6. Amanaz, "History of Man"
Like many people, I've been listening to a lot of the '70s African rock that's been surfacing lately (Witch, Ofege, Chrissy Zebby Tembo). This is from their Africa LP, 1975. Extra fuzzy!
7. Pekka Airaksinen, "Fos 2"
This is from a great 2-CD comp called Psychedelic Phinland: Finish Hippie & Underground Music 1967-1974. Pekka Airaksinen was part of the underground group Sperm. This solo track was prepared to accompany a performance of Mattijuhani Koponen's play Sisyfos in '68.
8. Twink, "Fluid"
Twink's Think Pink LP is one of the most underrated and truly psychedelic records of the '70s. This track is from a CD called The Never Never Land & Think Pink Demos. For those of us who can't get enough.
9. Solid Space, "Spectrum Is Green"
Another band I know little about–apparently a UK band that released one cassette, Space Museum, in '82 or '84. I guess some people call this 'Minimal Wave music'.
10. Magical Power Mako, "Tundra"
Magical Power Mako is a guy from Japan who has made some really strange and interesting records. His first three albums from the mid-'70s are worth checking out. This is the second track from Super Record.
11. Sergius Golowin, "Die Weisse Alm"
In the early '70s R.U. Kaiser's legendary German label, Ohr, released three of what one might call "guru-rock" records: Ash Ra Tempel and Timothy Leary's Seven Up, Walter Wegmuller's Tarot, and Sergius Golowin's Lord Krishna Von Goloka. All are great and feature some of the best German psych musicians of the time. (I hesitate to use the term "Krautrock.") Sergius Golowin's album is like a space-folk record, pastoral but very heady. Unfortunately I have no idea what he's saying in his monologues.