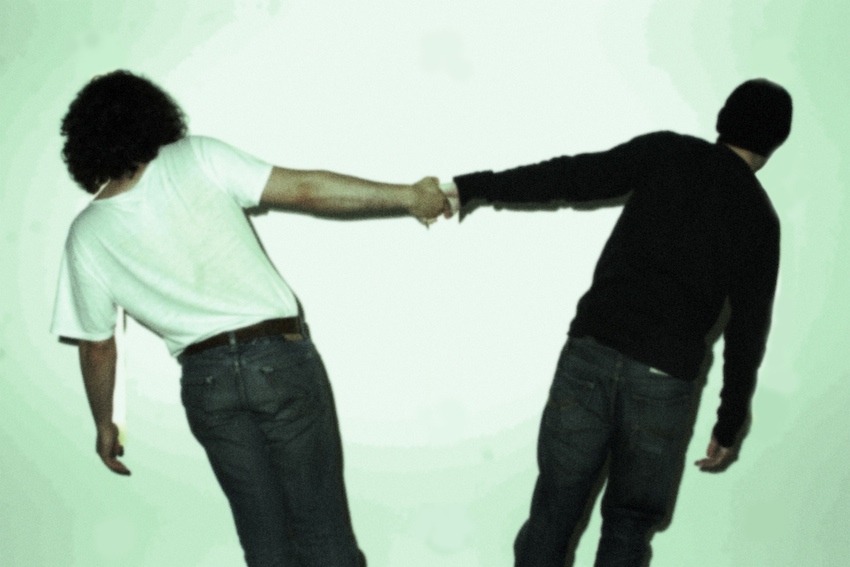 [Photo by Marcus Cassidy]
Considering they're quick to name check many film composers ("Alain Goraguer, John Barry, George Delerue, John Carpenter, Angelo Badalamenti, Giorgio Moroder, Michael Nyman, Joe Hisaishi, Philip Glass, and of course Ennio Morricone," says multi-instrumentalist John Kowalski"), it's no surprise that Solar Bears is one of the year's most widescreen-ready new artists. In the following post, the Irish duo (rounded out by Rian Trench) does more than just deliver the perfect coda to summer; Kowalski also talks about everything from Kenneth Anger to the reason why their records sound so damn hazy.
Solar Bears' debut EP, Inner Sunshine, is available now. Their She Was Colored In LP drops on 9/20.
You've probably heard this before, but She Was Colored In has a very cinematic feel to it. Did you approach the tracks from a visual standpoint first? In other words, were you trying to evoke certain imagery–maybe an imaginary film in your mind?
Yes and no. We write and record quite speedily so the main focus is the arrangement's progress. There were many times, though, when melodies and hooks made me think of scenes in films–ones I knew and ones that were new to me.
The album's cover looks like it could have been done by Kenneth Anger. For people who are unfamiliar with his film work, what would be a good place to start?
I bought a video of his work some time ago which featured Eaux D'Artifice. It's worth watching for the blue employed in the first shot alone. I really admire how he used color as a means to translate information and insight. A good place to start would be Puce Moment, with the Jonathan Halper soundtrack. Pure gold.
You sampled The Passenger at the start of the album. How would you describe that movie for people who haven't seen it? Would you consider it one of Jack Nicholson's most sorely-overlooked movies?
Well [director Michelangelo] Antonioni is a bit of sacred entity for film directors and fans. He used landscapes as the central protagonist. The narrative was fleeting occurrences sewn together which led to dramatic circumstances. All his films are beautiful to look at and behold. The Passenger is about a journalist who steals the identity of a random person he encounters who happens to be involved with arms dealers. The script is first class and so is the acting. It is overlooked far too much. The pace may not be to everyone's taste.
Lots of people have compared your music to movie scores and old prog/synth records, but are you influenced by library music as well? What are some other non-obvious influences most people wouldn't expect from you?
I adore library music and obscure recordings. Sometimes it is hard to find the time to investigate fully, though. Rian and I are really into Delia Derbyshire and the Radiophonic Workshop. Both of us are fans of Crystal Castles, Cornelius, Joanna Newsom, Leftfield, J Dilla, the xx and Nick Drake.
Are you familiar with the whole "hypnagogic pop" scene that's sprung up around artists like Oneohtrix Point Never and Emeralds? Do you feel like your music adheres to some of those same themes (nostalgic melodies, sepia-toned imagery, etc.)?
When we talk about words used to describe us it can be difficult to determine which fits or which apply. I seldom try and categorize my own life, whether it be film, music or people. Having said that, I can understand how people might link us with some of those things you outlined.
What about "glo-fi/chill-wave" music? Has that kind of stuff caught on in Ireland yet?
I am familiar with the label. Neon Indian made one of the best albums last year, so I know all about it. Ariel Pink is a great songwriter, too. It seems to be catching on everywhere.
The Bear part of your name is meant as a nod to Native Americans right? Have either of you visited a reservation before? What is it that fascinates you about Native American culture?
We have not had the distinct pleasure yet sadly. I would do anything to spend time at a reservation, even a year or two. I admire their relationship and understanding of animals, their rituals, their beliefs, their code of conduct, their grace, their artwork, and their way of life.
How do you usually approach a track? Does Rian usually play his parts first, and then you build the final song from that?
There is no exact method or structure to what we do. We simply take turns adding parts and ideas. Rian might start playing something on guitar or keyboard which would make me think of a synth riff or drumbeat or bassline. The same can be true in reverse if I am playing a loop on the laptop.
Rian's father was a composer, right? Who did he work with over the years? And did Rian start writing his own music at a young age as a result?
Rian's father, Fiachra, is a film composer and producer. He has worked with Kate Bush, Elvis Costello, Van Morrison and Part McCartney. Rian has been making music for a decade in bands and solo projects.
What were some of the common interests that led to the formation of this project?
Koyaanisqatsi would be the one that springs to mind. Rian got me into that as well as Joy Division. I think we are open-minded as individuals. Mogwai and Aphex Twin were frequent topics of conversation in college.
Tell us a little bit about your studio setup. Aside from your old tape machines, do you have a lot of vintage gear that helps you achieve a warm, 'retro' sound?
We had a few vintage synths by Proteus, but it was mainly modern equipment in the studio. A couple of guitars and amps. Not much else to be honest. A large portion of the record sounds dated on account of the old program we were using to record into. It was just the way things turned out that happened to result in a '70s/'80s feel.
Do you feel like the dark horses on Planet Mu since it's become known for its dubstep/bass-heavy releases in recent years?
The label have been doing really well this year. Starkey, Oriol and DJ Nate have all garnered attention so we are glad to be getting compliments from so many quarters. It is always slightly daunting starting out.
How has Ireland's music scene changed in recent years? And what music did you gravitate to as a child growing up there?
I think the music has improved in the past while. More bands are trying out different things and I see acts being more liberated than in the past. The music I came across as a child was varied. Everything from the Beatles to the Kinks to Motown to Kraftwerk. I would hear clips of each and want to hear more.
Do you have any other splits/singles/etc. on tap for the fall or winter?
We have a split coming out with FUR which we are looking for a label to release. There are a few we have in mind.

Finally, can you tell us a little bit about the track selections on the mix you did for us? Starting with…
Solar Bears – Twin Stars
Twins Stars is a dystopian sci-fi track we did, which ends up quite utopian and reflective.
Laurent Garnier – Sound Of The Big Babou
Unreasonable Behaviour is an album I played constantly when I first got it. This is my favorite number from that LP.
VHS Head – Video Club
I am really eager to hear the VHS Head record because I really enjoy this song. It was only in last few weeks I discovered "Video Club."
Solar Bears – Crystalline (Be Again)
We wanted to put in one of our uptempo pieces, so "Crystalline (Be Again)" fit in. It kinda has a controlled energy about it.
Bibio – All The Flowers ( Lone Remix)
The Lone remix of "All The Flowers" is the reason I wanted to work with him. The second half is so satisfying.
Blondes – Paradise City
I can thank a girl named Abbey for getting me into Blondes, who I think are truly formidable.
Solar Bears – Hidden Lake
Hidden Lake relates to that feeling you get when you are walking through forestry and you come out onto a clearance unexpectedly.
The Beatles – Tomorrow Never Knows
This is my favorite track by The Beatles. I adore the tape loops, the rhythm, and of course, the gorgeous vocals.
College – I Think About It
I really like "I Think About It" mainly because it is very simple and therefore very direct.
New Order – Blue Monday
"Blue Monday" is a stone cold gem. I will never tire of it.
Solar Bears – The Quiet Planet
We wanted to try something out with breaks and a big synth riff, which culminated in "The Quiet Planet."
Small Black – Despicable Dogs (Washed Out Remix)
The Washed Out remix is probably my top selection out of his output to date.
Jackson and His Computer Band – Radio Caca
I am really looking forward to hearing new tracks by Jackson and His Computer Band. "Radio Caca" is a stunning album closer.
The Knife – Like A Pen
Silent Shout is one of the best records in the past 20 years. We could have put any of the tracks into the mix. "Like A Pen" has a beat catchier than a lovebug.