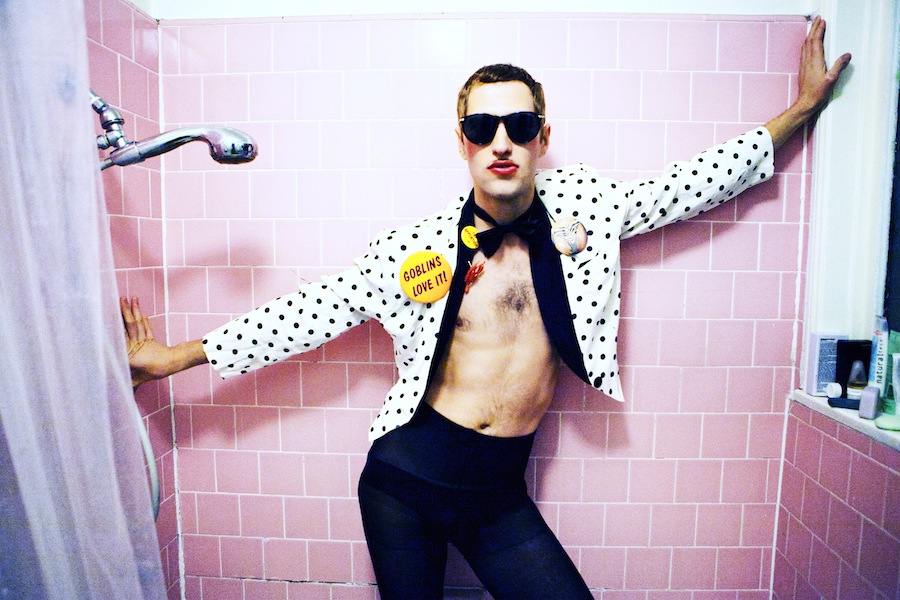 Since we already showed Seth Bogart's natural born performer side with some stage outfit sketches in our eleventh issue, self-titled thought we'd narrow his musical influences down with an exclusive mixtape. Check it out below, along with his track-by-track commentary, and be sure to look out for the Hunx and His Punx frontman's solo debut, Hairdresser Blues, on Hardly Art this week…
1. The Amps, "Pacer"
I love Kim Deal and I ripped this song off for Hairdresser Blues. Thanks, Kim!
2. Family Fodder, "Debbie Harry"
Unrest covered this song but switched it to "Winona Ryder." I wanna do a cover and change it to "Dakota Fanning."
3. Blast Off Country Style, "Nun In a Frigid Cell"
This was one of my favorite bands in high school and I've been revisiting them again. So genius. Such weird music.
4. Marine Girls, "Honey"
Marine Girls are one of my favorite bands. I love her voice so much. I like driving around L.A. listening to them when I'm depressed.
5. Jacno, "Rectangle"
This is what tiny bugs dance to inside my brain.
6. The Rondelles, "Safety In Numbers"
I became friends with this band when I was in high school and they were in high school. It was a Southwest thing.
7. Richard Hell & The Voidoids, "The Kid With the Replaceable Head"
This, to me, is the perfect punk song. Ivan [Julian], who plays guitar on this, produced Hairdresser Blues. Also, Richard Hell is SUCH a babe.
8. England's Glory, "City of Fun"
If you ever come to my town…
9. Fifth Column, "Erotic Thriller (Detox Killer)"
I met GB Jones at our show in Toronto. I was so honored she was there. This song is so rad. Back from when Kill Rock Stars was the coolest record label.
10. Total Coelo, "I Eat Cannibals"
Anytime someone makes the mistake of asking me to DJ I like to play this and Britney Spears and Tom Tom Club.
11. Swiftumz, "Drift Apart"
This song melts me away. Swiftumz is Chris McVicker, who wrote some old Hunx songs. This song was done with one of my favorite current musicians, Myles Cooper.
12. Happy Birthday, "Alien"
I can't believe how much this band was overlooked. I know Kyle gets attention for King Tuff, which he deserves, but how amazing is Happy Birthday?
13. The Vaselines, "Jesus Don't Want Me For a Sunbeam"
Maybe my favorite song of all time?