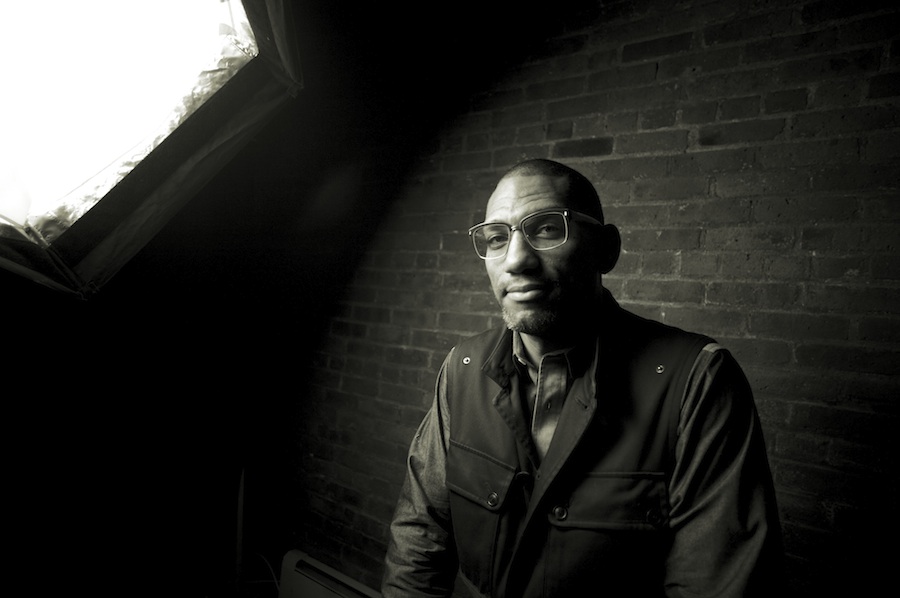 "I like to make mixes as if they were movie soundtracks," explains King Britt. "This one would be to a film starring Elena Anaya and directed by David Lynch."
And with that, we're off on a very strange trip indeed–a slow-burn excursion through the producer's experimental side that's light on beats and heavy on atmosphere. Which makes sense when you consider how expansive Britt's latest project is. As heard on a freshly pressed Hyperdub EP, Fhloston Paradigm is a strictly analog tribute to the sci-fi scores Britt grew up with, from the obvious (Blade Runner, all things John Carpenter) to the outré (Ultraman, all things Japanese).
In the following exclusive, Britt shares some details on his next move–an album, and a Shabazz Palaces side project–and blends Moroder, Stockhausen and Eno in the most bewildering manner possible…
King Britt, 'Needle Exchange 095: Live In Eternity's Sunrise':
1. You Hold The Water – How To Dress Well
2. Green Child – Megafortress
3. Give A Man A Rod – James Blake
4. Renounce – Ricardo Villalobos & Max Loderbeaur
5. Echindas Arf – George Duke
6. The Carrier – Brian Eno & David Byrne
7. Theme to Midnight Express – Giorgio Moroder
8. Rivers of Rhythms – Michael Stearns
9. Good Weather For An Air Strike – Aurora
10. Ange Des Orange – Philip Glass
11. We'll Always Have Paris – Birds of Passage
12. Valentina – Ivana Santilli
13. The Seventh Day – Jan Hammer
14. Let X = X – Laurie Anderson
15. Vocal snippet – Karl Stockhausen
What are you working on now that this new EP is out? A Fhloston Paradigm full-length or releases under your own name/another alias?
I am working on many things, but the main [priority] is the Fhloston Paradigm full length. It's been so much fun–all analog and mostly CV/Gate technology, with some MIDI. Then I will be preparing the 15-year anniversary of Sylk 130 box set that's coming out in October.
How would you describe the current state of Saturn Never Sleeps, the project that evolved into both a live outlet and label?
Saturn Never Sleeps is now complete. It exists in its current state, but the project is done. We are back to working on our individual endeavors. So I guess you can say it is sleeping.
One of my favorite records of yours is the Sister Gertrude Morgan one. Any chance you'll do something similar again, or would you prefer doing one-off remixes that are more like reinterpretations, portraying older artists in a new light?
I am actually working on a very important project this summer with Tendai Maraire from Shabazz Palaces. It relates to the legacy of his father Dumisani–a very important work. More on that after the summer.
Was your techno-tinged Nova Dream Sequence LP also a one-off project?
I intend to bring that back next year…excited for that. In the meantime, I did a few techno things on Planet E and Soundz from Stockholm.
Going back to Fhloston Paradigm, you've said that it reflects your love of sci-fi films and scores. What's one of the earliest memories you have of witnessing a perfect marriage between visuals and sound in that vein?
It would have to be the Ultraman and Johnny Sokko shows from Japan. Every Saturday, I would watch these marathons all day. The music was all Moogs and kinda orchestrated sickness. I have the original Ultraman vinyl from the '60s. Cherished.
Were you going for any particular vibe with your first Hyperdub 12"?
No actually, because it all spawned from the EP that was out on SNS. Kode9 was a major supporter. I hit him up at the end of 2011 and said 'I have some other things you may like', and boom–I was just exploring new territory as usual.
Were you already a fan of Hyperdub before deciding to work with them? And if so, what are some of your favorite releases on it?
OH absolutely. Burial is one of the best projects ever by far. It encompasses everything I love about music, emotionally and experimentally. This Scratcha DVA album is cool too; it's good to see my school buddy [Vikter] Duplaix on there. I love the odd time signatures he uses…keeps it funky.
The analog-driven, John Carpenter-like sound of your new EP falls right in line with the many underground artists who've explored that vibe in recent years. Do you have any favorite new artists that do that sound particularly well?
Haven't really paid attention. I'm in my own little world. When it comes to this sound, I listen more to the OGs–Vangelis, Raymond Scott, Susan
Ciani, Kraftwerk, Ashra Temple…Carl Craig's Landcruising [LP] is a huge fave too!
How did working with analog equipment impact your process; did you find it liberating or limiting?
Both! Limitations spawn more imagination and savvy, thus the end feeling is liberating because you accomplished a lot with a little.
Anything else you'd like to add? Can we expect a new live set from you this year–one that reflects your latest record?
I would love to do Fhloston live with all analog gear. Steve and I are in talks, so we will see. I'll look like Thomas Dolby or some shit…lol.