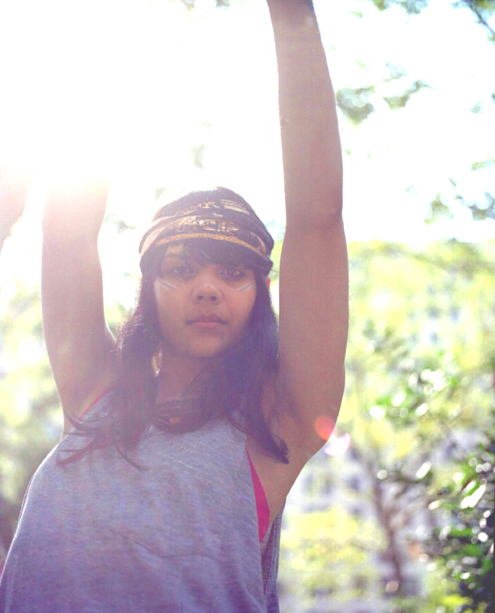 Photos by Travis Huggett
Damn you, FADER, for beating us to the cover story punch with a thorough piece on Bat For Lashes' new LP, Two Suns (due out April 7 through Astralwerks), easily one of the year's early Top 10 contenders. That said, we managed to wrangle an exclusive Q&A with Johan Renck, the director of "Daniel," Two Suns' lead-off single and music video. In a clip on par with the Donnie Darko-derived "What's a Girl To Do?" video, Renck manages to reference everything from evil interpretative dancers to a certain Daniel Larusso.
Here's what the multi-medium Swedish artist had to say, along with a handful of his other music videos for Madonna, the Libertines, New Order and Kylie Minogue …
How did you meet Natasha [Khan]? Were you familiar with her first album at all?
I really liked the first album. Beyond that, I really liked her as an artist. She was specific [about what she wanted] and had a clear view of her own particularness. That always helps in trying to make something interesting.
We met through this video; I suppose she liked my ideas.
She seems like a very strong personality with a clear idea of what she wants creatively. Was that your first impression of her?
[She's] intelligent, talented and interested. That goes a very long way.
You've worked with some of the world's most experienced–and well-known–pop stars, including Madonna and Kylie Minogue. Natasha is still young but did working with her make you see the potential she has for a long, shape-shifting career as well?
She undoubtedly possesses everything she needs for new and exiting things ahead, which we all will see.
Many see her as "the next Björk because of all the risks she's willing to take and the versatility of her voice. Do you see that as well?
She isn't the new Björk–she is her very own creature.
The dancers in the video are incredible. Are they an abstract dance troupe? Have you worked with any of them before?
They are actually ballet dancers–most of them–but I worked with a choreographer who [messes] around [with] modern dance. I haven't worked with them before, as I very rarely shoot in Sweden, but they came highly recommended. I guess we invented a language based on these characters, and with a project like this, the process is intertwined into its execution, meaning that things shaped out as we were doing it.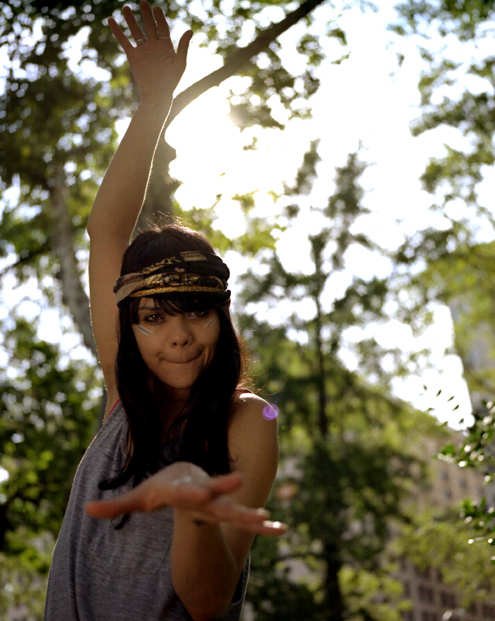 What was your reaction when Natasha told you Daniel was in fact Daniel from Karate Kid?
She never really said actually–that Daniel was that "Daniel" … and I'm not really convinced it is actually. She did however keep yapping about that film.
Do you have a similar level of nostalgia for the Karate Kid films and other major '80s movies?
I have to say no with regards  to these specific films, even though I completely understood her sentiments. At a certain age, nostalgia becomes more and more prominent as a tool for generating emotions and, thus, ideas. I very much liked how that film seemed to evoke things with her.
Is the car Natasha's driving supposed to be the car from National Lampoon's Vacation? [via Prefix] What's the story with that if so?
Nope. It was pretty much the car I could get hold of given all limitations. I do rather like it, though.
On a musical note, what did you think of "Daniel" and how it related to the rest of Natasha's new record? Did it immediately bring some visual ideas to mind?
Loved the song from the very first minute I heard it. And that's how it works: notes, words [and] tones instigating ideas. So I pretty much got straight onto it.
Who's the Daniel stand-in at the end of the video? Did you hold an actual casting call for "Daniel Larusso"'s?
Just some kid. Like with the car, we scrambled together what we could. I saw a picture of the fella and liked it, and so did Natasha.
When and where was this filmed?
It was filmed in Stockholm, Sweden, about three weeks or so ago. We were supposed to shoot it in Brazil, as I was there working, but we couldn't figure it out, so I went back to Sweden for a week. We realized the only way to make it happen was to have Natasha get her butt here.
The car scene is visually stunning and quite creepy. Without giving away all your tricks, how did you achieve its overall look? Did it involve a lot of computer editing later on?
A little bit of everything I suppose … computers and other things.
Anything else you'd like to add about Natasha?
She can dance! She loved the rehearsals with the dancers profoundly …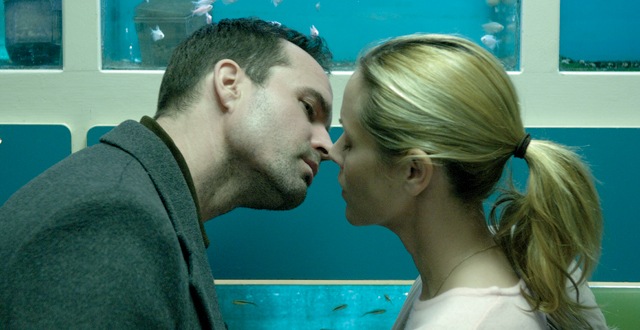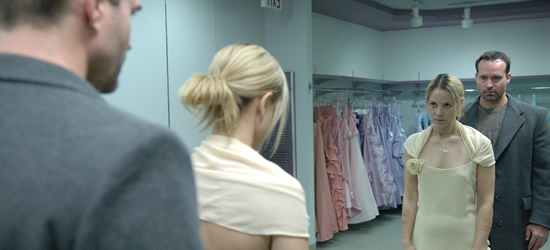 Can you tell us a little bit about your first feature film, Downloading Nancy? A lot of delays held it back in the beginning due to Holly Hunter's pregnancy and then her pulling out of the film. Are you happy with how it turned out?
I am very proud and happy about it; the cast, my crew and my producers. I actually don't know a lot about the where & when's [of its release], but I do think it opens in the U.S. in June.
Are you working on another feature film right now or sticking with music videos?
Yup, working on another film right now. But I have no intention stopping with videos–they are just very dear to me.
That's about it. Thanks for your time!
Ditto!