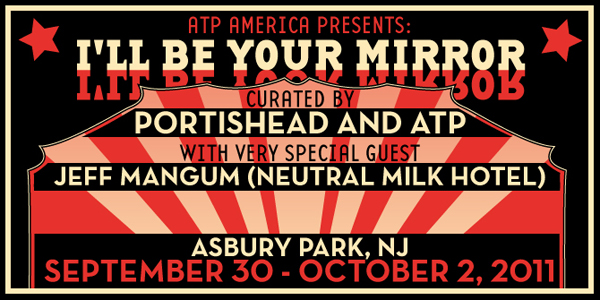 Finally. That's all we have to say about the long-awaited return of Portishead's live show, presented as part of ATP's "I'll Be Your Mirror" festival in Asbury Park, NJ. Details are few and far between at the moment, but we know this much so far:
ATP's promoters are curating the first night on Friday, September 30, which includes a comedy stage and sets from Shellac, Cults, Chavez, the Album Leaf, Neutral Milk frontman Jeff Mangum, and more.
Portishead is headlining/curating Saturday and Sunday, with 10-15 more acts that hopefully live up to their past ATP work. (See: bills that included Aphex Twin, Madlib, Sunn O))), Boris, PJ Harvey, Grinderman, and…who cares? Aphex Twin played!)
If you need to hide from Snooki or the Situation, Criterion will be in charge of a special Cinema area.
Three-day passes are $249 and the ONLY WAY to see Mangum's somewhat intimate set at Paramount Theatre.
Individual tickets are $60 for Friday (sans any Neutral Milk action), and $99 per day for Saturday and Sunday.
If none of the above interests you beyond hearing "King of Carrot Flowers" in person, Mangum is playing a $35 solo headlining show on Monday.
Better set your alarm for this Friday at 9 a.m. EST, because that's when tickets go on sale at www.atpfestival.com.
Take that Coachella!