To answer an obvious question, yes Peel Dream Magazine is named after the don of BBC DJs, John Peel. Which kind of explains why the soft-lit psych songs of singer/multi-instrumentalist Joe Stevens feel like flipping through the dusty stacks in High Fidelity.
Hell, even his instrumentals can feel transportive. Case in point: the aptly named "Levitating Between 2 Chords," which Stevens explains below, followed by tour dates and two other selections from the Modern Meta Physic LP that hits shops on September 28th through Slumberland Records….
It's an ambient track. I was just messing around in the studio at home, playing the volume fader on my organ like it was its own instrument. You have some marimba in there, but it's mostly just these urgent fuzzed out organs. It lives in between chill and uneasy, between happy and sad; it's in its own realm. It feels like water, but also like air.

It's supposed to represent a metaphysical phenomenon of some kind, an inexplicable event that puts the listener in some totally other place. Perhaps it's the event depicted in the top right corner of the album cover. It definitely takes me to an unknown, mysteriously wonderful but trepidatious place in the Catskills, where the album sort of 'lives'. Maybe I'm staring out over a waterfall. Maybe I'm lost in the woods.

It also acts as part of a three-song trilogy on the album, which all basically stemmed from the same chord progression (the other two songs are "Shenandoah" and "Don't Pick Up Slackers"). A two-chord song can be a big statement; just look at Spacemen 3.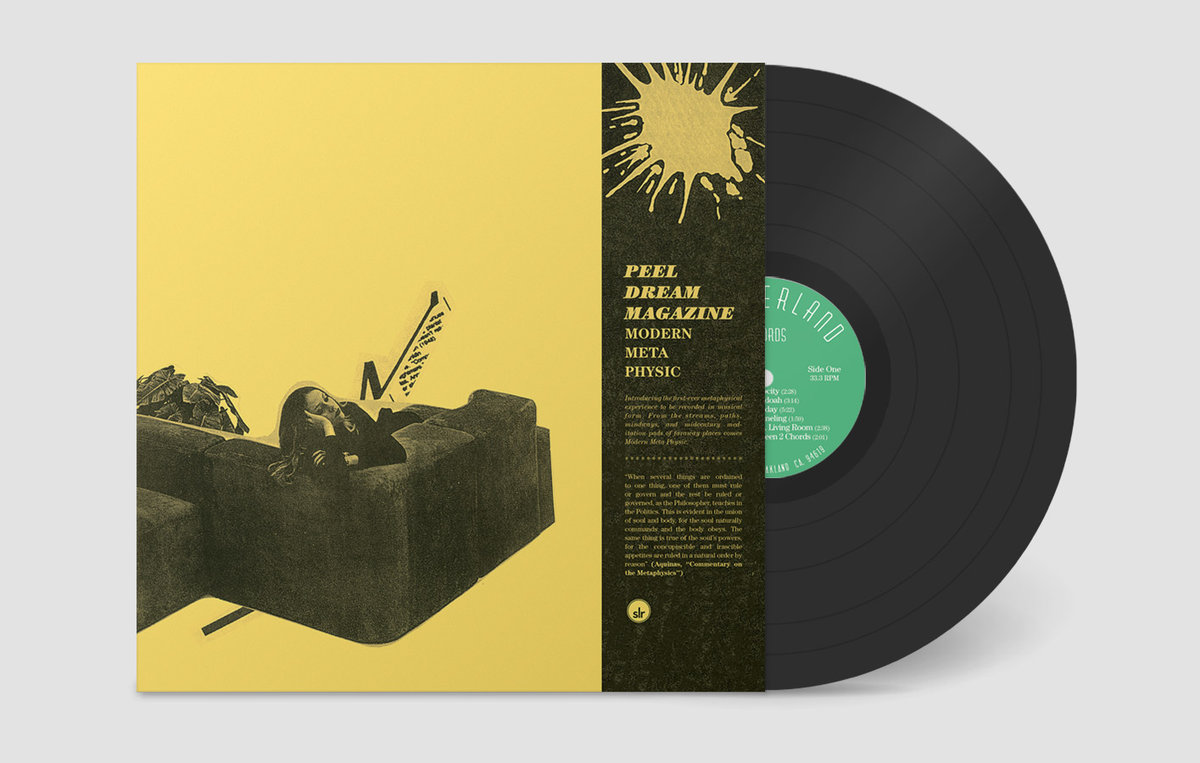 Peel Dream Magazine
Modern Meta Physic
(Slumberland, September 28th)
1. Qi Velocity
2. Shenandoah
3. Art Today
4. Wood Paneling
5. Anorak
6. Living Room
7. Levitating Between 2 Chords
8. Deetjen's
9. Fires
10. Due to Advances in Modern Tourism
11. Interiors
12. Upper Body Calaesthetics
13. Don't Pick Up Slackers
Peel Dream Magazine tour dates:
9/27 New York, NY – Zone One at Elsewhere #
11/1 Buffalo, NY – Mohawk Place
11/2 Boston, MA – TBA
11/4 Toronto, ON – Duffys
11/5 Chicago, IL – Hide Out
11/6 St Louis, MO – Foam
11/8 Pittsburgh, PA – Howlers
11/9 Richmond, VA – Cafe Astrology
11/10 Baltimore, MD – Ottobar
11/11 Philadelphia, PA – Super Wimpy

# with Ice Choir, Monograms