Photo LIQIAO ZHU
Unlike the tense head rush hooks and off-the-rails overtones of The KVB's last single, "Above Us," there seems to be a light guiding us to the end of the guitar-spliced, synth-laced tunnel that is "On My Skin." According to the Berlin-based duo, longtime couple Nicholas Wood and Kat Day, "it's the most openly romantic track on our new album"—a brightly lit ballad, essentially. And yet not all will always be well in the world.
"The song deals with the glowing anticipation of new relationships," they continue, "and the uncertainty and optimism whilst falling in love. How people have a presence even when they are not present, and how memories can linger and infatuate your mind. Treading the lines between euphoria and melancholia, it also recognises that in these delicate beginnings, nothing can last forever."
The whole LP proceeds with that plan, striking welcome contrasts between darkness and light, joy and melancholy, love and imminent loss. Check out another track below, along with a complete rundown of the record and upcoming tour dates….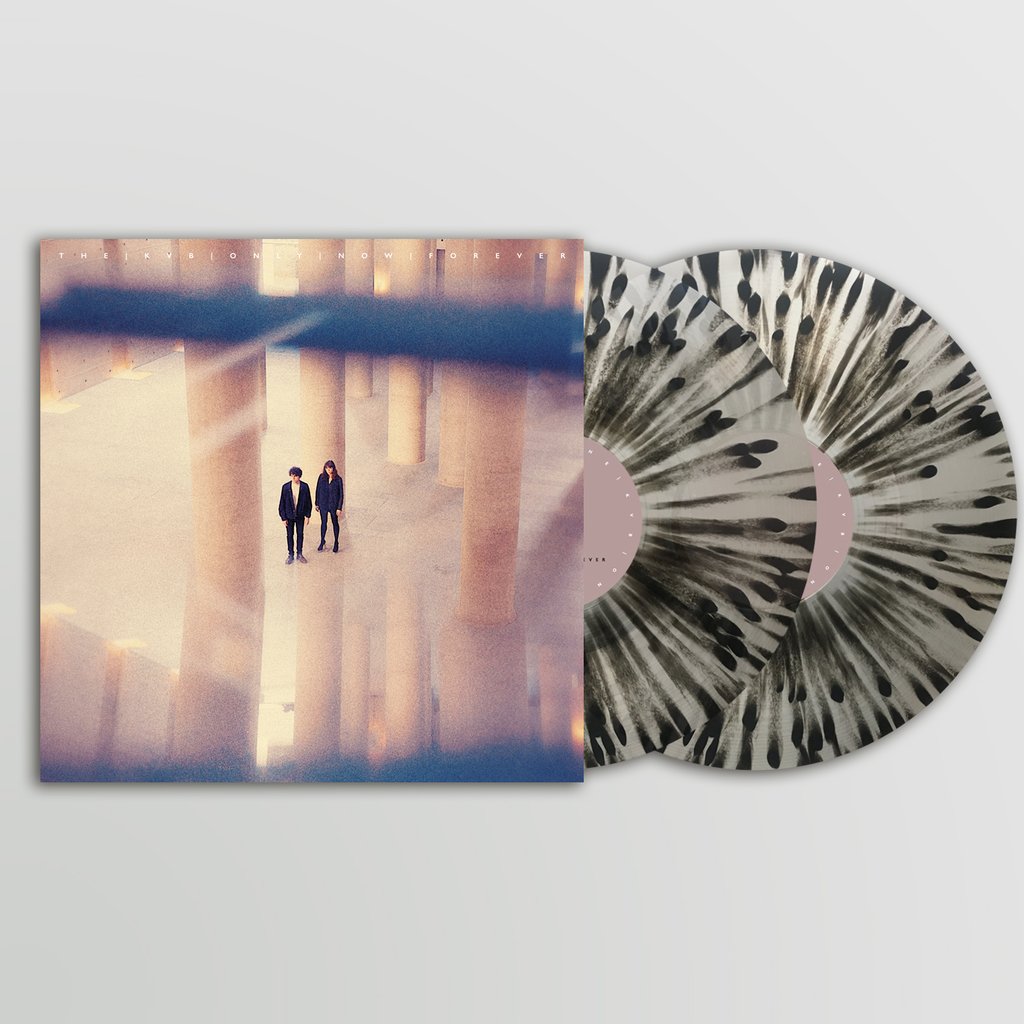 The KVB
Only Now Forever
(Invada, October 12th)
1. Above Us
2. On My Skin
3. Only Now Forever
4. Afterglow
5. Violet Noon
6. Into Life
7. Live In Fiction
8. Tides
9. No Shelter
10. Cerulean
The KVB tour dates:
29 Sep 2018 Rock In The Barn Festival, Giverny FR
24 Oct 2018 The Hug and Pint, Glasgow UK
25 Oct 2018 The Think Tank, Newcastle UK
26 Oct 2018 Yes, Manchester UK
27 Oct 2018 Hyde Park Book Club, Leeds UK
28 Oct 2018 The Crescent, York UK
29 Oct 2018 Hare & Hounds, Birmingham UK
30 Oct 2018 The Green Door Store, Brighton UK
31 Oct 2018 Corsica Studios, London UK
01 Nov 2018 Rough Trade, Bristol UK
02 Nov 2018 La Cave Aux Poetes, Roubaix FR
03 Nov 2018 Soy Festival, Nantes FR
04 Nov 2018 McDaids, Le Havre FR
06 Nov 2018 Sugarfactory, Amsterdam NL
07 Nov 2018 Bumann & Sohn, Cologne DE
08 Nov 2018 Charlatan, Gent BE
09 Nov 2018 Hafenklang, Hamburg DE
10 Nov 2018 Stengade, Copenhagen DK
11 Nov 2018 Debaser Strand, Stockholm SE
12 Nov 2018 Revolver, Oslo NO
14 Nov 2018 Lido, Berlin DE
15 Nov 2018 Meskalina, Poznan PL
16 Nov 2018 Poglos, Warsaw PL
17 Nov 2018 Café v Lese, Prague CZ
18 Nov 2018 Kabinet MUZ, Brno CZ
20 Nov 2018 Dürer Kert, Budapest HU
21 Nov 2018 Fluc, Vienna AU
23 Nov 2018 Kranhalle, Munich DE
24 Nov 2018 L'Amalgame,  Yverdon-les-Bains CH
25 Nov 2018 La Mascotte, Zurich CH
27 Nov 2018 Largo Venue, Rome IT
28 Nov 2018 Locomotivclub, Bologna IT
30 Nov 2018 Sidecar, Barcelona ES
01 Dec 2018 Moby Dick, Madrid ES
03 Dec 2018 La Ferronnerie, Jurançon FR
04 Dec 2018 La Sirene, La Rochelle FR
05 Dec 2018 Iboat, Bordeaux FR
06 Dec 2018 Le Badaboum, Paris FR
07 Dec 2018 La Lune des Pirates, Amiens FR