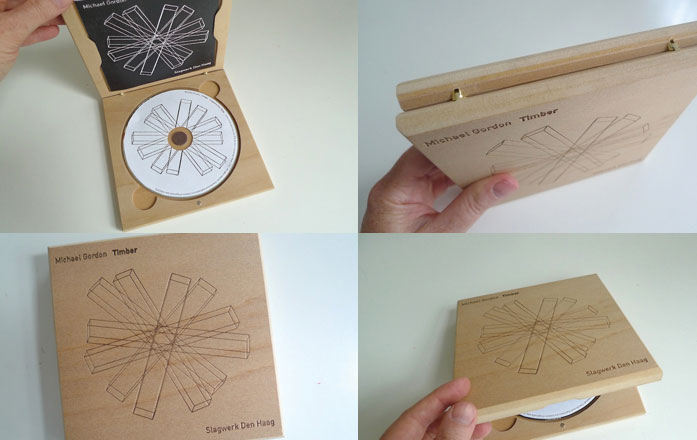 Leave it to Bang On a Can co-founder Michael Gordon to compose a Reich-ian stunner (Timber) that's literally driven by drummers knocking on wood. Six 2 x 4's of varying sizes and pitches, to be exact, as first illustrated in the percussive simantra playing of Iannis Xenakis' wildest works and perfected by Slagwerk Den Haag (The Hague Percussion) in Timber's official Cantaloupe recording (available August 30th in special fiberboard packaging).
"Time and space vanished once I put [my] headphones on," dubstep pioneer Mala (of DMZ/Digital Mystikz) said after being asked about the first time he heard the five-part piece. "The layers are deeply hidden in the sound and the rhythms become hypnotic. I look forward to going in on this one again."
Or as Gordon puts it in Timber's liner notes:
I thought of composing this music as being like taking a trip out into the desert. I was counting on the stark palette and the challenge of survival to clear my brain and bring on visions.

I imagined that the six instruments would go from high to low, and that, through a shifting of dynamics from one instrument to the next, the group could make seamless and unified descending or ascending patterns. In June 2009, I went to Amsterdam to workshop my ideas with Slagwerk Den Haag. I had the plan but I was searching for the right instruments.

After some experimentation, Fedor Teunisse brought out a set of wooden simantras. These slabs of wood, which looked like standard building materials from a lumberyard to me, had a gorgeous sound. It was distinct enough so that the clarity of the percussive hits could be heard, and was also extremely resonant, producing a complex field of overtones.
While Slagwerk Den Haag plan on performing Timber throughout Europe in the coming year, North American audiences can expect live renditions by the Mantra Percussion group in the following cities this fall, as prefaced by a special appearance at the Apple Store on New York's Upper West Side (Tuesday, August 9, at 7 p.m.):
10/14 Bowling Green, OH – Bowling Green State University (Official USA Premiere)
10/16 Chicago, IL – TBC
10/17 DeKalb, IL – Northern Illinois University
10/18 Ann Arbor, MI – University of Michigan
10/19 Buffalo, NY – University of Buffalo
10/20 Rochester, NY – Eastman School of Music
10/21 Toronto, ON – Avant X Festival (Official Canadian Premiere)
Still not sure what separates Gordon's latest head-scratcher from a group of kids running through the woods with hammers in their hands? Check out a streaming version of Timber here and a special documentary/free MP3 below…