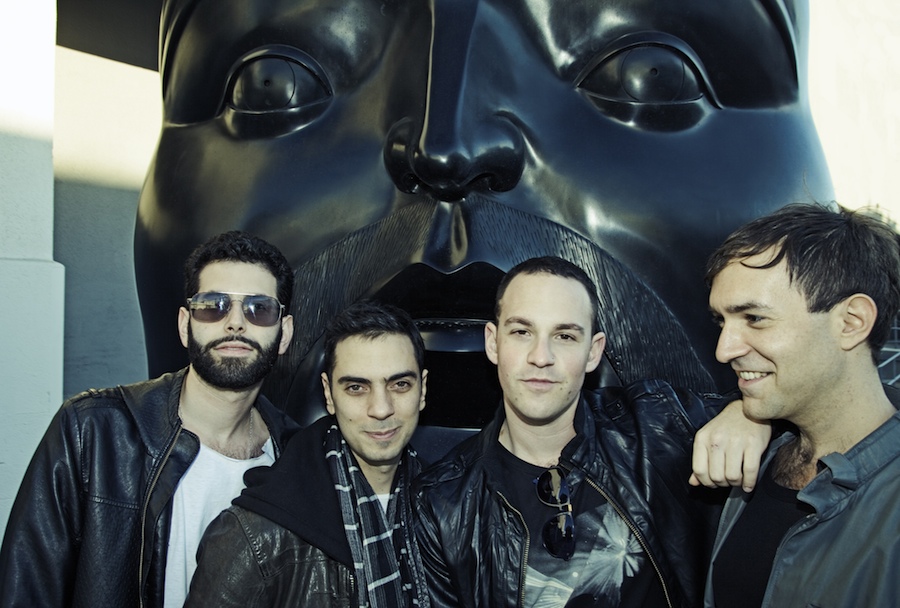 We've never been to one of Wolf + Lamb's alarmingly intimate–we're talking 50 people, tops–Marcy Hotel parties, but here's what Ghostly International founder Sam Valenti IV had to say about them the other day: "The Marcy Hotel is a tangible manifestation of the Wolf + Lamb ethos. Reverential to history, though perfectly tweaked, with a detail and character that is distinctly their own. The space is the party, is the label, is the music."
Come to think of it, maybe we should just let the following mix speak for itself. Available as a DJ-Kicks bonus disc at indie shops overseas, "5 Years At the Marcy" is a fitting tribute to watching the sun come up among Omar-S, Kate Bush, Jay-Z, and a room full of your nearest–and soon to be dearest–friends. Not to mention the perfect complement to the main event itself, a friends and family sparring session with the duo's labelmates/Marcy Hotel regulars Soul Clap.
Get your own loft party started after the jump, alongside the most thorough track-by-track breakdown of a DJ mix we've ever run…
"Sometimes there would be new people there who would look at me like I was crazy, but I mean, it's my living room"
1. Slow Hands – Fast Tongue
Gadi Mizrahi: I like to say that each artist on Wolf + Lamb had a "signing track." This was the clincher for Slow Hands. He had been producing more techno-y stuff as Addled, but this was the track that gave us the idea of what direction he could take his sound. This one got played a lot early in the evening and really coined the term "Sade house."
Eli Goldstein: The tempo and vibes on this jam are also perfect for representing the beginning of an evening at the Marcy on the mix. The doors have just opened, of course we're still setting up, but guests wont be arriving for a bit anyway so we just hang out and set the mood.
2. Just One Night – Dawn
Gadi: This was the first collaboration between me and Greg Paulus from No Regular Play. Him and Nick have this super random, but totally special record collection in their apartment on the 3rd floor of the Marcy. Some early morning we were hanging out by him and he pulled out this sample so I got the beats going and he laid down his signature trumpet style. Like so many of our family collaborations, it was super casual and captured the feeling of just one night in our lives with this music.
3. Gemini – We Are The Future
Eli: There's a couple things that make this one special. Most importantly, all four of us (W+L and SC) have played this at the Marcy at one time or another. It's such a classic house jam, but so playful with the beats it's an easy one to always go back to. It's also gotta be because Gemini is this mysterious character who had so many amazing releases, but then just disappeared. The Marcy is full off mysteries, so the story behind this always appealed to us and fit right into the space.
4. Foolish & Sly – Come A Little Closer
Gadi: We heard this for the first time on New Years Eve 2009, when Ryan Elliott played at the Marcy. At the time it was a dream booking for us and he really blew all of our expectations out of the water. He brought the super sexy house vibes and we recorded the whole thing and listened to it over and over again. One of the standouts was Second Hand Satellites' "Orbit 1.3," but it was the Foolish & Sly tune that became the anthem for me. It's gotta be one of the sexiest house tracks ever.
Eli: At this point in the mix, the Marcy has filled up, bodies are grinding together on the tiny 50-person dancefloor, and the party is in full swing. Check out Ryan's set on the podcast.
5. DJ Ali – You Don't Know (Ruff Cut)
Eli: The first time Charlie and I ever went to the Marcy was September 2008. It was after the first day of the Minitek (a.k.a. mini-wreck) in Coney Island. We had tried to go to all the official afterparties, but they were all too packed and playing boring music so we set out in search of the crazy hotel everyone was talking about. As soon as we got there we realized it wasn't a real hotel, but we heard Seth Troxler was playing later and the vibe and music were amazing; mostly because Lee Curtiss was playing the most refreshing set of deep house I had heard in forever. I'll always remember him taking me back almost 10 years when he played this one and realizing that house music was back and it was amazing!
6. Nicolas Jaar – The Student
Gadi: Back to "signing tracks," this was the one for Nico. He had been sending us demos for a while, but something about the creepy little percussions on here really caught my ear. (It almost sounds like the Marcy when it's empty at night.) I asked him to come hang out and we started talking about adding a beat and really pointed him in the direction of trying to make more beat-oriented music.
Eli: This point in the mix represents the peak of the night. It's 4 a.m., maybe Nico or Deniz or No Regular Play is doing a live performance and people are losing it, but not in a crazy, fist-pumping way. It's much more a boiling-up-inside, the way this track feels.
7. OutKast – SpottieOttieDopalicious
Eli: This one really stands out for me because Gadi played it as an interlude in between Nico and Deniz's live sets at one of the last parties we had at the Marcy. It really blew my mind the way he just faded it in and then faded it out, like playing music between bands at a concert, and the energy in the room went through the roof!
Gadi: I had heard this when I saw Theo Parrish at Plastic People in London. He did a residency there for awhile and the club was supposed to be closing soon, so it was a really special night. When he played it, it was so insanely inappropriate but super appropriate and I had to make it a staple of my sets. There were many moments at the Marcy when instead of mixing I would let a song end and bring the next in. Sometimes there would be new people there who would look at me like I was crazy, but I mean it's my living room so I always felt comfortable doing what I needed to do and letting songs speak without worrying about mixing.
Eli:8. Metro Area – Let's Get
Gadi: More credit to Lee Curtiss here. Our friend Phil Stone from Chicago had sent us a package of a bunch of Metro Area stuff he had ripped off vinyl, but we didn't really know what to do with it until Lee explained to us who Metro Area are. I mean they're also from New York, but weren't really on our radar coming more from the minimal scene, but hearing a bunch of their stuff helped define our sound moving forward. This one immediately became a staple for the beginning of the end of the party.
Eli: That's why it's at this point in the mix. It's like 6 a.m. and there's finally room on the dancefloor. The intro comes in and you can finally release all the tension that's been building, breath and reset. Then the track comes in, scoops you up and takes you back into space.
9. Omar-S – Set It Out
Gadi: We all love Omar-S for his attitude and style. He's got this minimal Motown sound that's been a huge influence on all of us since Ryan Crosson played this one at the Marcy and introduced us to his music.
10. Gadi Mizrahi – So Addicted To You
Eli: Probably the most slept on jam in the history of W+L, this one is significant on so many levels. Gadi made it sometime in the second half of 2009 and played it soon after at the Marcy.  It just blew my mind. The way he breaks apart this obvious R&B sample, but without really putting it on beat makes it sound like 1,000 mirrors shattering. The way he used the sample changed what was acceptable for us and opened up a whole new world of possibilities that made tracks like "Extravaganza" possible. It also was the first time anyone in the crew really "broke the beat" and pushed all of us to move away from straight ahead 4/4 music and experiment more.
Gadi: I think the reason no one really knows this one is because it was the first release on my vinyl-only label, Double Standard Records, which means it really stayed underground.
"It's like the flight landing. Take it down, take it down."
11. Tensnake – Congolai
Gadi: This is just beautiful in-between party and afterparty music. It's for when the sun starts to rise over the skylight on the dancefloor and everything gets so pretty.
Eli: Yeah, this really captures sunrise at the Marcy, when you can finally stretch out. From the Metro Area jam to here in the mix represent the time when some people have filtered out, but the morning hasn't quite arrived yet. This one takes us into the morning sun.
12. POF – Running
Gadi: Technically this has never been played at the Marcy. It's a Miami bass/freestyle classic (a cover of Information Society) that we discovered since moving down here. But we all agreed that if we knew it back then it would have gotten played all the time.
13. Rockwell – Somebody's Watching Me
Eli We dropped this one the first time we ever got to play at the Marcy and Le Loup got an amazing video (see above). This is what's it's like once the sun's up and it's just friends hanging out and dancing.
14. Wham! – Everything She Wants
Gadi: Once again, this one has to do with Lee Curtiss. He's always been about blurring lines. Like playing a YouTube set of all emo, cheesy '80s tracks, just having fun. This one, along with Chaka Khan's "Ain't Nobody," were the first pop tracks to sneak into our sets. They were chart-topping in their own time and crossed over into our sound because we wanted to be a little sarcastic.  We try to have a pop music sensibility in our production, especially in our DJ sets and we're not be afraid to really have fun and party and play "uncool" music if it's gonna make people dance. When we started playing this style people were making fun of us for playing yacht rock, it was a really big break and division between us and the real techno heads.
15. Kate Bush – Running Up That Hill (Beedle Edit)
Gadi: I think this was another one Ryan Elliott played in that NYE '09 set. Not 100-percent on that, but either way he did an edit of it too and sent that around to all of us. This song is so powerful and it also fits with the philosophy we were talking about with the last one. You know, not feeling confined to playing any one style music or being afraid to have fun, but also being nostalgic at the end of the party, being close with friends and going back to where it all came from.
Eli: It's funny because we had started playing this edit in our Soul Clap sets a while before we all even met for similar nostalgia reasons. I've always been a huge Ashley Beedle fan, and when I heard this edit, I was transported back to living in the UK with my parents when I was young and staying up all night listening to the amazing music on BBC radio. I guess this one really stood out for me then and I've been in love with Kate Bush to this day.
16. Soul Clap – Love Light Edit
Gadi: So this was the one that got the Clap noticed and ended up being their "signing track." It's a great story. Charlie met [Soul Clap's] Zev [Eisenberg] because Zev was hitting on C's ex-girlfriend at the first Marcy party they went too. When Charlie got back to Boston, he sent this one and a bunch of their more generic unsigned house tracks to Zev and then he put it on our shared Yousendit account and Seth picked up on it right away, but I had never heard the original. Then one weekend a while later they sent us the Conscious edit and me and Bill Patrick we're listening to this and "Love Light" and realized that this was the next shit. We had been bringing the pop music influence into our sets, but it never mixed or flowed the same as house, with these edits we could seamlessly slide the vibe over to classic and fun. So we started talking on Skype all the time and ultimately we figured out how to start Wolf + Lamb Black as a bootleg label to release the Clap edits. I told the Clap to really focus on making edits and try to make original music that sounded like the edits. It took awhile, but they got it down and the rest is history.
17. Michael Jackson – I Can't Help It (Tangoterje Mix)
Eli: I can directly pinpoint this track as the beginning of our exploration of the new disco sound. Sometime around 2004 one of my friends passed me some Prins Thomas and Lindstrøm music, but I just wasn't ready for it. Then maybe a year later, I was shopping at one of my favorite record stores in the world–Gramophone Records in Chicago–and I came across this one and had to have it. We had always bought a lot of house edits and bootlegs of R&B and hip-hop, but I had never heard anything like this. I brought the record home and it got buried because it was too slow for our house sets and too chill for our pop sets at the time. Then all of a sudden we stumbled on all the new Norwegian disco sounds again and it was the right time because we had started playing a lot of atmospheric sets at retail stores, hotels and corporate events and this sound became our way to trick them, but still play music that felt like house. When we finally got to play it in a party setting in our first set at the Marcy it felt so good and it's gotta be one of the best edits of all-time.
18. Jay-Z – Imaginary Players
Gadi: It's really important to remember that we all came from really diverse musical backgrounds. A lot of the crew grew up with hip-hop and younger guys like Nico or Greg got into it as they grew musically. People probably don't realize because it doesn't really get released, but we make hip-hop beats for fun. But beyond just hip-hop, this one represents our vision for a different kind of afterparty. We really believe there's gotta be a break and a change from the music at the party to the afterparty. We like to slow it down and we're more into chilling and hip-hop and pajamas and getting comfortable with our friends. Sometimes it's not about mixing, just having fun and playing music that we love. Hip-hop is important because it has its place in our scheme for the perfect night. It's like the flight landing. Take it down, take it down.
19. Michael McDonald / Warren G – I Keep Forgetting / Regulate
Gadi: More yacht rock! I've blown up a bunch of big parties with these two back to back: Old Miami in Detroit, Kubicle at T-Bar, London, and of course, mornings at the Marcy. They're both so smooth with the same beat, but completely contrasting emotions, a perfect signature for my sets.
20. Roy Ayers – We Live In Brooklyn
Gadi: Charlie showed me this in Miami last year and I was just like, "Game over!" It's been an anthem for us since then and been played at every Marcy party. What more can I say, we live in Brooklyn…baby!