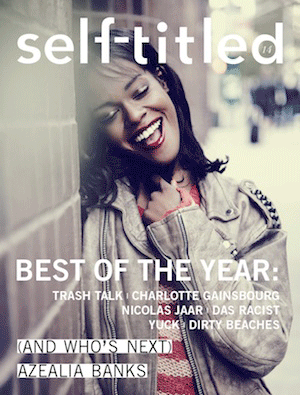 The question of "Why not?" came up a lot while creating this issue–like when a 2 a.m. set from The Men left a self-titled photographer with a cracked camera and the rest of us thinking we should really thank the band with a cover story. Or the moment we realized a second cover might be necessary, despite the fact that Azealia Banks had yet to released a proper record. (Sure enough, Banks is now working with Paul Epworth, the producer responsible for Adele's "Rolling in the Deep" single and Florence + the Machine's entire Ceremonials album.) And then two covers turned into three (or make that five, actually), after DFA dropped Factory Floor's "Two Different Ways," a next-step single big enough for us to send The Quietus co-founder Luke Turner to the trio's London rehearsal space for some answers about their album on the horizon.
These are just some of the reasons why running a digital magazine feels totally liberating–particularly our ability to take genuine risks when compiling an issue that looks toward the year ahead (as well as recollects the year that's passed).
Of note: Our 14th issue is the first time we've turned around a stack of pages in two months, rather than our usual quarterly schedule. If you dig the idea of self-titled going bi-monthly, please let me know. Either way, we're proud to present three artists who'll be debated and devoured in 2012, right alongside lots of artist-curated Best of the Year lists and a grip of features, including Das Racist reviewing the year's biggest songs and Gavin Russom (the man behind The Crystal Ark, Black Meteoric Star and James Murphy's synth collection) sharing tales of self-immolation, twisted magic tricks and stepping into the light.
This is also the first issue of self-titled to feature songs streaming on nearly every page of our iPad edition (available in the coming week, with a free Web edition hitting our daily site tomorrow). There's a lot of music to discover in here, even some stuff we'd never heard of ourselves (thanks, Not Not Fun), so enjoy it! Until next year.