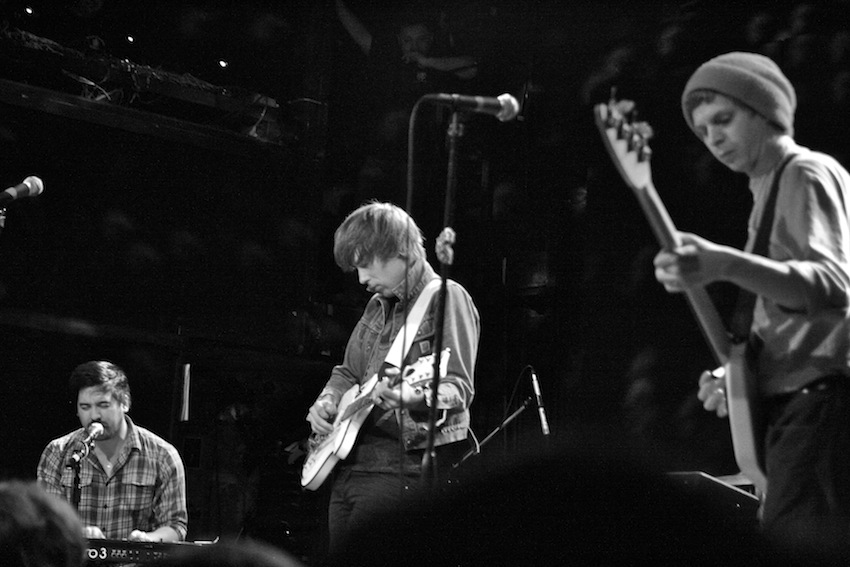 Words and Photos by Andrew Parks
If there's one thing we've always loved about New York, it's the city's tendency–Gawker, notwithstanding–to give celebrities the no-big-deal treatment. Case in point: the blank stares that followed a few cheers when Michael Cera stepped to the right side of Bowery Ballroom's stage last night, assuming the live bassist position he continues to hold in Mister Heavenly.
Which is appropriate, because the Sub Pop-endorsed side project isn't about him; it's about the alchemy of two very different voices–Man Man's Honus Honus, and Islands' Nick Thorburn. Unlike the latter's Human Highway album with Jim Guthrie, Mister Heavenly isn't a smooth Simon & Garfunkel affair. It's an oil and vinegar mix that actually works, a rare instance where sandpaper-lined melodies sound great brushed up against clean, gold-plated harmonies.
Since the trio (rounded out by Modest Mouse drummer Joe Plummer) won't be releasing a proper record until later this year, the following video is all we've got for now. It's a Misfits cover, too, so let's just say that Mister Heavenly's own material is a bit more restrained…