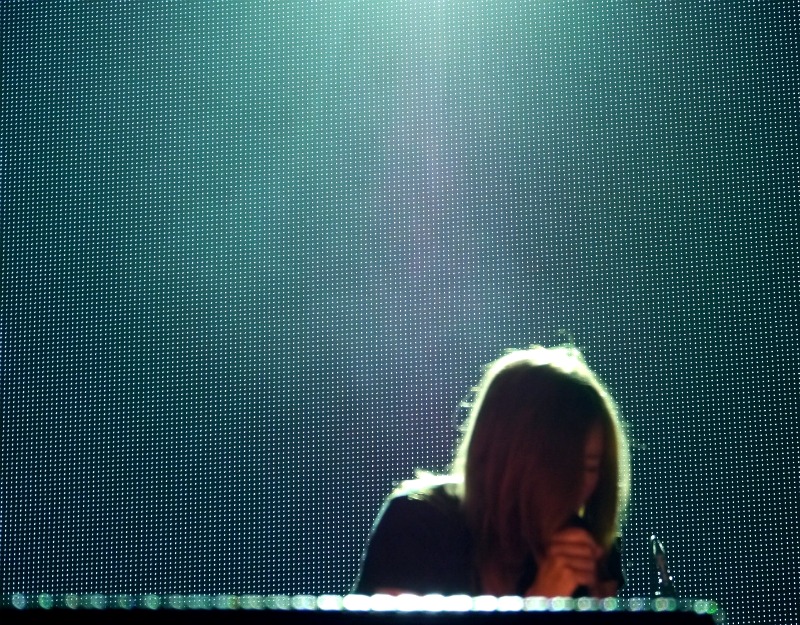 Words by J. Bennett
self-titled recently made the unconscionable mistake of pouring a pint of shitty vodka down J. Bennett's gullet before cutting him loose inside the Shrine Auditorium for the first engagement of Portishead's two-night stand in Los Angeles. The show was "fucking fantastic," according to our intrepid reporter, who mailed us a soiled cocktail napkin with his review scribbled on it. We've included the legible parts below, and dropped the night's setlist into a Spotify playlist here. (For some reason, the band doesn't let you stream "Wandering Star.") Herr Bennett also demanded that we include this note to the Shriners, who ostensibly run the Auditorium:
Gentlemen: According to the Internet, your organization was founded in 1870 as a "fraternity for Masons stressing fun and fellowship." And, apparently, fezzes. All of which is fine. But I would suggest that many (if not most) concertgoers' definition of "fun and fellowship" might include the consumption of alcohol. As such, maybe next time you could open up another bar or three so your patrons wouldn't have to wait in line for 30 minutes to get a drink. By my lights, you have had exactly 141 years to sort this out. Time to get on the stick, don't you think?
1. "Mysterons"
The first song on the first Portishead album. SO fucking good. I am a 35-year old man who listens primarily to heavy metal and classical music, and this song gives me chills like Cliff Burton and J.S. Bach came back to life and ripped solos on my face before kissing me goodnight.  Portishead nailed every last nuance of this one, too. "Haunting" is way overused as an adjective in music journalism, but this is the song that was clinging to my brain pan when I split the show–and they played it third.
—
2. "Sour Times"
I'm no scientist, but I'm pretty sure Portishead cranked through this 1994 super hit way too fucking fast, thus completely stripping it of its emotional heft. Why did they do that? Did Geoff Barrow have to pee? Is Beth Gibbons just completely over this jam after hearing it on the BBC like 8 million times? We still enjoy this song here in America, but it might as well have been "Shiny Happy People" at this speed. Probably the show's only low-light.
—
3. "Wandering Star"
With apologies to the late, great Anthony Burgess, this one was all gorgeousness and gorgeousity made flesh. Check the YouTube footage and you'll see what I mean. Intimate & stunning. Nigh perfect–if perfect weren't the opposite of good. If anyone had any doubts about Gibbons maintaining her considerable vocal abilities after all these years, they didn't by the time she finished this one off. Fucking elegant is what it was.
—
4. "Glory Box"
Yet another song off of Dummy, yet another hit single, yet another fan favorite. But can you deny this jam? The answer is no, you cannot. And neither can the band, obviously–although they managed to avoid playing both "All Mine" and "Only You," two of the most ubiquitous cuts from their self-titled 1997 album. Despite the fact that this song never really went away in the nearly 20 years since it was recorded, it retains every ounce of its staying power tonight.
—
5. "Threads"
The final track from 2008's Third hit like a slow fuse leading to a series of even slower explosions. Gibbons kinda went off at the end herself, ditching her typically rigid/stoic British composure for something like mild excitability. I'm not sure what they did at the end, but it sounded like the band was torturing a herd of elephants. It was heavy, man.
Please note that the term "trip-hop" was not used in this review. Because whoever coined it should be shot. Unless it was Geoff Barrow. Wait, was it?