Words and Photos by Andrew Parks
Before you get the wrong idea, the above headline isn't meant to suggest we can't enjoy a stoner-metal show without the help of a couple bong hits. It's just that we're talking about Sleep here–a band known for cannabis-coated album covers and an hour-long song/thoroughly-bootlegged third album called Dopesmoker. Which made us wonder: Would the towering riffs, sucker-punch drums, and guttural basslines of "Dragonaut," "Holy Mountain," and Dopesmoker's intro sound as monumental to a severally sober person?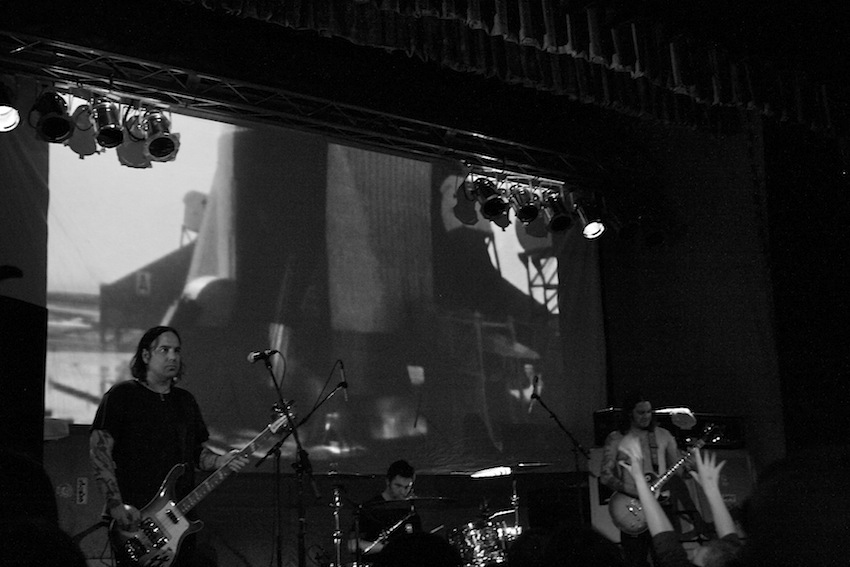 Our still-ringing ears say yes. As does the simple fact that last night's Brooklyn Masonic Temple show was better than anything we've seen from vocalist/bassist Al Cisneros or guitarist Matt Pike, including the apocalyptic doom of Shrinebuilder, the scorched earth opuses of High On Fire, and the meditation-metal of Om. More than a simple cash-grabbing reunion gig, the staggering two-hour set felt like the rebirth of a band that ought to be personally thanked (or blamed, depending on your perspective) for post-Sabbath acts like the Sword, Witchcraft, and most of Tee Pee's current roster. (The Queens-based label gave Dopesmoker a proper pressing in 2003.)
Whether any of this will led to another album remains to be seen, especially since longtime drummer Chris Hakius (a founding member of Om alongside Cisneros) is out of the picture again. Personally, we'd love to see Sleep hang onto Neurosis' Jason Roeder for an actual record. After all, he didn't sound like a hired gun last night. He sounded like the masochistic missing piece in the tightest power trio we've heard in quite some time.