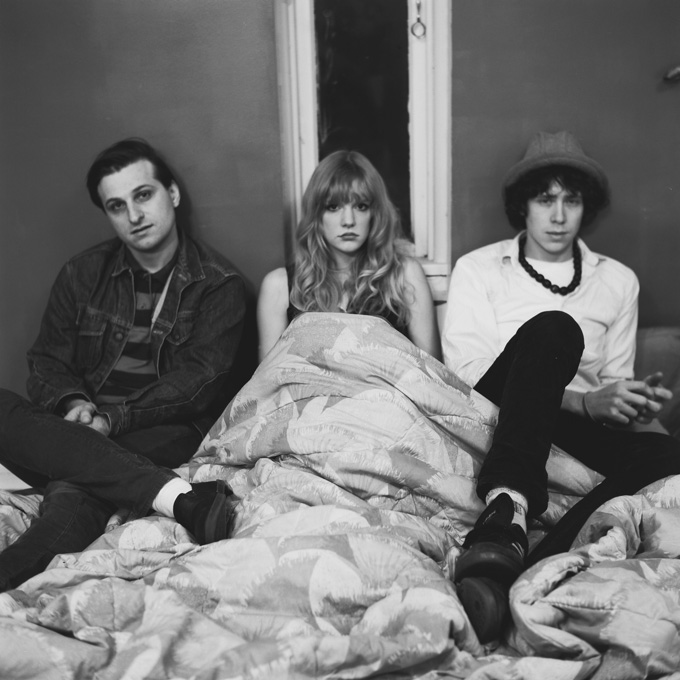 As the Faint's Danse Macabre tour winds down in the next week, we thought we'd point out the simple fact that its one of the few fall treks with two opening acts–Icky Blossoms and Trust–actually worth seeing. Since we've talked about the latter quite a bit already, here is a track-by-track breakdown and complete stream of Icky Blossoms' Dave Sitek-produced debut, from the time vocalist Sarah Bohling beat Switch in ping pong to a thorough explanation of how Jesus ends up holding a joint at the end of the album…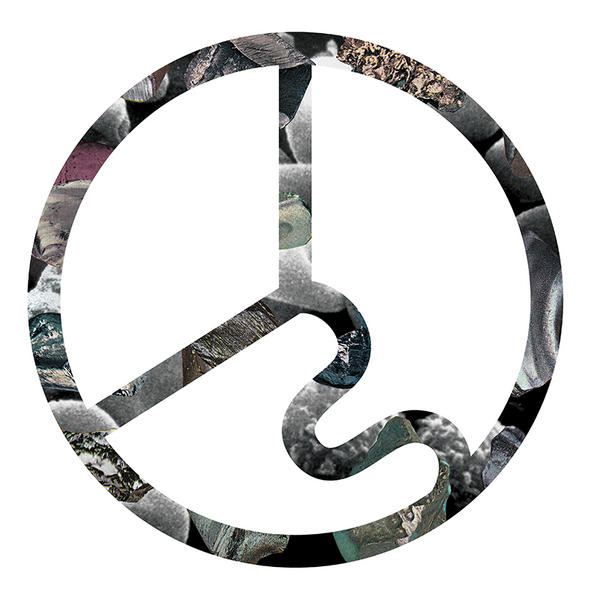 "Heat Lightning"
Sarah Bohling: This song evolved a couple of times and at this point is actually three songs we've released. We brainstormed the lyrics and some of the melody in a friends house we called "the amber room." When we went to LA, the song had soft synths with the beats but Dave let us experiment with his analog synths so that the riffs could have more sonic "bite" to them. This is a pretty dance-driven song but it has a darkness in it that I always imagine when we perform it.
Nik Fackler: "Heat Lightning" was one of many songs built off a beat we made and really liked. We would be working on one song and it would turn into something different. Derek [Pressnall] wrote this in basement and showed it to me when he was still living in LA, then finished and recorded it over the weekend. The original recording can still be found on YouTube.
"I Am"
Nik: I wrote this when Derek told me I should try and write something like an old Genesis song. Instead it turned out sounding like the Pixies with a crazy beat. I wrote and recorded it in one night. It was the last song recorded before we left to go to record the record in LA. In LA, Derek re-arranged the song slightly and added the end choral work.
"Sex to the Devil"
Sarah: Patti Smith inspired the hook to this song through a passage in her book Just Kids. Derek was really into the book and once the devil was involved, we all knew the song would be TIGHT AS FUCK. I like to think of the song as just the day to day garbage one experiences and how that accumulates and weighs on us and how we all have divine intervention as a reaction to it. Whatever the 'devil' may be, we all have sex with him. He is your outlet your sanctuary or maybe even your vices, sure. He keeps you keeping on.
Nik: The idea was to make "sex to the devil" the drop and the hook. We took the concept to Todd Fink [of The Faint]; he created a track off of our scratch vocals. When we went to LA that is all we had. Over the course of a night I took the song and arranged it. Adding lyrics from an older Icky song that was dropped in pre-production. Sitek added the apregeiated synth and the devil added the rest. Not the real devil. The rock 'n' roll one.
"Cycle"
Sarah: This was the first song we started working on at Sitek's. We spent around four hours just making up that sound that happens during the breakdown. It's actually a bunch of sounds looping condensed/reversed/condensed/reversed. It was our first taste of seeing Dave's hunger for experimentation.
Nik: Cycle was a song I wrote that was once an upbeat, high tempo track. But in the studio we realized we needed a more chiller, sexy song and completely reworked the song to be just that. Sitek used the Tempest Analog drum machine to make the beat and Sarah recorded some of the best vocals on the record. During the breakdown we felt there was a pause that needed something. We added the "wake up" moment inspired by when Kate Bush says "here come the jets" off of Hounds of Love.
"Deep in the Throes"
Sarah: This song came together in a few days while we were in LA. The lyrical content balances between personal feelings of love and love as mythical ancient THING. The last verse was written out of weird word signs we were posting on the walls of Nik and Derek's room–random word strings that we rearranged until we felt inspired.
Nik: "Deep in the Throes" was another track finished while in the studio. We came with a beat that Derek and I made in Omaha and the idea for the deep in the throes hook. I finished the lyrics the morning they were to record and the guitars were added a few days later as an afterthought Derek had in his dreams.
"Babes"
Sarah: Our first real song. The idea was born out of drunk boredom and our spirit animal (one of many) Madonna. We pretty much wrote out the skeleton of the song in about five minutes. The vibe of the song was so charming at first we damn near played it 10 times every show.
Nik: I found an old beat I made in GarageBand and used it to base the idea on. Once the song was finished [The Faint's keyboardist] Jacob Thiele took it and turned it into what it was now. The first song we played live. We played it three times in a row. It was too funny not to.
"Burn Rubber"
Sarah: This was built upon a sample Derek heard by DJ Switch. We recreated the sound with Sitek and for whatever reason, Switch showed up later in the week to have a meeting with Dave. We showed Switch the song–he was super into it. We don't truly know if he realized he loved his own sound. Later in the evening Sarah beat Switch at ping pong and has developed a habit of destroying men in ping pong matches.
Nik: Derek wrote "Burn Rubber" and it was performed differently for many months before going into the studio. Sitek created a new beat and added the bass line and the rest was cake. While recording the guitar parts we turned off all the lights in the studio and lit incense to get the mood right. The bass line at the end of the song was the last thing recorded in the studio.
"Temporary Freakout"
Nik: Before Icky was Icky, this was the song I played for Derek as a potential dance song for the new band. Again, the song was taken to Jacob Thiele who helped turn the song into more of a dance song. Once Sarah sang the song it became a whole new beast. This was another one of the first Icky songs to be played live.
Sarah: A reaction to girls and how they run in circles around boys for sport. This song is interesting because Nik and I sing on the verses but it blends so well that I sound like a dude singing which has always been a dream of mine. Derek's falsetto in this song also is bad ass. There are so many weird elements to this song–choral splices juxtaposed with warbling bass synths and not to mention the sample of a sword being drawn from a video game. Ultimate nerds forever.
"Stark Weather"
Nik: Derek wrote "Stark Weather" as one of the first songs he created after getting Abelton. It was a simple idea that Sarah and I had to beg for Derek to finish. We loved how dark and beautiful it was. In the studio we felt there needed to be something unique and beautiful in the breakdown. Nate Walcott [of Bright Eyes] was in town and we asked him to come in to record a trumpet solo. Sitek had a moment of inspiration and hooked the mic up to a delay and wha-wha peddle. After about four takes Nate had nailed an extremely rad trumpet solo which we then put in reverse for the first part of the solo.
Sarah: An arm's length ode to Charles Starkweather and Caril Fugate and the killings that happened in Nebraska. I never thought I would be singing on a song about grabbing my gun and grabbing my honey but it happened. Nate Walcott helped us out a bunch on this song with his spectacular trumpet solo. We ran it through a wah-wah pedal and layered it forward and reversed. Definitely the most haunted song on this album.

"Perfect Vision"
Nik: The first Icky song written. I was living in LA when Derek asked me to play music with him. He presented me with the song and asked me to add a wall of sound guitar part to it. In the project file there are about 20 tracks of guitar drones and shredding. We tried forever to figure out how to mix it to bring out all the different parts happening. We wanted the song to be a journey and Sitek and Zeph (Sitek's engineer) pulled it off brilliantly.
Sarah: Imagine you are running around in a forest–bored–with a bunch of your friends. You stumble upon a tribe of aliens and they invite you into their spaceship full of reefer alien teens. Their ship flies all across the world while you listen to this song. You pass the Great Pyramids at Giza, the Stone Henge, Easter Island, etc., until finally, you reach the golden gates of heaven. You and the alien stoners walk out of the ship only to be greeted by Jesus holding a joint.