If there was ever any doubt as to how serious Solar Bears are about the importance of songwriting as opposed to the simple act of beat-making, consider this: they last told us about their second LP a year ago. Now set to drop next week through Planet Mu, Supermigration is exactly what they promised us back then–a deep listen that's "darker and more psychedelic" than their self-titled debut. Or as producer/multi-instrumentalist John Kowalski says at the tail end of the following exclusive, "bleak equals beautiful"…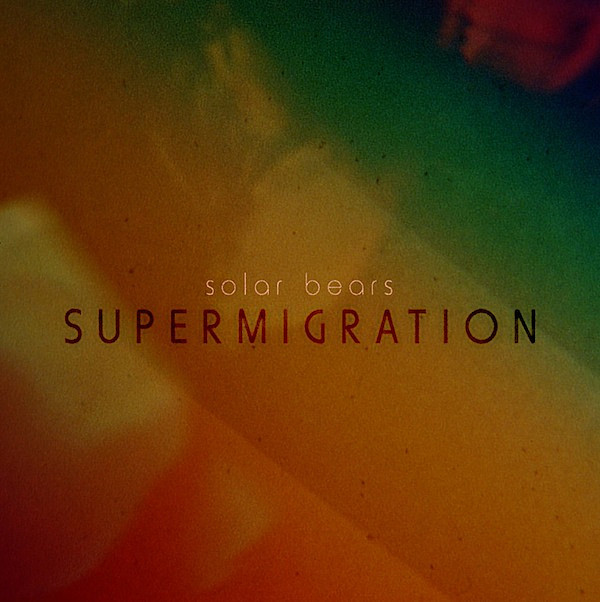 "Stasis"
John Kowalski: This is a bridge from the last track off our debut ("Perpetual Meadow"), which is reflected in the title. Its melody line also links with "You and Me (Subterranean Cycles)." Rian and I went through countless vinyl to pick out the right samples for the second half. We used the tape machine to bend the piano note which some people have queried.
Rian Trench: Throughout the sessions we kept coming back to this piano piece I'd had for some time. We were thinking of ways to use it, and eventually we opted to leave it as is, slowed down on 1/4-inch tape and time-stretched with some found sounds we had. When people revisit the album, we want them to be reminded of what's about to happen, so "Stasis" is a kind of doorway to Supermigration.
"Cosmic Runner"
Rian: We recorded the synth arpeggio and let the track simply grow around it. That was written early on, and our desire was to make something aggressive, but with a nice groove. The beats are inspired by Stevie Wonder.
John: "Cosmic Runner" is probably my favorite cut on the record, mainly due the sound of the Minikorg 700 playing the Arp sequence and the hi-hat pattern. It's a bit ambiguous in style, which I like a lot. Playing in European clubs bled into the harder coloration of the sound design.
"Alpha People"
Rian: "Alpha People" is the workings of an imaginary band that we'd like to see in a strange, far-off setting. We used a lot of different saturation on all of the instruments in that one. We want it to sound old and futuristic at the same time. Sarah couldn't have been more perfect for the song.
John: We got in touch with Sarah from Keep Shelly in Athens after working on a remix for them and wanted to use her vocals on a track. It was our first collaboration, and it went extremely smoothly. Her lyrics tied in with Beth [Hirsch]'s later in the record. I remember recording the main keyboard line on a phone so we wouldn't forget it.
"Love Is All"
John: Anybody that has heard this so far has mentioned Stevie Wonder, and he's definitely a subconscious influence. It's possibly the first time we have hovered into jazz territory. The choir is really what elevates it for me personally.
Rian: I write songs as a solo artist too. This is an instrumental adaptation of one of those. A lot of the original melodies are transposed onto synthesisers. The voices you hear on this are from a Bulgarian womens choir.
"The Girl That Played With Light"
Rian: The Arps in this are tracking live with the drums for feel. We used three mics on the drumkit and ran them through tape heads for grit. We liked the idea for the root of the song to remain consistent, but the vibe to change drastically in the second half. Always wanted to use bass as a lead instrument.
John: For some reason, this dead-eyed element started to come into the music during recording that we couldn't really explain. It was very welcome though. Maybe it was down to dystopian films or just how we were feeling about the state of the world.
"You and Me (Subterranean Cycles)"
John: A cut from something that started out personal and insular, and turned into a space-age number. But then on the other hand, it makes you visualize being submerged hundreds of miles beneath the surface.
Rian: Two pieces I've had since my teens. We literally stuck them together. The second half of this is the same piece from "Stasis" in different clothing. We thought it gave the record some continuity at the right point. The sounds on the second half are from a old Casio preset machine going through some guitar pedals, and a Korg Monotron through a miniature guitar amp.
"Komplex"
Rian: John had envisioned the Arp line on a sampled guitar. We tried a few out and eventually opted for the synth you hear. We sampled drum hits from some '70s records I had on vinyl. That lead sound is a badly damaged Minikorg 700. We liked the way the choir made "Komplex" hold hands with "Love Is All," so to speak.
John: The Arp line was originally meant for acoustic guitar but we tried it out with a sequencer and it made more sense. It took a while to get the beat to sit properly with the other parts. Our bass player Cian (from I Am The Cosmos) loves to play it live too.
"Our Future Is Underground"
John: Moon Safari is a landmark album for both of us so when we had the instrumental done we approached Beth to see if she would be interested working with us. Rian played me an old guitar line and we began layering from there, doubling up on piano to begin with.
Rian: A guitar riff I'd had in my rucksack since back in 2000. John picked up on it 1 day and instantly had ideas for drums and bass parts. It was always intended for a vocalist. Beth is sublime.
"A Sky Darkly"
John: One thing we always try to do is use the guitar in an unorthodox fashion. It was a good platform to employ overdriven guitar with strings. The soundtrack to Dead Man by Neil Young was a seed in our minds for a long time. I whistled a bassline to Rian and he got it down really rapidly along with a beat.
Rian: This felt like we were channeling something from the first few songs we wrote as a duo again. Literally trying not to think about it too much at all, and tracking things as fast as we could.
"Rising High"
Rian: We set up two sequencers to play completely random notes at random intervals in a scale. Then worked in some chords we liked with a multisampled MS10. The percussion in this is me clacking two plastic boxes together on my knee. Most of the sounds are tracked onto cassette.
John: We felt that the harsher songs should be contrasted with something more gentle and meditative. That's where "Rising High" came in–trying to get across emotion with as few components as possible, where the natural impulse for a producer would be to keep adding. I prefer a more broken-down mindset.
"Happiness Is A Warm Spacestation"
John: "Happiness" came about from spontaneously morphing a bass riff and editing after 15 minutes or so. Again the hi-hat pattern is what I am drawn to the most even though there are far more attention-grabbing aspects to the piece.
Rian: This track was built over time by taking part of our live set that worked really well, and sticking them together. The synth at the start is a live jam over the drum machine. Really excited to perform this with the band.
"Rainbow Collision"
Rian: There's a lot of sampling from vinyl on the album. The chords you hear are a few samples glued together and put through a filter. The piece at the very end is my record player breaking while we were hunting for more stuff. Thought it made sense to finish here, especially considering what we have in store for people next.
John: When we first started out, we tried to write two-part songs but quickly realized we could just revisit that idea any time we wanted so it was a test to do a three-act composition. Since the vinyl player was out, we recorded a few back scratches and spliced them together that way instead of effects or a conventional mixing technique. The piano that closes the LP was chosen long before we actually completed the record. Nothing else would have sufficed. Bleak equals beautiful.