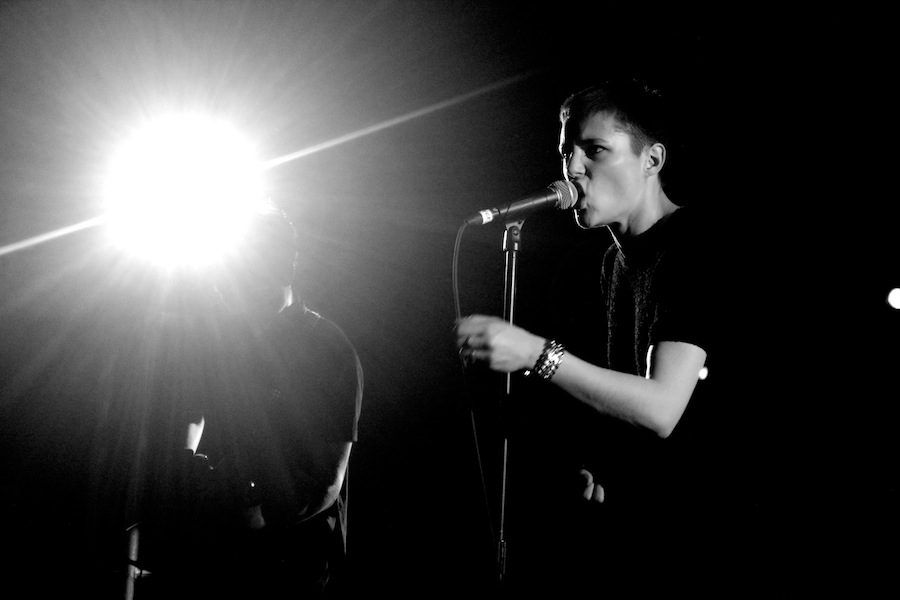 Words and Photos by Andrew Parks
As satisfying as many South by Southwest sets are, the artists that leave you feeling like you actually witnessed something–the start of an actual career with increasing returns rather than a few months of far too familiar blog posts–are few and far between. In fact, it's been a few years since we felt as confident about a band's chances for success as we did during Savages' early evening performance at Pitchfork's official showcase last night.
While their first show was not that long ago (January 2012), the London quartet clearly spent months–maybe even years–holed up in a secluded rehearsal space, sharpening their deadly serious sound to a point that's as prickly as the spears in the kids-gone-wild (Lord of the Flies) novel that gave Savages their name. At a time where anyone with GarageBand and a carefully calibrated mic setup can cut a decent sounding record, it's beyond refreshing to see a band that can actually play. As in every song is perfect, a tightly wound ball of nervous tension that's seconds from pulling the pin in even its quietest moments. From the hiccuping hooks of "Husbands" to the panic-inducing raw power of "City's Full," this doesn't register on the radar of pulse-quickening disco-punk or guitar-toting garage rock. It's something else entirely, the soundtrack to society's inevitable downfall.
And as dire and dark as that sounds, it's about as close to a natural high as you're going to get at SXSW this year. Which may explain why a defiantly DIY group with nothing but a killer single and a live EP have the same manager and publicist as Sigur Rós already…