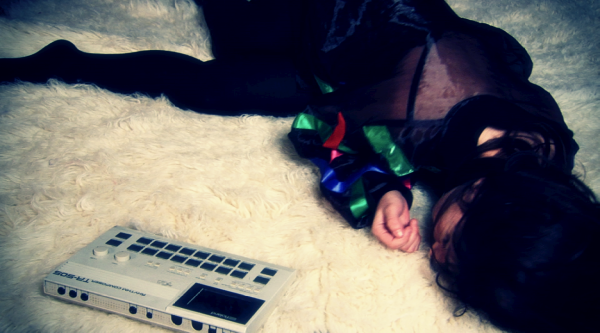 The Italians Do It Better sticker on Nite Jewel's first 12-inch single was a bit misleading. As much as Ramona Gonzalez's music reminds us of steamy camera lenses (see also this bit of brilliance) and awkward, arrhythmic dance moves at unmarked Brooklyn lofts, it's not as indebted to Italo as you might think. Mostly because the mix is so damn murky; danceable yes, but haunted by memories we can't quite discern. That's because Gonzalez's spends most of Nite Jewel's promising lo-fi debut, Good Evening, hiding her voice underneath shifty beats and a bed of echo chamber effects.
One glaring exception to this rule: "Artificial Intelligence," which was first unveiled on a self-released CD-R. It's here where Gonzalez finally reveals the woozy but wonderful qualities of her genteel voice, as set adrift against space age drum loops. Please speak up more on your next LP. That is all.
Good Evening is out in CD form through Human Ear Music on March 17. Gloriette's limited LP pressing is available now. Listen and learn after the jump …
[audio:http://www.self-titledmag.com/wp-content/uploads/audio4/07%20Artificial%20Intelligence.mp3]
Oh, and how about Travis Peterson's fantastic lil' music video? Somebody's got friends in all the right places.
Nite Jewel plays an Italians Do It Better showcase at Le Poisson Rouge on Saturday, March 7, with Glass Candy, Twisted Wires and Mr. IDIB himself, Mike Simonetti.