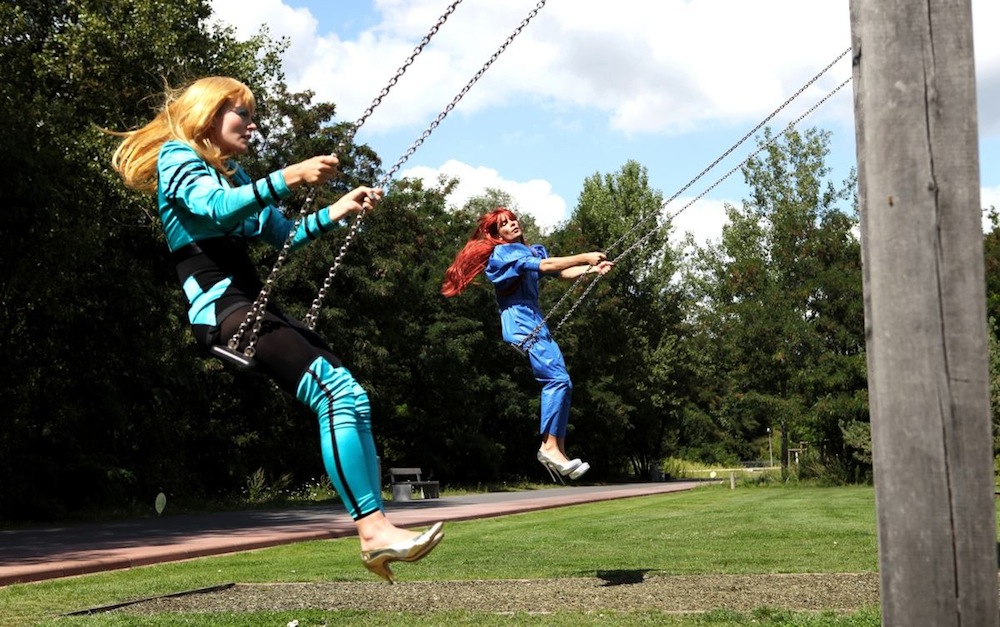 Compared to most other music sites, we're already late delivering our midway progress report on the year's top records. The way we see it though, there's still a few days left in June, and our staff's respective tastes change by the hour, so this is as close to an accurate portrayal of the Albums You Need to Hear Right Now as you're going to get until December…
ANDREW PARKS, EDITOR/PUBLISHER
10. Majical Cloudz, Impersonator (Matador)
The chrome-domed figure (singer-songwriter Devon Welsh) at the center of this Montreal duo looks like Ian MacKaye, but he isn't exactly screaming at a wall here. With the spare sample banks and slow-burning synths of Matthew Otto by his side, Welsh paints stark, painfully sincere pictures of love and loss that are somehow not the least bit sappy. Like his new label mate Perfume Genius, they're devastating really, from the murder balladry of "Childhood's End" to the spectral trails of "Mister." Or as Welsh says in "Bugs Don't Buzz," "The cheesiest songs all end with a smile/ This won't end with a smile, my love."
–
9. Dirty Beaches, Drifters / Love is the Devil (Zoo Music)
The last time I saw Alex Zhang Hungtai play live, I was a little taken aback by the fact that he spent most of his set sitting in front of a Korg rather than a rough guitar amp. Well it all makes sense now, as the singer/multi-instrumentalist splits his drifter-in-the-dark dealings across two distinct LPs–the tortured radio transmissions of Drifters and the comparatively calm ambient leanings of Love is the Devil. Quite a convincing argument against anyone who'd written Dirty Beaches off as nothing but a Lynch-ian Suicide pact in the past.
–
8. Tomahawk, Oddfellows (Ipecac)
Forget that Faith No More reunion you forgot to attend. Now that he's expressed himself through everything from hotel room exorcisms (the solo album Adult Themes For Voice) to dust-clearing Italian-pop covers (Mondo Cane), Mike Patton ought to finally drop the self-indulgent side projects and deliver what we really want to hear–records as catchy and chaotic as this one.
–
7. David Bowie, The Next Day (Columbia)
If this is Ziggy's death knell, he sure sounds like he's having a hell of a time. (Except for on "Where Are We Now?"; that song's depressing.) Bonus points for pissing off the Catholic League to the point where they called him a "switch-hitting, bisexual, senior citizen from London." Ouch!
–
<
6. Nick Cave and the Bad Seeds, Push the Sky Away (Mute)
Well this is exactly what I was hoping to get out of Nick Cave's 15th album with the Bad Seeds: a discomforting descent into a self-made hell that was heralded by its first couple singles and sparse, shame-ridden sleeve. (What's behind Door No. 1? Why, it's Nick Cave, here to 'show you the light'!) It's as if the Bad Seeds exorcised their collective id on the last two Grinderman LPs and decided to dial all that pelvis-thrusting rock 'n' roll down with a fully realized world of quiet storms and off-camera killings.
Because what could be more unsettling than a record that's full of restraint?
–
5. Zomby, With Love (4AD)
Anyone who's ever seen Zomby 'DJ' or read one of his rambling interviews knows he's the real deal–a person who's natural state of being is provocative and prickly, as unwilling to cater to critics or fans as Kanye's ever been. Although if you listen to With Love closely, it mirrors another oft-frustrating-but-ultimately-infinitely-rewarding effort much more closely: Drukqs, the last official long player from Aphex Twin. Described as "a sprawling album that defies listeners to understand or enjoy it as a whole" when it came out in 2001, it remains one of Richard D. James' masterworks in retrospect, as likely to deliver a delicate piano piece as it is waves of wobbly jungle breaks.
You can look at this lack of structure as a fuck-all refusal to put a coherent thought together–many people did when Drukqs first dropped–or you could see it for what it truly is: an artist expressing himself however he sees fits whenever he wants to. The same thought process applies here, as the many dualities of Zomby's complicated personality carry over to his songwriting, from the playful head rush hooks of its first volume to the more thoughtful melodies of its deeply melancholic final third. Just look at those song titles–"Vast Emptiness," "Sunshine in November," "White Smoke"–this is not Zomby messing with our minds. It's him pouring his soul into a stream-of-consciousness experiment that doubles as a crash course in neo-classicism and manic electronic music.
–
4. Tricky, False Idols (False Idols/!K7)
Pre-Millenium Tension's logical follow-up…17 years later. The comeback album of the year if you're into that kind of thing.
–
3. Disclosure, Settle (Interscope)
Anyone who experienced the meteoric rise and fall of 'electronica' knows we've been here before, caught in a catch-22 where the welcome stateside acceptance of dance music happens to also coincide with a healthy dose of testosterone and diminishing returns. Way too much Crystal Method, not enough populist versions of the Prodigy, in other words. Only in this case, we've been driven to the brink of absolute boredom by the bang-on beats of EDM, a buzz word sorely lacking the quick-witted samples and red-blooded soul that made the early days of house and techno so damn special.
Guy and Howard Lawrence–the baby-faced brothers behind Disclosure's flawless debut–know this. That's why we decided to put them on the cover of our summer issue, a survey of underground electronic music that proves there's much more to today's club tracks and loopy living room listens than gimmicky masks, Jell-O-y bass lines and dimwitted drops. In the case of Settle, that amounts to a satisfying and substantial listen that might as well have been ghost-written by the godfathers of London, Chicago, New York and Detroit. Or as Guy admits in our story, "We are referencing a lot of old stuff in our music, especially the production side of things. It's almost like 'this is how house would've sounded if they'd had better equipment.'"
Better equipment, and pop instincts some people are simply born with. It's no small feat that only four of the 14 tracks on here eclipse the five-minute mark, and yet nothing feels like it was edited in a bid for festival spots and the BBC charts Disclosure have dominated since last year's delirious "Latch" single. If anything, Settle is the seminal 21st century equivalent of electronica benchmarks like Dig Your Own Hole and The Fat of the Land–an album that marks a moment in time by keeping one foot firmly in the long-forgotten past and the other well into an as-yet-unforeseen future.
2. Kanye West, Yeezus (Def Jam)
In case he didn't make it clear enough already, yes, Kanye West is still out of his goddamn mind, vastly insecure, and in unparalleled possession of the industry's most complicated Napoleon complex. Questionable verses aside–none of which should come as a surprise if you listen to his past LPs closely–we need more pop stars this willing to push the envelope past its logical breaking point. And while he acted as more of a conductor this time around than the album's primary producer, it's hard to get mad at a millionaire who'd rather rough up his sound with left-field studio choices like Hudson Mohawke, Arca, and Hungarian prog-rock loops than rely on a tried and tired Pharrell Williams hook–well hello, Daft Punk!–or whatever's lighting up radio lines lately.
I'll leave the think pieces to sites like Salon; in terms of how this year's albums actually sound, nothing breaches the increasingly blurred line between mainstream and underground music quite like this one. Please stop comparing it to Death Grips though.
–
1. The Knife, Shaking the Habitual (Mute)
Speaking of going against the grain with a maniacal grin, did anyone lose the plot as willingly as the Knife did with their fourth album? As cold, calculated and creepy as anything on Yeezus–only way more political and feminist-friendly than Kanye's misguided, muzzle-busting rants–Shaking the Habitual baits the listener with steely beats, hastily slapped sheet metal, endless drones, and vocals that are somehow more demonic than anything on Fever Ray's record. Be patient with this one; it won't grow on you, but it will burrow its way into your brain and lay a nest full of eggs that'll either be poisonous or compelling depending on your perspective and willingness to wade through musique concrète madness and cuts that are called "Fracking Fluid Injection" for a reason.
Further Listening:
Barn Owl, V (Thrill Jockey)
Baths, Obsidian (Anticon.)
The Black Dog, Tranklements (Dust Science)
Boards of Canada, Tomorrow's Harvest (Warp)
Charli XCX, True Romance (Atlantic)
The Child of Lov, The Child of Lov (Domino)
Darkstar, News From Nowhere (Warp)
Dean Blunt, The Redeemer (Hippos in Tanks)
DJ Koze, Amygdala (Pampa)
DJ Sprinkles, Where Dancefloors Stand Still (Mule Musiq)
Eluvium, Nightmare Ending (Temporary Residence Ltd.)
The Flaming Lips, The Terror (Warner Bros.)
Function, Incubation (Ostgut Ton)
The Haxan Cloak, Excavation (Tri Angle)
Holden, The Inheritors (Border Community)
Iceage, You're Nothing (Matador)
James Blake, Overgrown (Atlantic)
Jenny Hval, Innocence Is Kinky (Rune Grammofon)
John Roberts, Fences (Dial)
Jon Hopkins, Immunity (Domino)
Maxmillion Dunbar, House of Woo (RVNG Intl.)
The Men, New Moon (Sacred Bones)
Miles, Faint Hearted (Modern Love)
No Joy, Wait to Pleasure (Mexican Summer)
Pissed Jeans, Honeys (Sub Pop)
Primal Scream, More Light (Ignition)
Prostitutes, Crushed Interior (Digitalis)
RP Boo, Legacy (Planet Mu)
Run the Jewels, Run the Jewels (Fools Gold)
Sandwell District, Fabric 69 (Fabric)
SFV Acid, The Dwell (UNO NYC)
Stellar OM Source, Joy One Mile (RVNG Intl.)
Thee Oh Sees, Floating Coffin (Castleface)
These New Puritans, Field of Reeds (Infectious)
TM404, TM404 (Kontra Musik)
Various Artists, After Dark 2 (Italians Do It Better)
Various Artists, Night Slugs All-Stars Vol. 2 (Night Slugs)
Various Artists, Think and Change (NonPlus+)
Violetshaped, LP (Violet Poison)
Wavves, Afraid of Heights (Fat Possum)
Wire, Change Becomes Us (Pink Flag)
AARON RICHTER, ART DIRECTOR/DEPUTY EDITOR:
kanye west
vampire weekend
david bowie
chance the rapper
charli xcx
jai paul
mikal cronin
aarabmuzik
future
kurt vile
the virgins
ARYE DWORKEN, MANAGING EDITOR:
Disclosure, Settle (Interscope)
It might seem mighty convenient that our latest cover stars makes it to my Top 10, but then again this is the one album our staff can collectively agree on. Sure, Settle is referential but then again, this British dance homage is also so reverential it sounds as authentic and urgent as the music made by this duo's predecessors.
–
Vampire Weekend, Modern Vampires of the City (XL)
I've been on board since the beginning, which makes this new batch of prep-pop feel a little bit like a vindication. It also seems that while we were busy calling Paul Simon fouls, these boys became men and made a record which accomplishes the incredible feat of maintaining its youthful following, while still espousing on the relatable sentiments of getting older. As frontman Ezra Koeng sings on "Step," "The gloves are off/ The wisdom teeth are out."
–
Savages, Silence Yourself (Matador)
In a year when when we felt heavy music was so alive and viable that we devoted an entire issue to it, the repressed rage of these post-punk anthems felt heaviest to me. And having seen Savages live, I can tell you that the record is what they sound like when they're holding back.
–
Laura Mvula, Sing To The Moon (Columbia)
At once evocative and brainy, this British vocalist crafted an orchestral pop/folk/soul amalgamation unlike anything I've heard of late; it's almost as if Lauryn Hill remerged as the frontwoman for an Incredible String Band cover band. And I know that her label has hopes of Mvula finding favor among the Adele devotees, but to be frank, this stuff's too smart for movie trailers.
–
Bastille, Bad Blood (EMI)
Oh stop, you snob. Pop music is a thing. Stop pretending like it doesn't exist. Bastille songwriter/frontman Dan Smith has a knack for crafting arena anthems; give them time to grow into venues appropriately large enough.
–
Autre Ne Veut, Anxiety (Software)
Miguel. Justin Timberlake. Robin Thicke. In a year when there was plenty of croon to swoon over, Brooklyn's Arthur Ashin truly moved me, if not with his earnest bedroom jam "Play By Play" alone. That opening track may even warrant my title for song of the year.
–
Kanye West, Yeezus (Def Jam)
Aesthetically? Album of the year. Lyrically though? Well, do they give Razzies to musicians?
–
Gabriel Bruce, Love In Arms (Mercury)
Virtually and criminally unknown in these great United States, singer Gabriel Bruce reminds me uncannily of the deceased former INXS frontman Michael Hutchence. Maybe it's because he can rock a button-down shirt, chest revealingly open. Or maybe it's the way he swagger-sings through the songs. Or maybe it's the way he's embraced trumpets and saxophones unabashedly.
–
James Blake, Overgrown (Universal Republic)
Blake's cold, placid debut felt like it was crafted by a robot. His follow-up, though, felt like there was an actual human in the recording booth.
–
GRMLN, Empire (Carpark)
Wavves, Afraid of Heights (Fat Possum)
Everything nowadays feels so high concept and brainy that it's a pleasure to encounter two indie rock albums that are accessibly joyful. While Afraid of Heights finds Nathan Williams sharpening his craft with some defined focus, GRMLN, the project of Californian young'un Yoodoo Park, boasts a youthful and naive energy.