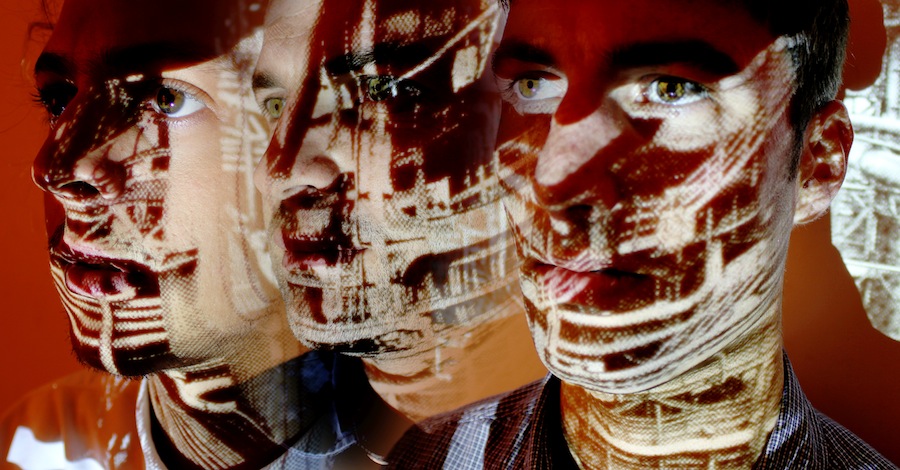 Words by Andrew Parks
Scrapping an entire album is no big thing when your name's Axl Rose, but when Darkstar decided to reboot their long-awaited debut record at the tail end of 2009, it nearly left the duo (multi-instrumentalists/producers Aiden Whalley and James Young) homeless.
They eventually regained their footing after a couple eviction notices, though, as sessions with an old friend (singer James Buttery) led to an entire LP as a trio. Not the kind of robot love album everyone's expecting based on Darkstar's breakthrough single (2009's "Aidy's Girl Is a Computer"), either. More like a moody synth-pop opus that channels everything from OMD to Kraftwerk.
Or as the Guardian already put it, North sounds like "Thom Yorke made an album with John Carpenter." Perfect music for the chilly months ahead, then, and a late entry for many year-end lists once the album drops on Hyperdub next month. We conducted an in-depth interview with Darkstar's co-founders over E-mail last week.
"The winter was long. It was just a very unique position to be in."
self-titled: How do you feel about North now that it's finally done? Are you second guessing yourselves at all?
James Young: It feels good–done, but we're hungry. We are rehearsing and are about to start writing again. Why would we second guess ourselves? We did what we felt was right and we fully back it. We didn't compromise; we did what we wanted and Hyperdub got behind us.
Aiden Whalley: I'm really happy with the way that we went on North. It would have been very uninteresting for us and I also think boring from the outside if we had gone down the same route and not changed things up.
Moving onto the music itself, you scrapped a bunch of songs that sounded like "Aidy's Girl Is a Computer" before deciding to go in a pop direction, right? And the scrapped tracks had a unifying concept to them? What did the cover art originally look like?
JY: "Aidy's" kicked off a stint of human/machine-type tracks–kind of two-steppy, emotive, synthy. We started a unifying concept along those lines, but considering the last year and what has happened close to us musically, we're glad we did what we did. The cover art for that album–named Check My Machine–was continuing in the Space Odyssey [vein]. It was another angle of the monolith from the "Aidy's" sleeve.
AW: We threw a free track up on the Internet sometime at the beginning of the year called "Automating." It was typical of the kind of tunes we were making–a lot of shuffle-y 2-step tracks, with cut-up vocals and a continuation of the computer love theme. Around this time, we probably had about half the album like this, and the other half was the beginnings of the album now.
Did you let anyone else know about your decision to start over, or did you try and keep quiet about the whole situation at first?
JY: We kept quiet to be honest. Obviously I'd talk to Steve (Kode9) throughout the process, telling him we were working on vocal tracks but avoiding sending him something. Then we took a rough album down to his house and he loved it. We refined it and finished.
Was the decision to write a completely new record liberating in many ways? Or did you talk about it for months before finally settling on where you're at now?
JY: Yes, liberating but also tense. We had no money at all, and were threatened with eviction two or three times. The winter was long. It was just a very unique position to be in. We carried on regardless, to be honest. It was our sole priority. The moments of creating something good easily outweighed any financial worry.
Were you excited about the prospect of being the first pop act on Hyperdub?
JY: No we don't think of it like that. To me, Burial is pop, too. What isn't pop music? Anything can be pop now.
Do you keep up with post-dubstep records? What artists?
JY: Kind of. I'm friends with Zomby and Actress, so I listen to what they're up to. I thought James Blake and Mount Kimbie made good tunes this year. Obviously I get all the Hyperdub stuff, so I'm in that loop. Generally it's not what I listen to that much, but there are people I like.
Where all three of you in London when dubstep was starting to gain a following with the birth of FWD>>? How would you describe the different phases this music has gone through?
JY: I was. I know Aiden was buying Menta and Dexplicit tracks then, too. I went to FWD>> really early on, and got into the sound quite heavily. It was exciting sonically and musically. At that point, you knew it was fresher than fresh. So I stayed with FWD>> up until about 2006-2007, and then looked [elsewhere]. When Burial came out with his first album, that was a very significant moment not only for the sound, but I personally realized [dubstep tracks] could fit into an LP context. Now you have all sorts of things going on around it, I cant and havnt kept up. But early fwd and burial are probably the most important moments for me from that whole thing.
AW: I moved to London in 2002 and was listening to garage. I'd heard about Black Market, so I went down and spoke to [DJ] Youngsta. When he handed me a Menta record that I already had, he got what I was looking for and passed me a lot of other records. The early stuff was deep–definitely smoker's music. I lived with James, so we all played records, like early Loefah and Skream. J Da Flex was on [BBC] Radio 1, Hatcha and Youngsta were always at FWD>>, SLT Mob and DMZ…
Magnetic Man are the first dubstep group with a major label deal. As this music continues to get attention on a mass scale, do you worry it'll get dumbed down in the same way that electro did after labels like Ed Banger made it popular?
JY: Certain strains of it will. It's already happening, more so in the States. I don't really pay attention to that, though. Magnetic Man are on a major because of the three guys in it. Special talent.
AW: I really don't see that about Ed Banger. I listened to their releases a lot over the last couple of years, and I like the label. I don't think the success of Magnetic Man is dumbing anything down, either. If Magnetic Man are successful in the charts, fair enough.
Getting back to the making of your record, did James have a hard time singing lyrics that aren't his? Did he suggest changes at all?
JY: Not particularly with the lyrics. Some of the melodies were maybe a little high or low, but most of the time he nailed it. James was very aware at that point that Aiden and myself had written the material, so he didn't suggest any changes that I can remember.
Did one of you consider singing before James joined the group full-time?
AW: No, we don't sing. We only help with writing.
The piano plays a prominent role in the record. Did a lot of the songs start with just that? Are either of you classically trained?
JY: I studied music theory for a couple of years in school, so I always messed around with chords. We are trying to write songs that flow naturally, so our process is to play with chords and vocals and see what we can come up with.
AW: A lot of the songs would start on piano, and then I'd take those ideas to James and we'd work on them. Sometimes separate and then sometimes together in the studio. I'm learning now, but I haven't been trained on piano. I did play classical guitar when I was younger.
Why did you decide to cover an obscure Human League track ("You Remind Me of Gold") instead of, say, an old OMD tune? Did "Gold" change a lot over time?
JY: We chose it because I was given the Mirror Man 12" by a friend, and he had played it at 33rpm instead of 45rpm. We liked the sound of that, and covered it at the wrong speed. It did change over time. We had a live bass on the original version, and the drums were bigger. We stripped it back for the album because we thought it was more concise with the rest of the tracks that way. We didn't initially have any covers in mind, so it wasn't really us looking for a cover. It was the Human League track jumping out at us.
AW: The self-titled OMD album was one that we listened to regularly while writing the album, but we were drawn to the Human League track because of the groove it had when it was played at 33rpm instead of 45.
James did a lot of vocal takes for each track, right? Did you give him specific directions each time?
AW: Yeah, we worked him hard sometimes. The only nice weather we got in London this summer was when we were baking alive in the flat recording vocals, but some tracks were easier than others. Our directions would change from track to track depending on how singable the vocal lines were.
Were any tracks more difficult to nail vocally than the rest?
AW: The chorus for "North" is the highest in pitch and tested James' range the most. We had a couple of nights with that, but got it really nice. It required him to sing pretty loud and this had to be done quite early in the evening because of the neighbors.
Did it take a while for James to get used to your creative process and vice versa?
AW: It was pretty simple to be honest. It was just a case of working the tracks out, and when they were ready for vocals, James would come round to record.
When did you meet James? Did you work with him in the past, or consider any other vocalists for North?
AW: I first met James at a college in Leeds, when I was 16. We were unaware that we had enrolled into the same university in London two years later, when I saw him there on the first day. After university, it was a while before we'd seen each other again–when we bumped into each other in Clapton, and realized we were living round the corner from each other. After listening to his music, we decided to ask him if he'd like to do a Radiohead cover for a Mary Anne Hobbs compilation (Wild Angels). He said yes, so we covered "Videotape." It started there and then just naturally progressed. Nothing was forced and it just came together.
Was "Videotape" a breakthrough moment where you realized this sort of sound might work well for you?
JY: I suppose so, yes. We laid the chords down and James took to the vocal pretty quickly. I manipulated it, and from our point of view at that time as a duo, it was a good feeling. We liked James' performance, and most of all, thought the track was good. For James, I suppose it was a little different to how he'd worked before.
AW: The direction our music would go was inevitable, but "Videotape" was a moment where we realized we had the tools to do what we really wanted. James B has a great voice that really suits our sound. We had already written "Gold" at this stage–using a vocoder as the ghost vocal–so we got James on that after "Videotape," and thought we'd see if he would get involved in the album.
What were some other breakthrough moments you feel particularly good about?
AW: "Ostkruez" and "Under One Roof" came together under the most pressure. We'd gotten back from the Sonar Festival and had eight tracks that we were happy with. Myself and James were talking about the situation, and things weren't looking good as far as how long we had left to [finish] the album for a good build up, and how long it was taking us at that point to write anything we were happy with. The next day some how we wrote those two tracks, and were recording vocals for "Under One Roof" by the end of the week.
You manipulate James' vocals throughout the album. Do you consider him an instrument more than a frontman?
AW: We don't treat him as an instrument. It's a voice–the focal point on all of the tracks–but we're not afraid to play around with it. The important thing is finding a good balance. The vocal should be the lead if that's what you intend to do, and the effects should just be an addition.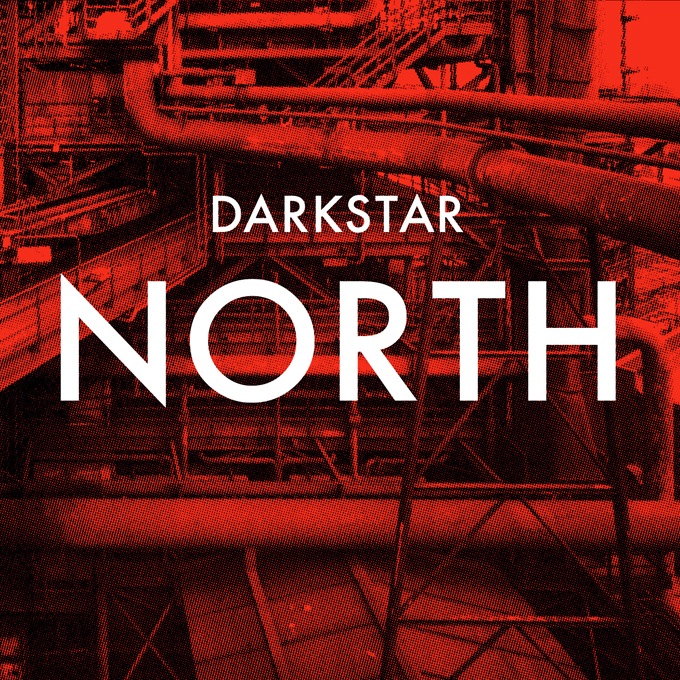 Tell me about Will Bankhead's cover art. Did you give him any concepts to work with or did he just run with the record?
AW: We took the album to him, the title, a picture of an industrial estate in Wigan, and the artwork for the Sam Rockwell film Moon. He came back with the promo sleeve, then the actual artwork. It's all there–you hear what we wrote and how our accents sound and you have a pretty good brief to run with.
Most of your songs maintain a very melancholic vibe. What other artists have you loved over the years that do that well?
AW: It might sound strange, but I love Rumours by Fleetwood Mac. The songs and Stevie Nicks' voice are really good. I also love John Lennon's Plastic Ono Band. I watched a documentary about that album and it's amazing how honest he was when he wrote it. His voice is also one of my favorites.
What inspires you on the electronic side of things? Do you stick to classic synth-pop artists?
AW: I love Japan, Brian Eno, and Bowie. I studied Kraftwerks parts quite a lot, too. They are really concise and make really catchy tracks. I noticed that if you get four notes, you can make killer parts if you get the rhythm right–maybe repeats on some of the notes and get the timing so it flows nice. I like OMD, too, so I guess mostly British artists and the synth-pop era if you include Kraftwerk.
Have you started thinking about what your next album might sound like? Maybe a heavier feel, like the title track?
AW: The next set of tracks will have a more rhythmical direction. We have started writing a few things already, but that's my only feeling at the moment. North is quite atmospheric in parts. In the title track, the music is quite drawn out against the industrial beat, so we're going to be more direct with the next set of tracks. That's what we're thinking.
Would you ever do a full-on ambient record?
AW: I'd like to write for a film–something with changes in mood, as long as there is some sort of emotion involved. I wouldn't want to make a full-on ambient album that was all atmospheric. Not right now, anyway. I'm thinking more of the opposite.