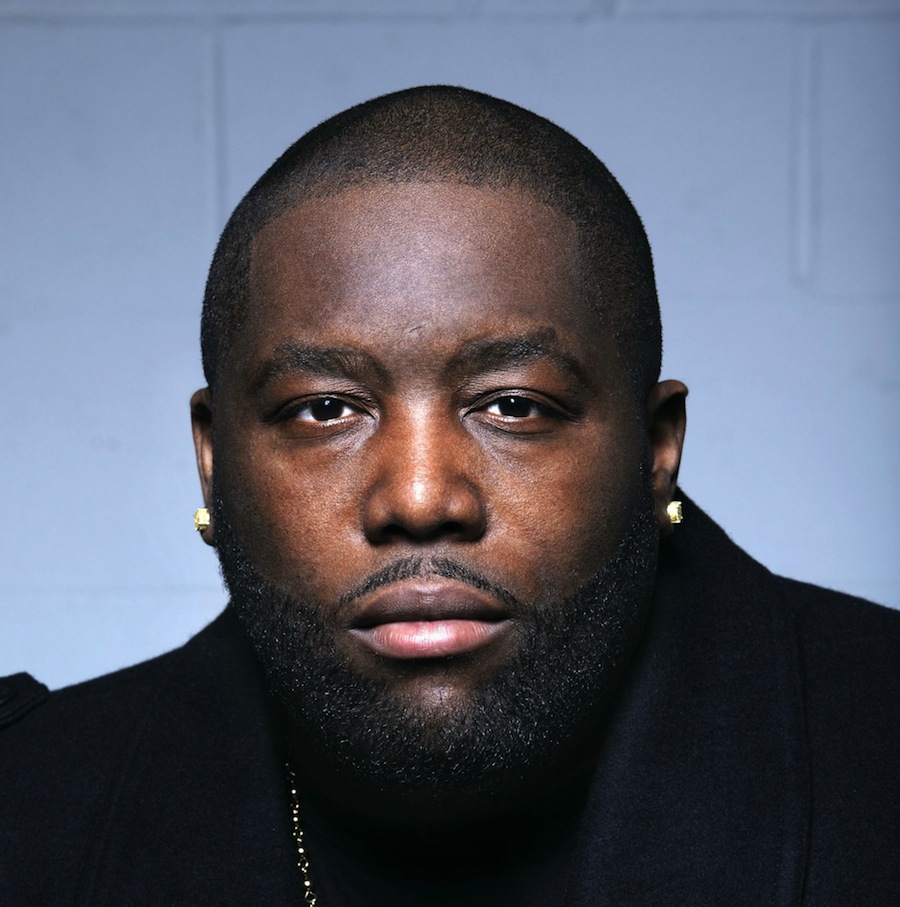 Words by Christina Lee
While Killer Mike may have won a GRAMMY in 2002–for his appearance on OutKast's "The Whole World" single–and achieved universal acclaim for his fifth album (the recently released R.A.P. Music), the rapper's just as well known for his contributions to the greater Atlanta community back home. Over the past year, local news outlets have covered his Jackson church speech on behalf of Troy Davis, spotted him with Occupy Atlanta protesters at Woodruff Park, and plugged a discussion about how to connect with community leaders.
Killer Mike grew up in Collier Heights, one of the first modern black neighborhoods added to the National Register of Historic Places. R.A.P. Music, Brooklyn-borne El-P beats and all, would not exist without such a childhood–of listening to his grandmother's firsthand accounts of the civil rights movement, running into community leaders at the nearest Kroger and then learning to follow their bold example.
In the following exclusive, self-titled devotes an entire Killer Mike interview to discusses his beloved city, which he hits with El-P, Mr. Muthafuckin' eXquire and Despot on June 19…
What would be the biggest piece of advice you would give to someone navigating the city?
I-285 is a circle, so whatever direction you're going is relative to where you are. I-20 runs east to west; I-75/85, north/south. I've known people who rode around I-285 twice, which is more than 100 miles, because they didn't realize they were driving in a circle.
What makes you proud to say you're from Atlanta?
It's a Southern city that never stopped being truly a Southern town. I'm in New York [right now], which is almost like a second home, and New Yorkers aren't being rude as much as they've got things to do; they don't make a lot of time to say "excuse me," "please" or "thank you." In Atlanta they're just as busy, but Atlanta people are some of the most gracious and courteous people in this earth. They're particularly nice folks.
"There was all kinds of craziness going on, but because of my neighborhood, I had this really great, wholesome childhood"
Every day I take a 15-minute walk just to get some exercise in Atlanta, and whenever I walk by a porch or right by somebody, I've learned to say hello.
I walk from Piedmont [Avenue] up to Peachtree [Street] and then almost to Five Points and back–so total, I think it would be about six miles round-trip. I cannot tell you how many times I hear, "GO KILLER MIKE!" "WHAT'S UP BIG DADDY?" "GO!" It's like being Rocky on that run. People are just genuinely good people here, so I'll probably always be in this city for that reason.
What was it like growing up in Collier Heights?
It was really hard, because all the kids in the projects through we were rich and all the rich kids who really did live in Collier Heights thought that we were poor. I was from the streets where the working class homes were; Collier Heights has always had a ridiculous mix of social and economic classes. But, I loved it because the schools were so great. I grew up in the crazy '80s, but I grew up in this community that was probably more like the '50s and '60s. My grandparents raised me and my sister, so we knew all our neighbors. We stayed out after curfew. We played. It genuinely was like growing up in the middle of America somewhere. Somewhere to the left and the right there was all kinds of craziness going on, but because of my neighborhood, I had this really great, wholesome childhood.
And the really great thing is that everybody goes to school together. I firmly that the younger you are and the more exposed you are to different types of people, the better person you'll be. It helps make Atlanta a much better city. Kids from Emory go to the hip-hop clubs and party and shit, and kids from Morehouse go party at Emory. The music scene here is rich with that too. I just like the fact that in Atlanta, people aren't as hung up in all the differences, in the same way that a lot of other places I visit. People really find stuff that they love–like the Braves, the Falcons, Hawks. People say that we aren't real big fanatics, where we don't support like New York or aren't as big fanatics as in Boston. But we also don't trash our team or hate our players. We love them, win, lose or die. I like the more easygoing nature of Atlanta; it's a really cool place for everyone to get together and get along.
That reminds me of an ESPN article that called Atlanta the worst sports town in America.
If you base your life or death on sports, and you want to have an aneurysm because your team didn't make it, this is not the city to do it. If you want to enjoy whatever sport you're going to, if you want to get wild for an hour or two as the game is going on, and then all go have beer and get drunk later, this is the city for you. I think one of the best sports rivalries is the Saints and Falcons, because it really is just two different branches of the family getting together, arguing and drinking. I've never seen New Orleans or Falcons fight, no gunshots. We're going to New Orleans to party with our cousins. We don't care whether we lose or win the game. I love going to the Braves games. I'll take my boys to the Braves games just to have a quiet afternoon out, watch the Braves, get a beer, cheer for Chipper. My dad still calls me–like, "Hey, this is our schedule for the week. Get to the game; I'm taking you." Not his grandson–his son. You know what I mean? And we just quietly sit there, check out the game, and win, lose or draw, love our Braves. My old man.
You've grown up to become a community activist. Where do you first remember connecting with community leaders in Atlanta?
Local politicians like 'Able' Mable Thomas and C.T. Martin would still get out into the community. My grandmother was a member of one of the most prominent churches, and I remember the candidates coming out; they would come out and talk, and they would shake hands. These were the people who, if my grandmother had a problem, she would go after. She'd go to the mayor's office and complain, and she'd see these people again.
I remember seeing local politicians in barbershops and seeing civil rights leaders in the community. Joseph Lowery and Ralph David Abernathy and the King family–these people never left the the community. Abernathy lived in Collier Heights; his son lives there now. They never left, so you see them at the Kroger, getting some hamburger meat, and you could be standing next to Andrew Young. So when my grandmother talked about the history, it was stuff that I had read in the books–because again, we went to the good schools so we were taught really good stuff–and you could see these people in the community, still to this day. I went over to Paschal's to have breakfast and I'm sitting near Pastor Durley of the Providence Missionary Baptist Church and Joseph Lowery, and they're meeting with bankers talking about the mortgage crisis, trying to get it fixed in underdeveloped areas. That doesn't happen at other cities in the same capacity, you know what I mean? I'm very fortunate. So my first memories of community activism come from being able to be engaged with the people who were already icons and heroes, because they supported their communities. They didn't live outside of their communities; they didn't shop outside their communities. So they were in the community, and because of that I got a chance to see what I was reading about and be inspired by it.
"When my friend bought the shop, white Jesus came down and black Jesus, also known as Tupac, went up"
I used to live in Old Fourth Ward, and at the district meetings Kwanza Hall would always talk about how long he's lived in the community. That was really important to him, that in order to lead whatever change you want of the neighborhood, you gotta stay in that neighborhood.
Kwanza Hall started an anti-violence program as a high school senior. I was about 14 around then; I was younger than him…Kwanza started a group called Black Teen Advancement, and he tricked me into joining and staying, because I was a little ruffian. By the time I was 15, I was the national spokesman for that organization. So I watched him go to MIT and inspire younger students. I watched him build an infrastructure that allowed us to save our life and not kill one other when we were little kids. I watched him grow into this eloquent political statesman. So he's a person who can really save a community. That's what I mean. Having people in the community–you can't buy that. That's of value.
Before you opened your barbershop, which one would you frequent?
I used to go to an African-owned barbershop called Choice Barbershop [in College Park], and I actually was trying to buy it. Oh my god, he was so grumpy–like an African Oscar the Grouch. I ended up not being able to purchase it because I was doing some renovations to my other shop, but my friend of mine bought it. My barber who had been cutting my hair for years is there, so now I make him come to my shop and cut it, which is a major source of conflict. The atmosphere, I hated. It was so bland and lifeless that even though it was an African-owned barbershop, there was a picture of white Jesus in the back. I  was like, "This a black-owned shop?" And he was like, "Yeah?" I was like, "For real? So what's up with white Jesus?" And the owner was just like, "NO! That is Jesus! I am not taking it down! NO! You can go if you don't like it!" So when my friend bought the shop, white Jesus came down and black Jesus, also known as Tupac, went up.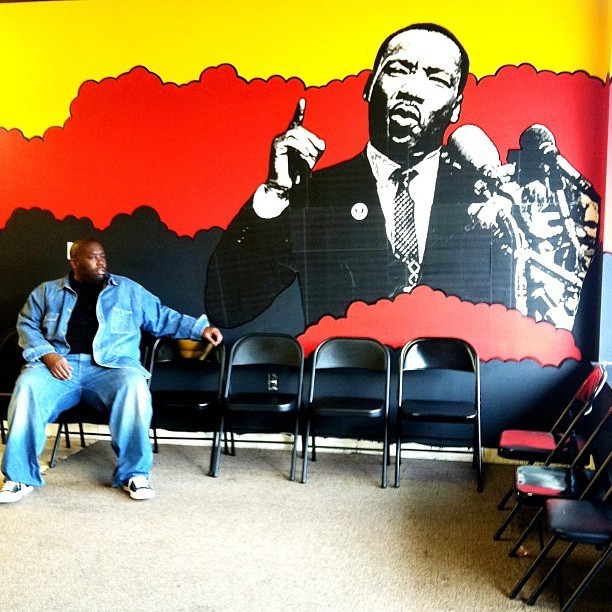 So with your barbershop Graffiti Swag, what type of atmosphere did you want to create?
Well my shop is the just the coolest of cool. Swag stands for Shave, Wash and Groom. So we're a full barber shop. You get properly groomed, never any chemicals or dyes. For 25 bucks, you get a shoulder massage, your face washed, your hair washed, a hot shave and a haircut–you can't beat that. For 15 bucks, you get a haircut and a razor. For 20 bucks, you get a haircut, a razor and hot towel. I'm just trying to give people the best services. Chris Hobe, a local street artist who does amazing work, actually painted the entire building, and I bought paintings from him to hang at the other shop. We had another artist paint a picture of me and my grandmother for the shop. So it's just a barbershop/lounge/place where people can come, see the art and get inspired. It's just chill, you know?
That's so awesome that you're utilizing the street artists, because Atlanta has a fantastic community of street artists.
Yeah, exactly. Our corporate colors are the old Hawks colors–black, yellow and red–but I'm really trying to make the first five shops eye-catching. If you ever get a chance to look from the highway, the shop looks amazing. People stand on the street and just look at it. At the end of the night when we're leaving, my business neighbors and I stop and look at the shop. I really feel like so much style comes out of barbershops. When you always hear about the next big thing whether it's music or culture, when there's a lot of cultural stuff going on, the barbershop is really the place where you get it. I wanted my barbershop to aesthetically look that way,and I think that people are really going to really get inspired by that and keep coming.
Big Boi remembered that you used to distribute music out of your trunk. How many miles would you drive and where would you go?
We'd drive to Atlanta, Chattanooga, Nashville. We'd go as far north as North Carolina, as far south as Tampa or Orlando, as far west as Houston, though usually we go as far west as New Orleans. Usually what you do is, you would ship five, 10 or 15 CDs and if the store got low, then you come down and you do a signing because your friends would bring more people out, or do a show tonight.
Do you have a favorite music store in Atlanta?
There are not many small record stores left, so I tend to support these stores: Super Sound, North Georgia Compact Disc, DBS Sounds, and Music Media, all of which are small businesses. A husband and wife own North Georgia. A guy named Tobego owns BBS Sounds. I've known the owner of Super Sound since I was a kid wanting to be a rapper, and Music Media is owned by a young African-American. My records are carried at Best Buy and the bigger chains or whatnot, but I tend to support the smaller music stores, because there aren't that many around there to support. And they're the reason I'm here. When I left the major label, I didn't have an avenue to distribute through, so it was me taking my CDs to those stores to sell and building those relationships with them. Shout out to Super Sound, owned by Theo. Cru is their sales and marketing manager, and he is the man. He has more music knowledge than probably some 20, 30-something music industry veterans.
"This is like playing for the Gwinnett Braves–where you can see all the stars for half the price"
Do you have a favorite neighborhood in Atlanta?
My neighborhood: Adamsville. The whole entire West Side is just culturally rich. Let's see…The parks, like Mosley. I love Collier Park and the Adamsville Rec Center because as a kid, I grew up playing in all these places, and my neighborhood is one of those neighborhoods where kids still play. They play outside, or they ride their bike. Athleticism is really big in my neighborhood, so the Atlanta Vikings is right in Adamsville. I played for them as a kid; one of my sons plays for them now. I love the park and recreation centers that are in the West Side. I love the Beautiful, and Q Time, and Paschal's; there's a lot of soul food eateries there. And there's some damn good, old school barbershops in my hood like Mitchell Brothers in the West Side, which is one of the reasons why I opened my shop. What else is out there in the crazy city I love? I love that once you get off the main streets, which looks just like any other urban settlement or a main street settlement, there are just some quiet neighborhoods nestled in the midst of this city and its chaos, and that is dope. There's green everywhere, so you don't have to go to just a park. I love that vibe as a whole. The Blue Flame, a men's lounge/strip club, is like one of my favorite places in the world.
What is the Blue Flame like?
Aw man, it's just way cool. It's well-kept. It's been in business for forever. It's owned by a father, and a son who also came from the Collier Heights. My mom graduated with his sister and whatnot. It's a normal, regular family who own apartments and homes, and this is one of the things they own, a strip club. It's dope. I call it the AAA Team–so before you move up to Magic City and Onyx and $20 clubs that are considered professional, this is where you start. This is the farm league, baby. This is like playing for the Gwinnett Braves–where you can see all the stars for half the price.
That's good to know. After NPR visited Magic City, I wondered if there was a half-step I could take, having never stepped in a strip club.
Before you get to Magic City, before those girls make to it to Magic City and you as a young strip club connoisseur make it there, before you get there, you can go a mile and a half to Queen City. You can go five miles on the expressway to Blue Flame. You can go about 10 miles to the east to Foxy Lady. There are gangs of clubs that are still like old Atlanta clubs. Magic City is one of the oldest of Atlanta clubs, and it's always been one of those establishments that's been a little pricier, where rappers and athletes go after their games and concerts. But there is a whole little communities of feeder clubs that are good places to start.
My boyfriend, who I recently converted into a Killer Mike fan, wants to know where you get your blunt wraps–whether you go to a specialty shop or just hit up the gas station.
Tell him, first of all, that this woman is a genius and he needs to know that. I smoke because I'm a Southerner, and I grew up listening to UGK and everything Pimp C did. I certainly smoke Swisher Sweets, which you can buy anywhere, from any store in the South including church-owned stores, yet can't find in New York to save your life. So I typically buy Swisher Sweets, but now because my girl is smarter than me and all-knowing, she wants me to stop smoking Swishers. Now I've smoking with RAW rolling papers, which I buy from the sex and novelty shops that clutter and litter Atlanta, which is a grievance of our Republican lawmaker. Thank god for StarShip and Insurrection.
How did you meet your wife?
I met my girl at a rap show in Daytona and then re-met her in Atlanta. She's from a coastal city in Georgia, Savannah, but I met her on a spring break in Daytona and her friends kind of screamed my name–whatever–but I saw her at a table, just eating. I just walked up, and she thought I was a flat-out pig and was disgusted, didn't talk to me again. Then she saw me a year later at an industry party, and I was just kind of chilling; I wasn't really up on no girls, acting like a thirsty rapper, and she decided that I was a sweet guy and I could see she loved me.
So where did you take her on your first date?
Oh, I took her to the studio with me, and I took her to the ESPN Zone. Me and her and Chamillionaire and my buddy Cee-Lo hung out. I'm a sports fanatic. She didn't really care. I think she liked the carrot cake.
So you eased in with a group date and then went from there.
Yeah, it's kind of interesting. I never thought of how incredibly rude or insensitive that was until now. I took her to the studio and had a group date. Hilarious.
Are there any other spots in Atlanta you love?
If you come to Atlanta, definitely go wild out. Go to the strip club, shop at the fancy mall. But if you go to Atlanta, I would definitely say go to the APEX Museum, the Auburn Avenue Research Library, the King Center, Ebeneezer [Church] in Old Fourth Ward, the house where Dr. King lived. Go to the AUC campus and visit those young brilliant minds over there. Just do some cultural stuff. i think that a lot of times in our graciousness of being a Southern city and in the nature of all things Southern we forget how culture-rich we are. We have a first-class symphony orchestra. We have the High Museum. We just have a lot of things in our city, and I think that people overlook that. I think when you come, you should embrace it all.
–