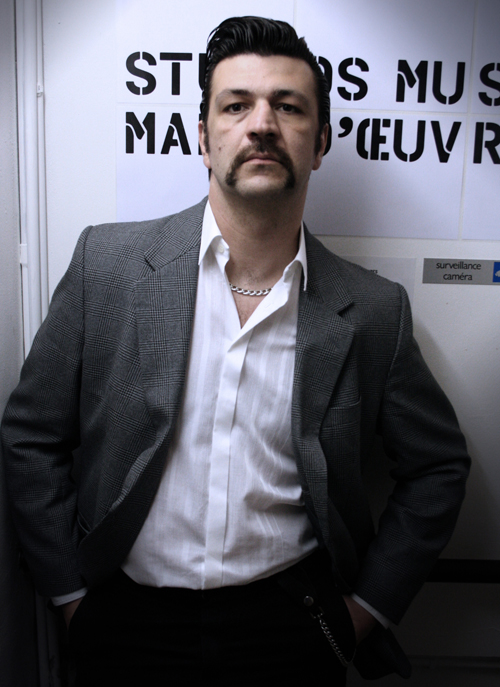 From their deviant, pitch-dark record sleeves to the flashes of Depeche Mode and Detroit techno in their singles, Black Strobe never quite fit in with the neon-doused Ed Banger crowd. Especially after the long-awaited release of their debut record, Burn Your Own Church, a mangled, metallic listen that tempered its electro undercurrents with the emerging Nick Cave nods of frontman/producer Arnaud Rebotini. (Black Strobe's co-founder, DJ/producer Ivan Smagghe, split before Burn's release, leaving Rebotini to form a full-on band.)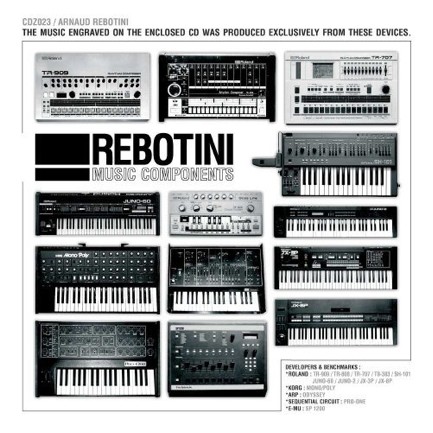 While he still looks like a guy you would not want to meet in a dark alley or club–see the Eastern Promises-esque photo above–Rebotini has been quite happy these days, as he plots a return to his analog roots. Due out March 13 through Le Plan Records, Music Components is the laser-guided result of solo jam sessions with two beatboxes (Roland TR-909, Roland TR-808) and three synthesizers (Roland SH-101, Juno 60, Korg Monopoly). No laptops. No sequencers. Just a lot of knobs and dials. And hubris.
Here's what Rebotini had to say about the album:
I wanted to use instruments which have a history, a life. For me, they are invested of meaning. I have sensed the need to interact directly with the instrument: without medium and computer.

So I remembered how we did (music) before. I took out my TR-808 and my SH-101 and connected them together thanks to the arpeggiator of the synthesizer (exactly like at the beginning of the '80s, before Black Strobe). And then I had a good time. I regained the possibilities given by these equipments: their sounds, their unique groove. I rediscovered the pleasure to play.

After a few days of jamming in the studio, the result was one hour of groovy electro/techno–a set in which I could put real variations and improvise … a connection between the man and the instrument was satisfied.
To emphasize this fusion of man and machine, Rebotini will unveil a new live show next year. Considering the frantic and frayed qualities of "Un Cheval d'Orgueil"–the single we're unveiling below–we can't wait to watch him bring a heavy-metal spin to acid techno and electro that's got more in common with Cybotron than Justice.
Music Components:
1. The Spirit of Boogie
2. Un Cheval d'Orgueil
3. 1314
4. Cm
5. The Swamp Waltz
6. Horns of Innocence
7. Conakry Filter Sweep
8. 777
9. Decade of Aggression
10. Mnll
[audio:http://www.self-titledmag.com/st002/music/rebotini-un%20cheval%20d%27orgueil.mp3]
Rebotini, "Un Cheval d'Orgueil"