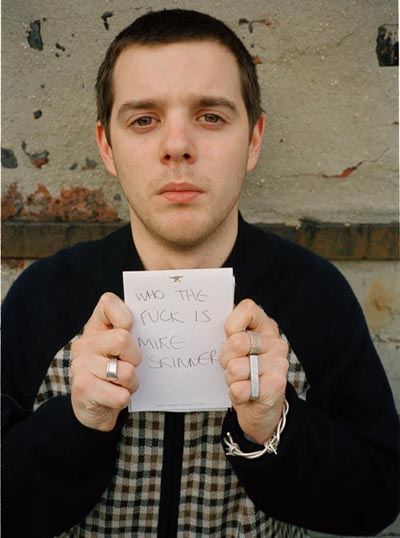 By Arye Dworken
The backstory for Mike Skinner's final album as the Streets is quite bizarre. Computer and Blues, the British rapper's fifth record, was allegedly finished in 2009. This was around the same time Skinner ostensibly dropped off the planet–neither his Twitter account nor his his website has been updated since last October. It's not typical for a media savvy celebrity to disappear for a half-year after communicating with his fans for months previous. Granted there's a ghetto placeholder devoted to Computers' release, yet all it features is this random and unedited write-up:
"The final Streets album
It's gonna be called 'Computers And Blues' and it's all about dancing and CHATTING SHIT.
45 minutes of 130 bpm style straight spittin.
one more banger
dancing music to drink tea to
The final Streets album (the fifth one) will be dark and futuristic.
This could not be further from the album you're about to hear, but it's what is on my mind at the moment.
I feel inspired by the synthesizer exhibition we just visited in Graz [Austria] after the gig we just did.

My new album is FAST and DARK. singing it loud and playing it with my manager in the dressing room WOOOOO
this album is influenced by the future. It hasn't happened yet
im just excited at how MASSIVE its sounding. ive been up since 4am
It now sounds ravey. It is a ravey album album that bludgeons you over the head with its stick of 1988 Romford, Blackpool and Philadelphia rock. It is an insane album."
Beneath this rambling preview are pre-order links at HMV and Play.com, but when you click on either one, there's no confirmed release date or artwork. All of this makes it exponentially more surprising that the album just showed up on the Internet in its completion…But wait, aren't these the songs he released for free on his Twitter account last year?
Now, why should you care about a new Streets record? After all, Skinner's last two albums were serious missteps. The Hardest Way to Make an Easy Living was a forty-five minute-long rant about being famous and popular. And Everything Is Borrowed was heavy-handed, overwrought and schlocky, as if Skinner had been asking aloud, "What does it all mean?" Thing is, no one wanted to listen to a British rapper's dubstep interpretation of Deep Thoughtsâ"¢ either. However, Original Pirate Material and A Grand Don't Come For Free are certifiable classics, quintessential hip-hop documents of the British Aughts. It would be ideal for England's Eminem to bow out in the same way he wowed us back in 2000 when he whipped up the Bowery Ballroom into a hooligan frenzy.

Whether the 14 songs found here will be the final product known as Skinner's retirement statement is still unclear. For an album that was to be released this last month, there's very little information available on Computers and Blues, and so for right now, we'll have to assume that this is it. The standout tracks "See If They Salute You" and "In The Middle" are quite catchy, while "The Robots Are Taking Over" and "Trust Me" are dark and weird. This collection is a grab-bag mixed with keepers and should-have-been-B-sides ("Infamy," for example) and would be a strange way for the Brit rapper to say goodbye. But you have to wonder why Skinner is retiring: maybe the love just isn't there anymore? Maybe the passion for hip hop has diffused? Kind of sounds like it.

[Editor's Note: We've reached out to Skinner's publicist in an effort to obtain any information about the artist and his forthcoming release, but there hasn't been a response yet…maybe because he's now listed in the alumni section of Vice Records' site.]